Kale & Walnut Pesto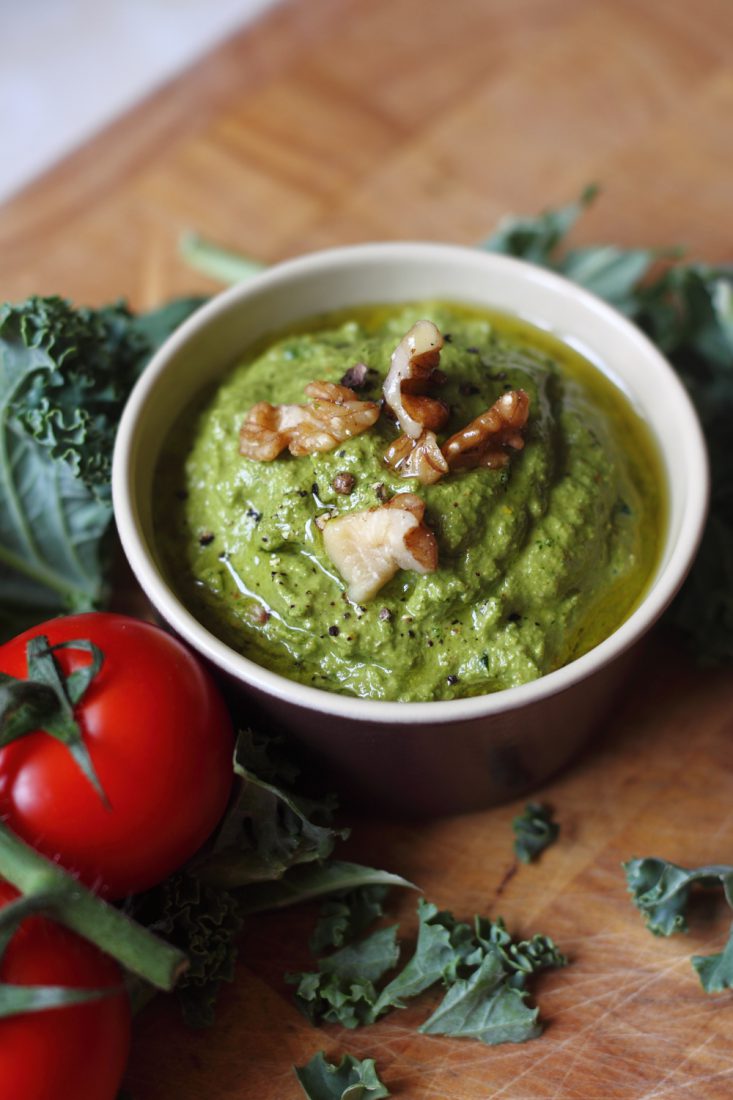 Kale is such an amazing food. It contains vitamins A, C and K as well as minerals like copper, potassium, iron, manganese and phosphorus. A cup of fresh kale has only about 40 calories but packs almost three grams of protein. I thought I'd try making a pesto or dip with raw kale, as another way to enjoy this super-green. Enjoy stirred through warm pasta, or spread onto some lovely wholemeal bread. Thanks very much to Viva! podcast presenter Helen Wilson for this one! Check out her other recipes/news 🙂

Easy




Meal
lunches
sides-light-meals-and-salads
Ingredients
2 handfuls of chopped kale
4 tbsp walnut pieces
1 tbsp nutritional yeast flakes
¼ tsp sea salt
Pinch black pepper
3 tbsp olive oil
12 cherry tomatoes or 6 medium tomatoes, chopped
Instructions
Place all ingredients together in a high-speed blender, like a Nutribullet and blend until smooth or a consistency you like is reached.
Taste and add more seasoning if you need. If the pesto/dip is too thick, add more oil, or a splash of plant milk if you prefer. Enjoy!
Did you know that Vegan Recipe Club is run by a charity?
We create vital resources to help educate everyone – vegan veterans, novices and the v-curious alike – about vegan food, health and nutrition; as well as the plight of farmed animals and the devastating environmental impact of farming.
Through this work we have helped thousands of people discover veganism; but we want to reach millions more! We rely entirely on donations as we don't get any government funding. If you already support us, thank you from the bottom of our hearts, you are really making a difference! Please share our details with your friends and loved ones too, as every donation enables us to keep fighting for change.