Fruity Dairy-free Cheesecake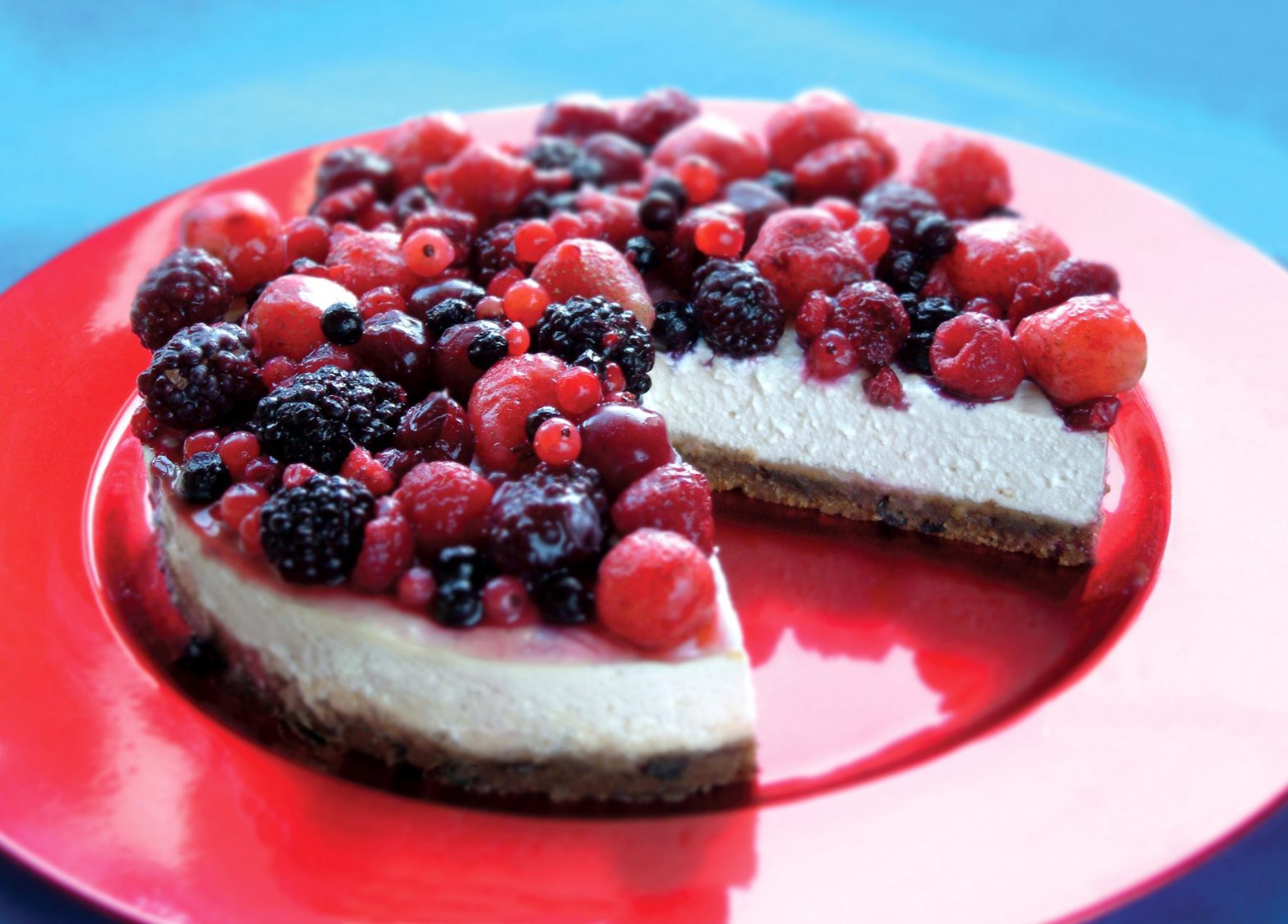 It's creamy, it's fruity – it's great! There are several vegan cream cheeses that work well in cheesecake. Try Violife, Tofutti or supermarket own brands – you need the original variety of course, not the flavoured types! ,
Photo courtesy Corin Jeavons

Easy

Ingredients
200g/7oz vegan biscuits, such as plain Hobnobs/supermarket Oatie biscuits or McVitie's LIGHT Digestives
75g/3oz vegan margarine, eg Pure OR mild coconut oil
50ml/2fl oz soya milk
350g/12oz packet silken tofu, firm or soft – eg Blue Dragon, Morinu, Morinaga or other brands
200g/7oz vegan cream cheese – eg Violife original (Tesco etc) or Tofutti original, available from health food shops
1 tbsp vegetable oil
1-2 tbsp golden or agave syrup syrup
1 tsp vanilla essence
½ tsp lemon or orange essence (optional)
2 tsp arrowroot
150g/5oz fruit topping, eg fresh or defrosted frozen raspberries, strawberries, blueberries, mango…
Instructions
Preheat the oven to 350°F/180°C/Gas Mark 4.
Grind the biscuits in a food processor or similar until there are no large lumps left. (Or use the plastic bag and rolling pin method!)
Melt the margarine or coconut oil and mix in the biscuit crumbs.
Spread in a greased flat tin – about 18cm/7inches diameter if round – or a 20cm/8 inch square will do also. A loose-bottomed springform is the easiest to use! Bake the base in the oven for 5 minutes.
Meanwhile, blend all the other ingredients thoroughly until smooth (except the fruit).
Remove the crumb mixture from the oven and pour the filling over the base.
Bake in the oven at the same temperature for 20-30minutes, or until firm. Remove and leave to cool.
Top with fruit topping and chill before serving.
Optional extras / notes
30-40 minutes plus chilling time
Did you know that Vegan Recipe Club is run by a charity?
We create vital resources to help educate everyone – vegan veterans, novices and the v-curious alike – about vegan food, health and nutrition; as well as the plight of farmed animals and the devastating environmental impact of farming.
Through this work we have helped thousands of people discover veganism; but we want to reach millions more! We rely entirely on donations as we don't get any government funding. If you already support us, thank you from the bottom of our hearts, you are really making a difference! Please share our details with your friends and loved ones too, as every donation enables us to keep fighting for change.