Easy Cinnamon Iced Buns
These buns are so easy to make and will definitely spice up your Christmas afternoon or breakfast platter! Tear, share and enjoy with a lovely cup of tea 🙂
Gluten free
Wheat free
Freezable
Cheap
Kids recipe
Meal
vegan-desserts
breakfasts
Ingredients
Buns
2 sheets puff pastry (eg Jus-Rol or some supermarket own brands) – use GF if necessary
60g/½ cup pecans
70g/½ cup light or dark brown sugar (we used dark brown)
4 tbsp granulated sugar
¾ tsp salt
1½ tbsp cinnamon
3 tbsp vegan butter, melted (our favourite is Naturli)
Icing
80g/¾ cup icing sugar
¾ tbsp plant milk
1 tsp vanilla extract or paste
Instructions
Buns
Preheat the oven to 180ºC (fan)/350ºF/Gas Mark 4.
Place the pecans on a baking tray and toast them until they are golden, between 5-10 minutes. Check them after 5 minutes as they can burn quite quickly. When cool, cut them into small pieces. Set aside.
In a large bowl, mix the sugar, salt and cinnamon.
On a floured surface, unfold the first puff pastry sheet and lay it with the long edge facing you.
Brush half of the melted butter over the entire sheet. Evenly sprinkle half the cinnamon/sugar/salt mix over the entire sheet.
Roll the pastry up, away from you, into a sausage shape and lay it seal side down on the worktop.
Cut off both ends (around an inch either side) and then cut the roll into 9 even pieces.
Place the rolls on a lined baking tray (with good spacing in between each one), swirl side up, and set aside until you've repeated the process with the second sheet.
Once you've repeated the process with the second puff pastry sheet and filling, place the two baking trays into the oven and bake for around 17-20 minutes or until golden.
Icing
Mix all the ingredients together and add a little more plant milk, bit by bit, if necessary. You want the icing to be thick (ish) but pourable at the same time.
Assembly
Arrange the warm cinnamon buns on a tray, drizzle over the icing and top with the toasted pecans immediately after.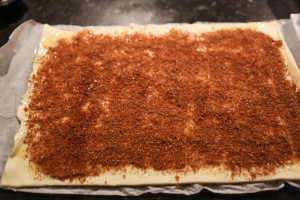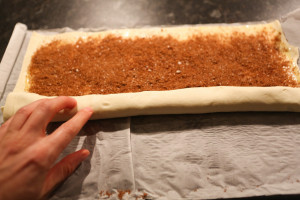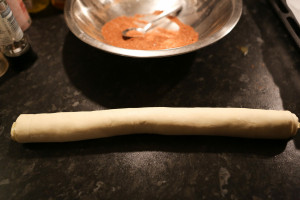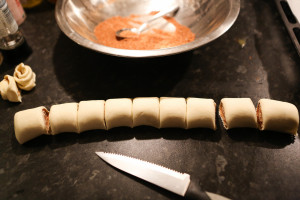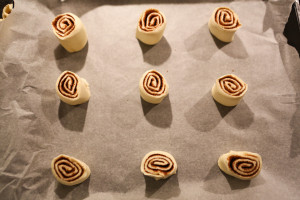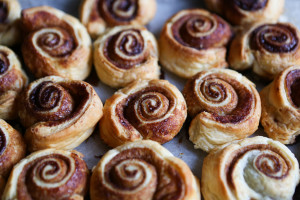 Did you know that Vegan Recipe Club is run by a charity?
We create vital resources to help educate everyone – vegan veterans, novices and the v-curious alike – about vegan food, health and nutrition; as well as the plight of farmed animals and the devastating environmental impact of farming.
Through this work we have helped thousands of people discover veganism; but we want to reach millions more! We rely entirely on donations as we don't get any government funding. If you already support us, thank you from the bottom of our hearts, you are really making a difference! Please share our details with your friends and loved ones too, as every donation enables us to keep fighting for change.