Easy Lemon Drizzle Cake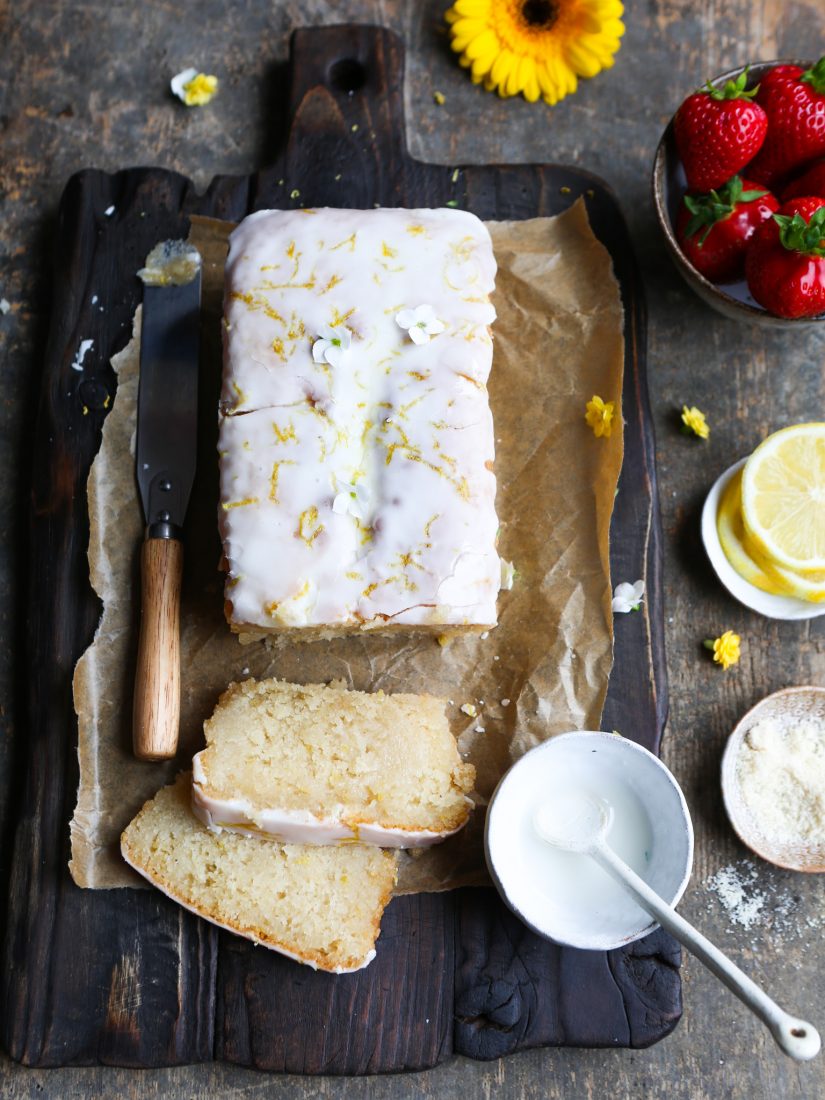 Moist moreish and fun to make – this veganised classic is a favourite amongst all ages!

Easy



Ingredients
Dry ingredients 
200g/1¼ cups self-raising flour
200g/¾ cup caster sugar
½ tsp baking powder
½ tsp bicarbonate of soda
50g/½ cup ground almonds
Pinch salt
Wet ingredients 
220ml (¾ cup plus 2 tbsp) soya milk
120ml/½ cup light neutral oil (eg rapeseed)
1 tsp cider vinegar
Zest of 2 lemons, finely chopped/grated
2 tbsp lemon juice
1 tsp vanilla extract
Drizzle 
2 tbsp lemon juice
3 tbsp caster sugar
Icing (optional)
200g/1¼ cups icing sugar, sieved
2 tbsp plant milk
Optional decoration: edible flowers, strawberries or other berries, lemon zest, fresh mint
Instructions
Preheat the oven to 180°C/350°F/Gas Mark 4.
Line a medium-sized loaf tin.
Dry ingredients 
In a large bowl thoroughly combine all of the ingredients. Set aside.
Wet ingredients
Whisk up all of the ingredients and set aside for a few minutes.
Just before you're ready to put your cake in the oven – thoroughly combine the wet and dry ingredients but don't over-stir.
Pour the mixture into the lined loaf tin, tap on the worksurface before placing into the oven.
Bake for 30 minutes or until golden and a knife comes out clean. If it starts to darken too quickly then cover with foil or baking parchment.
Drizzle 
Mix the lemon juice and sugar together.
When cake is baked and still warm, prick the top all over with a skewer. Spoon the lemon drizzle evenly over the top and sprinkle over the zest.
Icing
Mix the icing sugar and the plant milk until smooth.
Drizzle evenly over the cake.
Did you know that Vegan Recipe Club is run by a charity?
We create vital resources to help educate everyone – vegan veterans, novices and the v-curious alike – about vegan food, health and nutrition; as well as the plight of farmed animals and the devastating environmental impact of farming.
Through this work we have helped thousands of people discover veganism; but we want to reach millions more! We rely entirely on donations as we don't get any government funding. If you already support us, thank you from the bottom of our hearts, you are really making a difference! Please share our details with your friends and loved ones too, as every donation enables us to keep fighting for change.