Chickpea & Pineapple Curry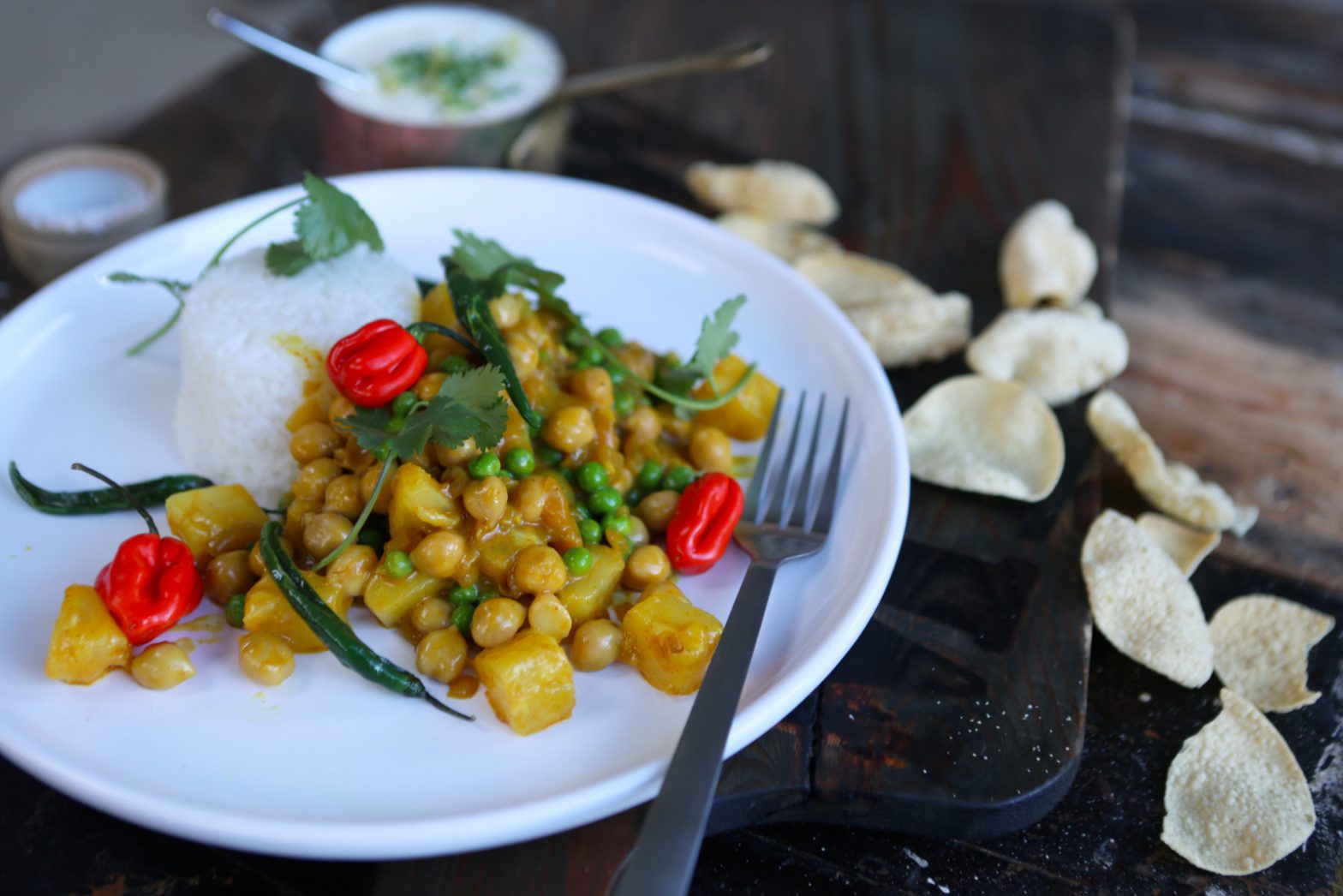 A gorgeous combination of sweet and savoury flavours with a lovely bit of heat and a creamy coconut sauce. Adapt the flavours to suit your taste, adding more spices, coconut milk and seasoning if you fancy. At only 35p per portion this recipe is perfect if you're on a budget… easily sourced ingredients, healthy and delicious too 🙂

Easy






Cuisine
Indian and Indian Subcontinent
Ingredients
1 tbsp vegetable oil
1 medium onion, finely chopped
1 clove garlic, finely chopped
¼ – ½ tsp chilli powder
1 tsp ground coriander
½ tsp turmeric
1 tin (485g or 260g drained weight ) pineapple rings or pieces, saving 80ml of pineapple juice
1 tin chickpeas, drained and rinsed
80g frozen peas
¼ – ½ tsp salt
100ml/'Öñ cup coconut milk
Instructions
Heat the oil in a medium sized non-stick saucepan. Add in the onion and garlic and fry for a couple of minutes, stirring with a wooden spoon, before adding the spices and frying everything together until the onion is nice and soft and browning with the spices.
Drain the pineapple from the tin, retaining 80ml of juice. If you have rings, chop them into pieces.
Tip the pineapple, chickpeas and peas into the pan and stir. Add the salt.
Cook everything together for 5 minutes, before pouring in the pineapple juice and coconut milk. Stir again, bring to a high heat briefly, and then turn down to simmer for 10 minutes, with a lid tilted over the top of the pan.
Add more seasoning, a sprinkling of stock powder or chilli powder if desired.
Serve with basmati rice or chapati, plant-based yoghurt and lime pickle (optional). You can also top with fresh coriander if you like.
Did you know that Vegan Recipe Club is run by a charity?
We create vital resources to help educate everyone – vegan veterans, novices and the v-curious alike – about vegan food, health and nutrition; as well as the plight of farmed animals and the devastating environmental impact of farming.
Through this work we have helped thousands of people discover veganism; but we want to reach millions more! We rely entirely on donations as we don't get any government funding. If you already support us, thank you from the bottom of our hearts, you are really making a difference! Please share our details with your friends and loved ones too, as every donation enables us to keep fighting for change.