Cauliflower, Vegetable & Chickpea Korma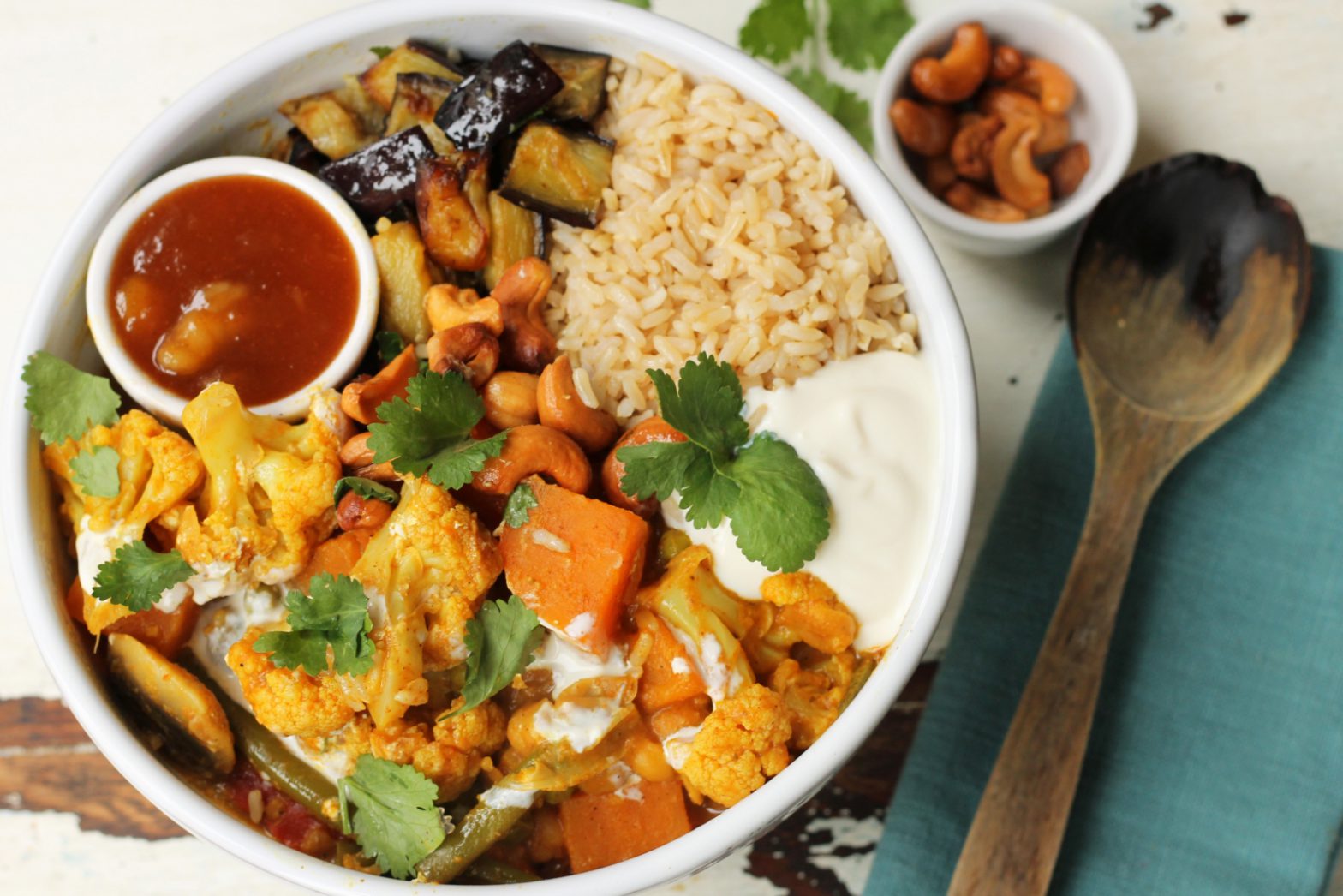 This is delicious and lends itself to a variety of vegetables. Yes, we know cauli is also a veg – but once you've got that as your base you can add others, depending on what works/what's in the fridge!
We also like dahl with everything so if you do too, make that quickly from our Simple Speedy Dahl recipe here.
Our recipe uses a ready-made korma paste mix that's easy to find in shops. However, if you want to make your own korma spice mix, try here for several types of curry – it's a really a useful link!
Serving suggestions:
Brown rice – put on to cook while you're prepping the veg and cooking the korma – it takes 25-30 minutes. Wholegrains like brown rice and millet are healthier, contain more nutrients and keep you feeling full for longer – they are also better for diabetics because of their slow release (low GI) properties!
Millet – this takes about 30 minutes
Cheat's tips – use pouches of ready-cooked brown rice or mixed wholegrains if you're in a hurry! Tesco, Sainsbury's, Uncle Ben, Tilda, Aldi etc.
Plus
Chapattis; vegan yoghurt (eg plain Sojade, Alpro or Provamel sugar-free, Tesco, Coyo); chutney

Not too tricky




Cuisine
Indian and Indian Subcontinent
Meal
mains
lunches
vegetable-side-dishes
Ingredients
Stage 1 – Paste
2 small tomatoes, chopped roughly
1 medium onion, peeled and chopped roughly
3 large cloves of garlic
2cm/1inch piece ginger, peeled and grated (use the edge of a teaspoon to peel, much easier than a knife)
Stage 2
1 can coconut mik, regular or light
1-2 tsp garam masala
¼-½ tsp mild chilli powder
½ jar Patak's Korma Paste
1 tbsp lemon juice
½ tsp salt or more to taste
½ tsp black pepper
Stage 3
½ large cauliflower or one small cauli
½ medium courgette, chopped into medium chunks OR 1 small sweet potato, peeled and diced small
1 cup frozen peas
1 tin chickpeas (or 1¾ cups home-cooked)
1 large handful of roasted, salted cashews (Value work fine)
1 handful fresh coriander, finely chopped (the quantity is pre-chopping)
Optional
120g mushrooms, sliced
1 large pepper – any colour but green – de-seeded and chopped into medium chunks
1 large handful of French green beans – frozen are great and good value
1 small-medium aubergine, chopped into medium small cubes
Instructions
1. Place tomatoes, onion, garlic and ginger into a food processor or blender. Blitz until smooth, stopping to scrape down the sides of the bowl as needed.
2. Transfer this tomato mixture to a medium-large saucepan. Add Stage 2 ingredients: coconut milk, bought korma paste, garam masala, chilli powder, lemon juice, salt and black pepper. Turn up the heat.
3. Stir to integrate everything. Add the hardest vegetables – cauli, chickpeas and any other hard veg that you've chosen – including sweet potato. Bring to the boil then immediately reduce to a simmer and cook until the cauli is al dente (just cooked, crisp but not hard – and not soggy). Add up to half a cup of water or almond milk if the sauce gets too thick.
4. Add the peas and courgettes and simmer for another 5 minutes or so.
5. Serve, and top each serving with cashews and chopped coriander – and the grain of choice plus any other options, as above.
Did you know that Vegan Recipe Club is run by a charity?
We create vital resources to help educate everyone – vegan veterans, novices and the v-curious alike – about vegan food, health and nutrition; as well as the plight of farmed animals and the devastating environmental impact of farming.
Through this work we have helped thousands of people discover veganism; but we want to reach millions more! We rely entirely on donations as we don't get any government funding. If you already support us, thank you from the bottom of our hearts, you are really making a difference! Please share our details with your friends and loved ones too, as every donation enables us to keep fighting for change.