Blackberry Crumble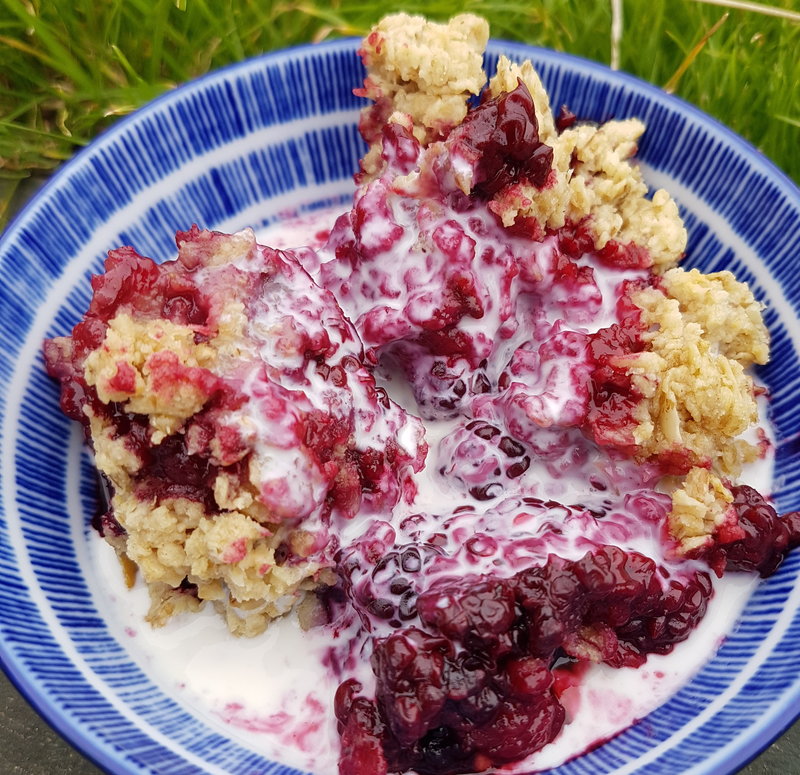 The perfect companion to a summer's afternoon. Pick your own blackberries and then enjoy this beautiful Blackberry Crumble! Top with soya or oat cream or vegan icecream.

Easy


Ingredients
400g/ 4 cups blackberries, washed
65g/ ½ cup soft brown sugar
10g/2 tbsp oats or ground almonds for GF option
150g/ 1 ¼ cups plain flour or GF flour
50g/ ¼ vegan margarine
Instructions
Preheat the oven to 180ºC (fan)/350ºF/Gas Mark 4
1. Tip the blackberries and 65g of sugar into a medium-sized pudding/baking dish and mix together.
2. For the topping, place the 2 tbsp sugar, oats or ground almonds, flour and margarine into a mixing bowl. Rub in the margarine until it resembles breadcrumbs.
3. Spoon the topping evenly ontop of the blackberries.
4. Bake in the oven until turning golden on the top, for around 25-30 mins.
5. Serve immediately with soya or oat cream, or vegan icecream.
Did you know that Vegan Recipe Club is run by a charity?
We create vital resources to help educate everyone – vegan veterans, novices and the v-curious alike – about vegan food, health and nutrition; as well as the plight of farmed animals and the devastating environmental impact of farming.
Through this work we have helped thousands of people discover veganism; but we want to reach millions more! We rely entirely on donations as we don't get any government funding. If you already support us, thank you from the bottom of our hearts, you are really making a difference! Please share our details with your friends and loved ones too, as every donation enables us to keep fighting for change.