Apricot Tart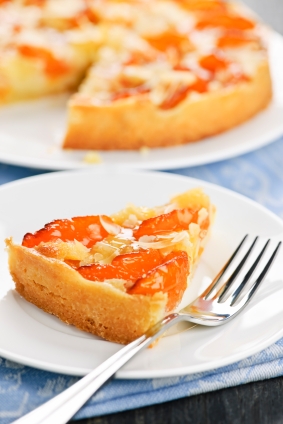 A lovely French-style tart! There are two pastry options: home made, as in our recipe, or using ready-made.
Top Tips
To save time, home-madepastry can be made in advance and stored in a plastic bag in the fridge until needed. The apricots can also be soaked beforehand to save time. Both can be done the night before.

Not too tricky
Ingredients
Home-made Pastry
170g/6oz plain flour
55g/2oz soya flour
1tbsp caster sugar
1tsp salt
110g/4oz vegetable fat (frozen then grated, or use shredded veggie suet)
45ml/3tbsp soya cream
OR 1 sheet of ready-rolled Jus-Rol shortcrust pastry
Filling
225g/8oz dried apricots, soaked overnight
225g/8oz soya cream
45ml/3tbsp brandy
45ml/3tbsp muscovado sugar
Instructions
1. If making home-made pastry, do so now by mixing flours, sugar and salt and rubbing in vegetable fat – either by hand or in a food processor.
2. Add soya cream to the pastry to bind. Mould into a ball and refrigerate for 30 minutes.
3. Return to room temperature before rolling out . Use the home-made pastry OR the Jus-Rol sheet and use to line a 20cm/8inch tart tin. Leave about 2cm/1 inch of pastry above the tin.
4. Preheat oven at 220ºC/425ºF/Gas Mark 7.
5. Place apricots and their soaking water in a saucepan over a gentle heat and cook until tender and all the water has evaporated (about 3 minutes).
6. Blend half the apricots to a puree, add soya cream and brandy and pour into the pastry shell.
7. Arrange the rest of the apricots over the puree.
8. Then bend the sides of the pastry over onto the apricots and mark with knife to make scallop shell effect.
9. Sprinkle sugar over top and bake in preheated oven at for 15-20 minutes. Cool before slicing.
Did you know that Vegan Recipe Club is run by a charity?
We create vital resources to help educate everyone – vegan veterans, novices and the v-curious alike – about vegan food, health and nutrition; as well as the plight of farmed animals and the devastating environmental impact of farming.
Through this work we have helped thousands of people discover veganism; but we want to reach millions more! We rely entirely on donations as we don't get any government funding. If you already support us, thank you from the bottom of our hearts, you are really making a difference! Please share our details with your friends and loved ones too, as every donation enables us to keep fighting for change.