Vegan Paella with Samphire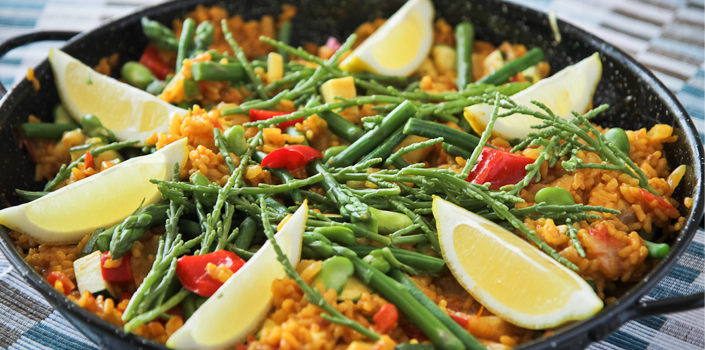 Our vegan paella recipe is the ultimate taste of Spain! In Spain you can tuck into paella on the streets, cooked in huge paella pans. Paella is traditionally made with seafood and / or meat. We've made ours vegan by adding samphire to give a fish-free salty sea breeze taste.

Not too tricky
Courtesy of Demuths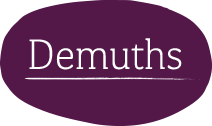 See other recipes by Demuths
Ingredients
1 large onion, finely chopped
1 red pepper, chopped into 1cm pieces
250g tomatoes, de-cored, deseeded and chopped
300g fennel, sliced
2 garlic cloves, crushed
1 tsp Smoked Paprika
A pinch of saffron, soaked in boiling water for at least ½ hour
1 tbsp thyme leaves
2 bay leaves
100 ml Dry Sherry
500ml hot home-made stock
200g Paella rice
100g French beans (topped and tailed)
A handful of samphire
1 bunch Asparagus, tips
100g peas and or broadbeans
100g marinated artichokes (in a tin or in oil), sliced
Salt and pepper
Olive oil, chopped fresh flat-leaf parsley and lemon wedges to serve
Instructions
In the widest frying pan you have, fry the onion in the olive oil until it is really soft, and then add the garlic, peppers, tomatoes and fennel.
Add the saffron (in its water), paprika, thyme and bay leaf and gently simmer until it cooks down to a sauce consistency. This is called "sofrito".
Add the rice and fry gently for 5 minutes to absorb the flavours.
Add about half of the sherry and cook until this has been absorbed, then add nearly all of the stock and the rest of the sherry, keeping a little stock back in case the Paella is too dry later, and leave to simmer on a low heat until the rice has soaked up the liquid and is soft (you need to taste it) DO NOT STIR!
About 10 minutes into the cooking add green beans and fold them into the paella without stirring too much. It should take about 20 minutes to completely cook.
When the rice is almost cooked, sprinkle on the asparagus, artichokes, peas and samphire and a little more stock if needed, stir once and leave to cook for about 5 minutes until the rice is tender and the vegetables are cooked (but not soggy!) season to taste and serve with a swirl of extra virgin olive oil, freshly chopped flat-leaf parsley and lemon wedges
Tips:
Paella is traditionally made in a very wide Paella pan (like a wide frying pan with handles) and cooked over coals so the entire pan is heated at the same time. Presuming you don't have a wide gas hob you will need to move the pan around often to distribute the heat
Over-stirring of the Paella makes the rice go sticky. Don't worry if you get a crispy layer at the bottom. In Spain this is regarded as the best bit!
Don't rinse the rice before cooking
Vary the vegetables to suit the season and your tastes use asparagus when in season and wild mushrooms-although mushrooms are best cooked separately and added towards the end of cooking.
Samphire is a great addition to Paella if you want a fish-free fishy taste! It is often available in supermarkets and fishmongers or can be foraged from the seaside!
Did you know that Vegan Recipe Club is run by a charity?
We create vital resources to help educate everyone – vegan veterans, novices and the v-curious alike – about vegan food, health and nutrition; as well as the plight of farmed animals and the devastating environmental impact of farming.
Through this work we have helped thousands of people discover veganism; but we want to reach millions more! We rely entirely on donations as we don't get any government funding. If you already support us, thank you from the bottom of our hearts, you are really making a difference! Please share our details with your friends and loved ones too, as every donation enables us to keep fighting for change.