Vegan Hot Cross Buns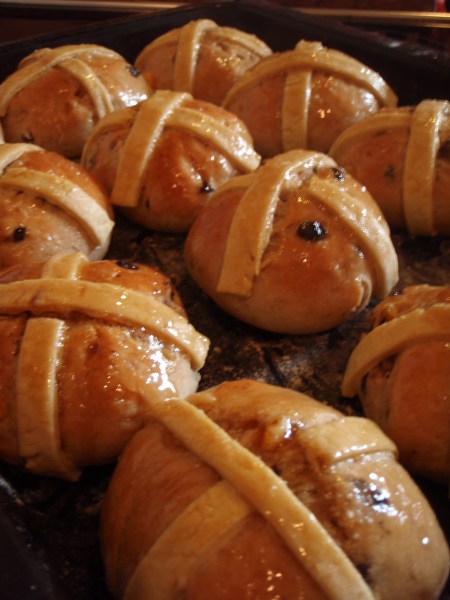 Our fabulous guest chef, Justine Butler (justbloggs), made hot cross buns for Easter! This is the first time she's made them and they came out really well. They are bloomin' tasty and she'll be making more soon!
Check out Justine's blog here – and her other culinary adventures – on JustBloggs
PS. The recipe now offers the option of vegan margarine or coconut oil

Not too tricky
Ingredients
450g bread flour
1tsp mixed spice
1tsp ground cinnamon
Pinch of salt
50g golden caster sugar
50g margarine
100g currants
50g mixed citrus peel
7g dried yeast
250ml warm water
For the pastry crosses
50g plain flour
20g vegan margarine OR mild coconut oil (eg Biona Cuisine)
2-3 tsp cold water
For the glaze
3 tbsp Demerara sugar
3 tbsp water
Instructions
Put the flour, salt, spice, sugar, peel, currants and yeast in a bowl and mix.
Rub in the margarine.
Warm the water by mixing boiled and cold water to around body temperature ~ 40°C.
Add the water and stir in, then mix well to form a dough.
Knead on a lightly floured board for 5 mins until smooth and stretchy.
Put in a bowl covered with cling film and leave somewhere warm for 45 mins to double in size.
Gently pat it back down then divide it into 12 balls.
Place them on lightly greased and floured baking sheet and leave in a warm place for 20-30 mins.
Meanwhile preheat the oven to 180°C.
Make pastry for the crosses by rubbing the flour and marg into crumbs then add water and mix.
Roll the pastry out thinly and cut into 24 strips.
When the buns have risen, gently press the pastry strips into the dough to form crosses. Use soya milk to stick them.
Bake for about 15-20 mins until pale golden brown.
While they are baking make the glaze by gently heating the sugar and water into a pan until the sugar has melted.
When the hot cross buns are cooked brush the tops with the syrup so they go shiny.
Did you know that Vegan Recipe Club is run by a charity?
We create vital resources to help educate everyone – vegan veterans, novices and the v-curious alike – about vegan food, health and nutrition; as well as the plight of farmed animals and the devastating environmental impact of farming.
Through this work we have helped thousands of people discover veganism; but we want to reach millions more! We rely entirely on donations as we don't get any government funding. If you already support us, thank you from the bottom of our hearts, you are really making a difference! Please share our details with your friends and loved ones too, as every donation enables us to keep fighting for change.