Vegan Chocolate Stout Cupcakes with Whisky Icing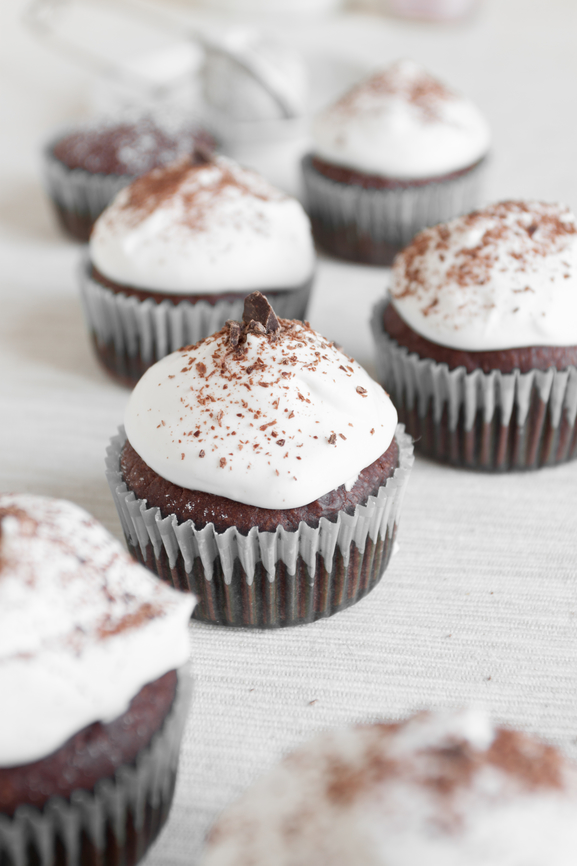 Perfect for St Patrick's Day – or even Burns' Night!
Using vegan porter or stout makes for a lovely rich taste that enhances the chocolate nicely… Not all such beers are vegan however so we've given you a few pointers. Guinness is now vegan!
Vegan stouts
Fuller's London Porter
Sainsbury's London Porter
Samuel Smith stouts: Extra; Imperial; Oatmeal
http://www.barnivore.com lists most vegan beer in the UK and elsewhere!

Easy


Ingredients
Cupcakes
Dry mix
250g/1½ cups plain (all-purpose) flour. Gluten-free? Use plain GF flour + ¾ tsp xanthan gum
200g/1 cup dark brown sugar
50g/⅓ cup cocoa powder
1 tsp baking powder
½ tsp salt
Wet mix
240ml/1 cup dark vegan beer, eg stout or porter. See above for some brand suggestions
120ml/½ cup plain vegetable oil
2 tbsp cider vinegar
1 tbsp flax meal, mixed with 2-3 tbsp water
Whisky Buttercream Icing
Dry mix
225g/1 cup vegan margarine and mild coconut oil at roughly 50:50 ratio. Use Biona Cuisine coconut oil or similar
375g/3 cups icing sugar
Wet mix
1 tsp vanilla extract or essence
2-5 tbsp plant milk, eg soya, almond etc
3-4 tsp Irish whiskey or Scotch whisky
Optional toppings
Askey's Crackin' Chocolate Chunk or Crackin' Caramel (both are vegan, whereas not all the Askey's range is)
Cake decorations – eg sprinkles. Check these are vegan as not all are.
Instructions
Preheat the oven to 180°C/350°F/Gas Mark 4. Line 14 cupcake holes with 14 cupcake liners.
In a large bowl, sieve then whisk together the cupcake dry ingredients.
Pour the wet ingredients into the dry and mix thoroughly so that everything is well integrated. Don't overmix.
Fill the cupcake liners about two thirds full with batter. Place in a hot oven immediately and bake for 16-18 minutes – set a timer for 16. Then use a cake tester/toothpick. If it comes out clean, they're ready. If not, cook for another 2-3 minutes. If you're cooking these on different oven shelves you might want to swap them round before giving them extra time.
Make the icing and chill it while the cupcakes are baking.
Cool the cakes before icing.
To make the icing:
Using a cake mixer or food processor, beat the fat until smooth.
Drizzle in the sieved icing sugar then the vanilla.
Now drizzle in the plant milk 1 tbsp at a time – you might not need it all – until the icing becomes spreadable. Add the whiskey/whisky a little at a time until you get the taste you want
Beat for another minute or two until the icing is light and fluffy. Chill for half an hour or more then transfer to a piping bag and pipe it on top of each cupcake. If you don't have a piping bag, just spoon it on then make patterns with a fork! Drizzle with the crackin' caramel or chocolate topping and then cake decorations if using. Keep the iced cupcakes in an airtight container and store in a cool place so the icing doesn't melt too much.
Did you know that Vegan Recipe Club is run by a charity?
We create vital resources to help educate everyone – vegan veterans, novices and the v-curious alike – about vegan food, health and nutrition; as well as the plight of farmed animals and the devastating environmental impact of farming.
Through this work we have helped thousands of people discover veganism; but we want to reach millions more! We rely entirely on donations as we don't get any government funding. If you already support us, thank you from the bottom of our hearts, you are really making a difference! Please share our details with your friends and loved ones too, as every donation enables us to keep fighting for change.