Ultimate Vegan Pizza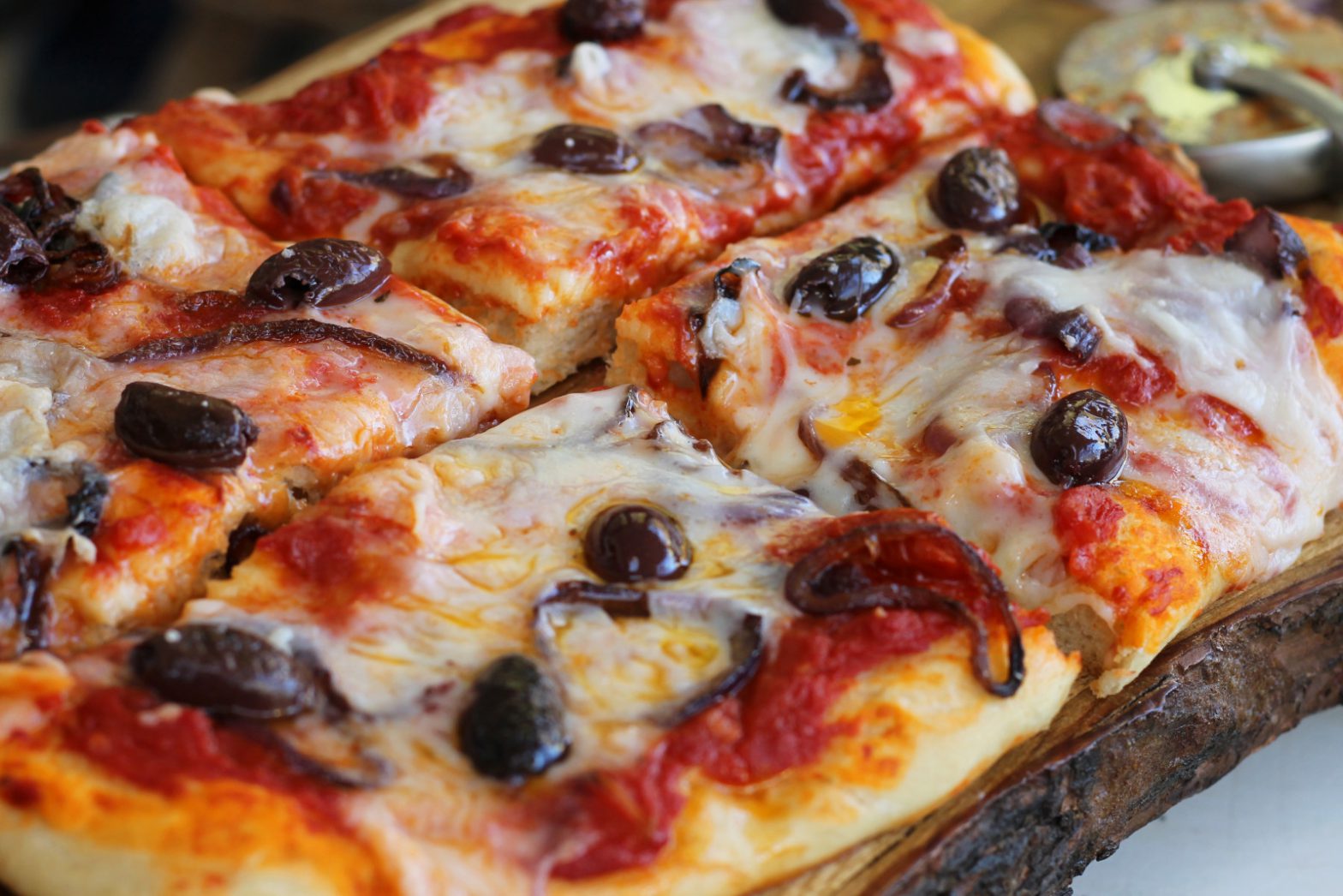 Don't be put off by the homemade base because it's really really worth it! It's actually very easy and tastes delicious… the best base we've ever had! Choose from your favourite toppings and get creative!

Not too tricky

Meal
mains
lunches
sides-light-meals-and-salads
Ingredients
Dough
500g strong white bread flour
¾ tsp salt
1x7g sachet/1½ tsp of fast action dried yeast
1 tbsp golden caster sugar
2 tbsp extra virgin olive oil
325ml lukewarm water
Tomato Sauce
(If you're short of time, use a shop-bought passata or dairy-free pesto eg La Sacla, Meridian, Zest)
Olive oil
1 clove garlic (finely diced)
1 tin (400g) plum tomatoes
Pinch of salt
Topping
Melting vegan cheese…our favourite melting varieties are: Violife Mozzarella, Bute Island Sheeze Mozzarella, Bute Island Greek Style Sheese (also found in Tesco and Sainsbury's), MozzaRisella
Choose from:
Artichokes
Broccoli
Candied walnuts
Capers
Caramelised onion
Caramelised pineapple
Chilli oil
Fresh basil
Fresh rocket
Grilled courgettes
Homemade 'ricotta'
Hummus
Jalapenos
Mushrooms
Olives
Onions
Pineapple
Roast aubergine
Roast garlic
Roast peppers
Rosemary
Spinach
Sun dried tomatoes
Sweetcorn
Tomatoes
Vegan pepperoni
The VRC pizza pictured above has a topping of:
Homemade tomato sauce (recipe above)
Caramelised red onion
Black olives (pitted)
Instructions
Dough
Sieve the flour and salt into a large bowl and make a well (hole) in the middle.
In a jug, mix the yeast, sugar, oil and water and leave for a few minutes, then pour into the well.
Bring the flour in gradually from the sides and whirl it into the liquid using a fork. Keep mixing, drawing larger amounts of flour in, and when it all starts to come together, work the rest of the flour in with your clean, flour-dusted hands. Knead until you have a smooth, springy dough.
Place the ball of dough in a large flour-dusted bowl and flour the top of it. Cover the bowl with a damp cloth and place in a warm room for about an hour until the dough has doubled in size.
Now remove the dough to a flour-dusted surface and knead it around a bit to push the air out with your hands. You can either use it immediately, or keep it, wrapped in clingfilm, in the fridge (or freezer) until required.
If using straight away, divide the dough up into as many little balls as you want to make pizzas – this amount of dough is enough to make about 3-4 medium pizzas.
Use the dough straight away unless storing.
Roll out into whatever shape you fancy (circle ish) until the dough is about 1/2 cm thick. It should be springy but not sticky.
Tomato Sauce
Heat a tablespoon of olive oil in a pan on a low-medium heat and then add the chopped garlic.
Cook for a minute or two until the garlic is light golden in colour.
Add the tomatoes, a pinch of salt and leave on a low-med heat for 20-25 minutes.
Give it a final stir, breaking up the tomatoes with a spoon.
Assembly
Heat oven to 250ºC/480ºF/Gas Mark 9.
Spread the passata or pesto onto the freshly rolled (uncooked) dough.
Add the cheese first (this prevents the toppings sliding off).
Add a combination of toppings.
Put in the oven for 7-10 minutes until golden and crisp.
---
Did you know that Vegan Recipe Club is run by a charity?
We create vital resources to help educate everyone – vegan veterans, novices and the v-curious alike – about vegan food, health and nutrition; as well as the plight of farmed animals and the devastating environmental impact of farming.
Through this work we have helped thousands of people discover veganism; but we want to reach millions more! We rely entirely on donations as we don't get any government funding. If you already support us, thank you from the bottom of our hearts, you are really making a difference! Please share our details with your friends and loved ones too, as every donation enables us to keep fighting for change.