Tropical Rice Salad with Sesame Orange Dressing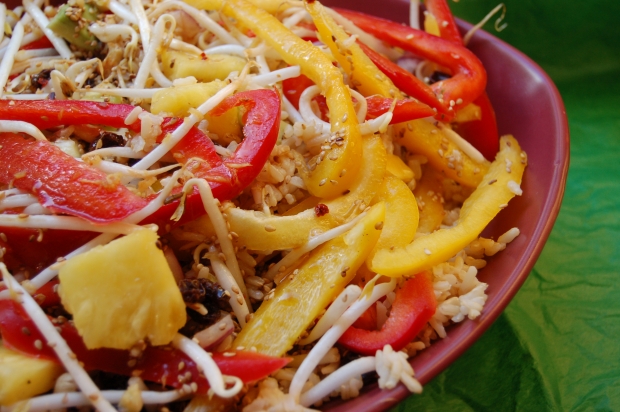 A truly superior version of rice salad. The dressing is particularly gorgeous.
Top Tip: try varying the vegetables according to your budget and what needs using up in the fridge! Any of these work well:
grated carrot
mangetout
lightly steamed French beans
shredded lettuce (eg cos)
lightly steamed fresh soya beans (edamame)

Not too tricky
Meal
mains
sides-light-meals-and-salads
vegetable-side-dishes
Ingredients
Pre-cooked rice: 450g/1lb brown long grain or brown basmati
Rice from scratch, raw: 200g/7oz long grain OR basmati brown rice simmered in water with added 1 tsp vegan bouillon powder (eg Marigold red tub or Kallo OR 1 Green Oxo)
Salad
1 thick slice of fresh ripe pineapple, cored and cut into medium cubes OR half a mango, peeled and cubed (unsweetened frozen or tinned pineapple/mango will also work)
1 small, ripe avocado, peeled, stone removed and chopped into medium cubes
2 spring onions, chopped + 3 more left whole for decoration
½ stalk celery, finely chopped
½ pack bean sprouts, washed and drained
1 tbsp raisins (omit these if you hate them – but try experimenting with chopped apricots)
2 tbsp whole peanuts
2 tbsp toasted cashew pieces
1 tbsp sesame seeds
½ a red pepper
½ a yellow or orange pepper
Dressing
40ml/1 generous tbsp plain vegetable oil
1½ tbsp toasted sesame oil
60ml/4 tbsp fresh orange or pineapple juice
1 small garlic clove, crushed
1 tsp grated fresh ginger root
¼ tsp crushed red pepper flakes OR generous pinch of chilli powder
1 tbsp shoyu or tamari soya sauce
Pinch of salt
1 tbsp cider vinegar
Instructions
1. If you have leftover rice, go to no. 2. If cooking rice from scratch: put the rice in a pan, add enough water to cover and more (about 2cm/1 inch). Bring to the boil and simmer for 25-30 minutes. The rice should be tender but not sloppy. If it starts to dry up, add a little hot water as needed. To cool quickly, place in a colander and run cold water over it. Drain thoroughly then crumble in stock cube/bouillon and mix in well.
2. Meanwhile, toast the cashews and sesame seeds in a non-stick frying pan over a medium heat, turning over continuously with a spatula. The nuts and seeds should be a light golden colour, not black. Remove from the pan and set aside until needed.
3. Prepare the rest of the salad ingredients and set aside. Make the dressing in a screw top jar and give a good shake to ensure everything is well integrated.
The cooled rice should be placed in a large serving bowl. Add all salad ingredients. Pour on dressing and mix in well. Garnish with the leftover spring onions.
Optional extras / notes
15 minutes if using pre-cooked rice; 30 minutes plus cooling time if cooking brown rice from scratch
Did you know that Vegan Recipe Club is run by a charity?
We create vital resources to help educate everyone – vegan veterans, novices and the v-curious alike – about vegan food, health and nutrition; as well as the plight of farmed animals and the devastating environmental impact of farming.
Through this work we have helped thousands of people discover veganism; but we want to reach millions more! We rely entirely on donations as we don't get any government funding. If you already support us, thank you from the bottom of our hearts, you are really making a difference! Please share our details with your friends and loved ones too, as every donation enables us to keep fighting for change.