Tofu Pad Thai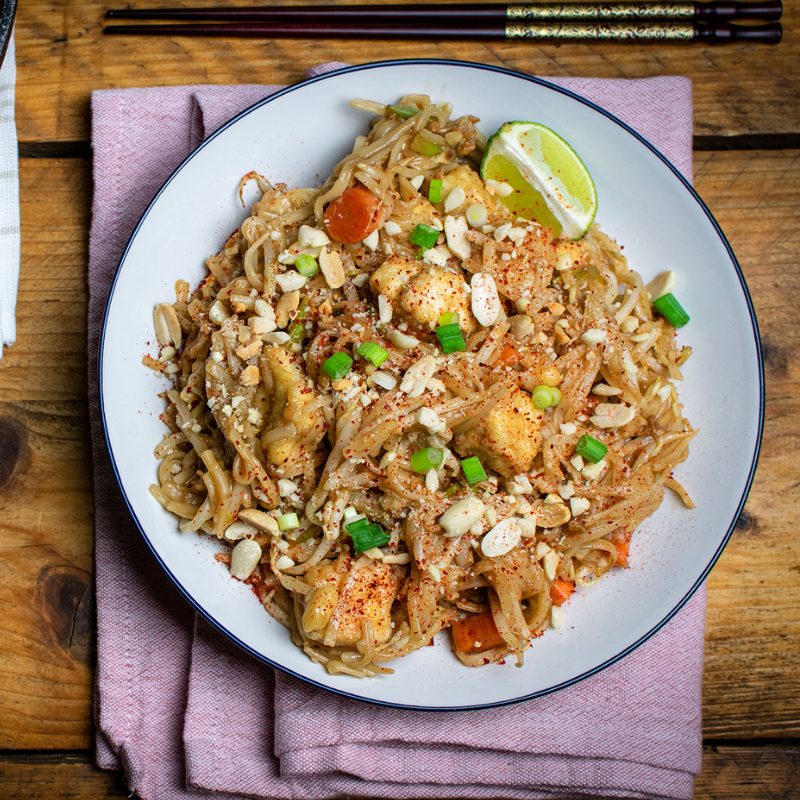 Pad Thai is a classic meal from Thailand. It pairs sweet, salty, sour and spicy perfectly. Serve with chilli flakes, extra peanuts and soy sauce so you can customise it to be just how you like it!

Easy


Courtesy of Vegan Punks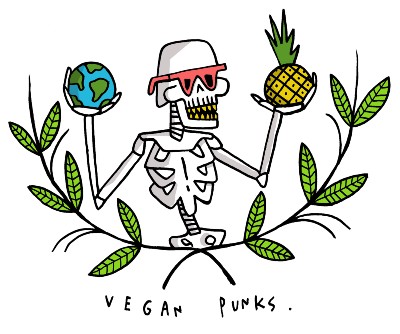 See other recipes by Vegan Punks
Ingredients
2 tbsp oil
450g firm tofu, cut into 2cm chunks
4 cloves garlic, minced
2 large carrots, diced
6 spring onions, cut into 2cm slices
3 tbsp light soy sauce
3 tbsp dark soy sauce
2 tsp coconut sugar (optional)
300g bean sprouts
4 tbsp peanuts, roughly chopped
Juice of 1 lime
4 tbsp pickled radishes
1 cup warm water
200g flat rice noodles
Optional: 4 tbsp cornflour to coat the tofu (this adds a nice coating to the tofu)
Instructions
If you're using the cornflour, put it in a bowl and toss the tofu in it until all pieces are well coated.
Heat 1 tablespoon of oil in a wok over a medium-high heat. Add the tofu and cook until nicely browned and crispy on the outside. Take the tofu out and set to one side for later. Even if you aren't using the cornflour, it's good to seal and brown the tofu first.
Soak the noodles in a bowl of hot water and leave for 5-10 minutes (or follow the instructions on the packet).
Heat the remaining tablespoon of oil over a medium-high heat in the wok.
Fry the garlic in the wok for a minute (it should be sizzling, but be careful it doesn't burn).
Add the carrot, spring onions, soy sauce and sugar, then keep stirring for a few minutes more.
Pop the radishes in (if using them).
Drain and rinse the noodles with cold water.
Move everything to the side of the wok and add the warm water into the gap. Pour in the noodles and stir everything together.
Once the water has cooked off (it should take a few minutes over a high heat) add the peanuts, tofu, bean sprouts and lime juice.
Taste, and add more soy sauce, lime juice or sugar if needed.
Chuck a bottle of light soy, lime wedges, chilli flakes and extra crushed peanuts on the table, so everyone can have their vegan pad Thai just the way they like it!
Did you know that Vegan Recipe Club is run by a charity?
We create vital resources to help educate everyone – vegan veterans, novices and the v-curious alike – about vegan food, health and nutrition; as well as the plight of farmed animals and the devastating environmental impact of farming.
Through this work we have helped thousands of people discover veganism; but we want to reach millions more! We rely entirely on donations as we don't get any government funding. If you already support us, thank you from the bottom of our hearts, you are really making a difference! Please share our details with your friends and loved ones too, as every donation enables us to keep fighting for change.