Thai Vegan Prawn Curry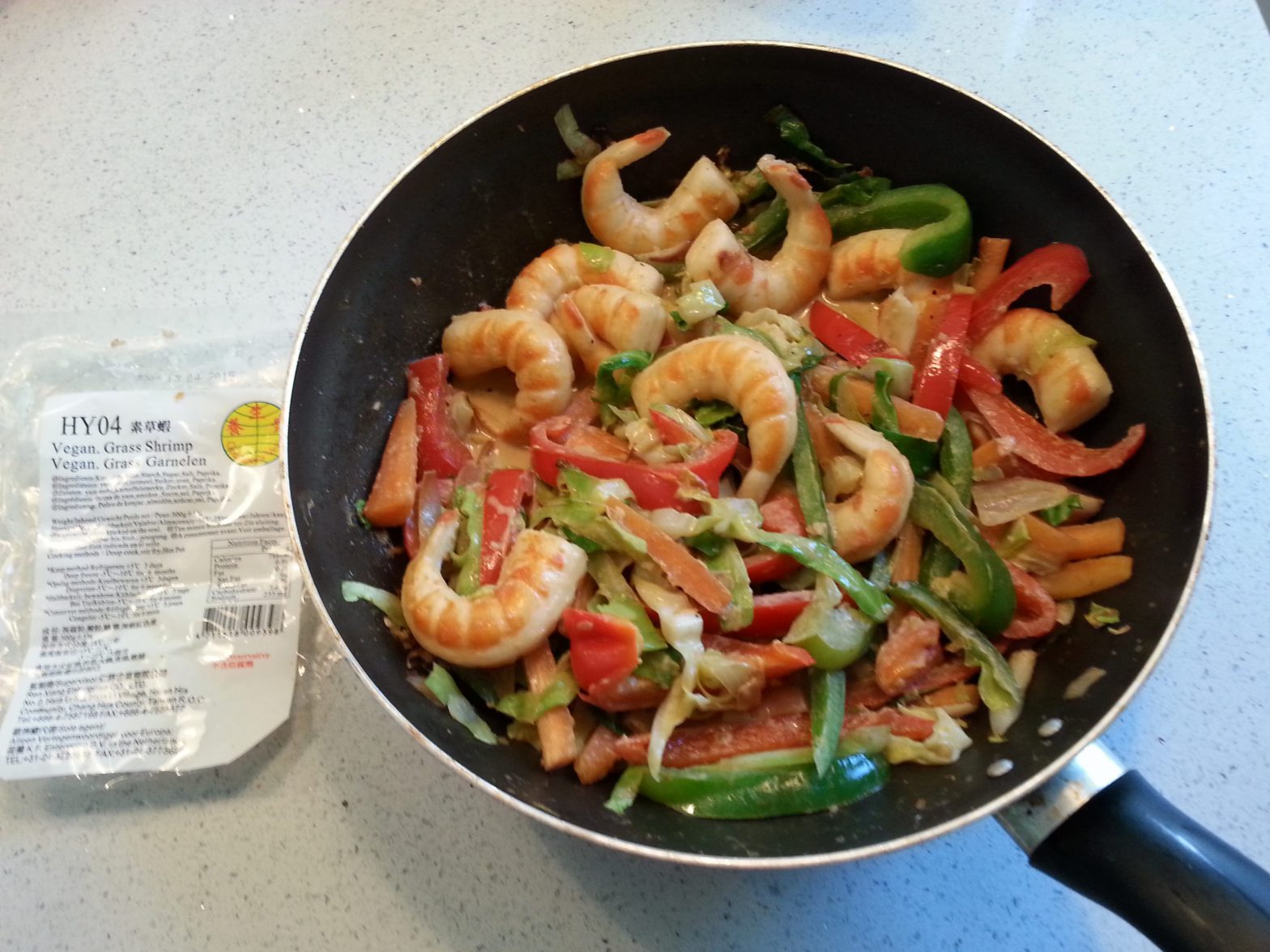 This is a quick and easy dish to prepare and very tasty!
And see Viva!'s Prawn Crackers article to find out why vegans, veggies and those who care about the environment and Thai workers don't eat 'the real thing'.
Vegan prawns are available from good Oriental supermarkets or online from Veggie World which sells a fantastic range of vegan meat, seafood and fish alternatives – (some are vegetarian so make sure you enter 'vegan' in the search box). It's worth ordering quite a lot or splitting an order!

Not too tricky

Ingredients
Rice
Brown, white or mixed – about 1 mug cooked rice per person (this can be cooked while you prep and cook the stir-fry OR use ready-cooked pouches eg Uncle Ben, ½-¾ a pouch per person)
Stir-fry
2 tbsp plain cooking oil
2 large handfuls of sliced vegetables per person, eg peppers, carrots, onion, pak choi or shredded green cabbage, baby sweetcorn, asparagus chunks, mangetout, mushrooms… Use home-prepped veg or supermarket stir-fry packs
4 cloves garlic, crushed – keep about a third aside for the prawns
1-2 tsp grated fresh ginger
1 tbsp Thai Taste green curry paste (less if you are sensitive to hot food)
1 tin coconut milk
Salt and pepper
Lime juice to taste
Prawns
1 tbsp oil
1 pack vegan prawns, defrosted
1 tbsp lemon grass paste
½-¾ tsp crushed garlic
Tamari or shoyu soya sauce to taste
2 limes. One for juice, the other for serving wedges
Instructions
1. Put the rice on to cook – brown takes 20-30 minutes from scratch, white 11-12, ready-cooked pouches a few minutes in the microwave.
2. Prep the vegetables quickly.
3. Sauté the vegetables in a wok or large pan for a few minutes, starting with the hard type eg onion, carrots then adding softer ones last, eg beansprouts. Don't overcook – keep some texture to the veg. Add the ginger and curry paste and cook in for about half a minute, stirring continuously.
4. Meanwhile, sauté the prawns in a non-stick frying pan or small wok until they are lightly browned on each side. Cook in the lemon grass paste, garlic and soya sauce and toss everything well.
5. Add the coconut milk to the vegetable stir-fry then the prawns. Heat through gently.
6. Taste everything, adjust the seasoning as necessary (eg more lemongrass/soya sauce/ginger/curry paste/salt as desired) then add a good squeeze or two of lime juice before serving.
7. Dish up the rice on each plate and spoon the veg/prawn dish on top. Serve with lime wedges.
Did you know that Vegan Recipe Club is run by a charity?
We create vital resources to help educate everyone – vegan veterans, novices and the v-curious alike – about vegan food, health and nutrition; as well as the plight of farmed animals and the devastating environmental impact of farming.
Through this work we have helped thousands of people discover veganism; but we want to reach millions more! We rely entirely on donations as we don't get any government funding. If you already support us, thank you from the bottom of our hearts, you are really making a difference! Please share our details with your friends and loved ones too, as every donation enables us to keep fighting for change.