Asparagus, Pea & Lemon Risotto (with sage crisps & toasted almonds)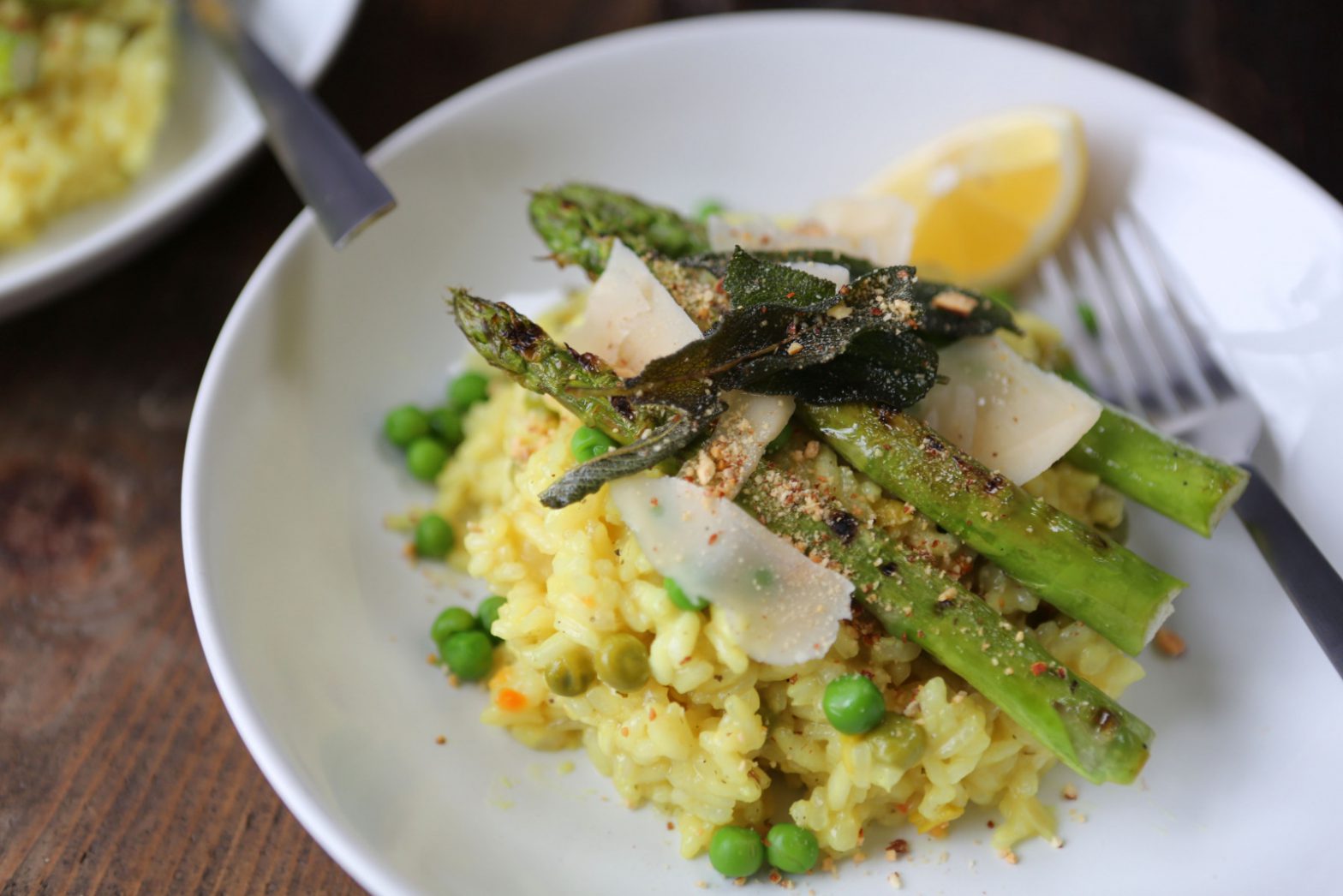 This lovely springtime risotto can be adapted to all levels of taste and ability. Either way it's straightforward but if you'd like to posh it up a bit then add the toasted almonds and sage crisps. The basic risotto is still delicious as it is if you need a faster, simpler recipe. Enjoy 🙂

Not too tricky



Ingredients
50g almonds (optional)
400g risotto rice
2 shallots or small onions, finely diced
4 cloves garlic, crushed
2 spring onion (optional), finely sliced
250ml vegan white wine (check out Barnivore for a comprehensive list)
2 tbsp lemon juice
150g frozen peas
200g asparagus, ends removed
1 litre vegan stock (and possibly a bit more)
1 tbsp black truffle oil (optional)
20g fresh sage leaves (optional)
65ml olive oil
Vegan parmesan, shaved (eg Violife Prosociano)
Salt and pepper, to taste
Instructions
Heat the oven to 180˚C (fan)/350˚F/Gas Mark 4.

Spread the almonds over a baking tray and heat in the oven for 5-10 minutes.
Blitz them into bits (not powder) or finely chop. Set aside.
To make the (optional) sage crisps, heat the olive oil in a small frying pan on a medium to high heat. Drop the sage leaves in for a few seconds then remove and sprinkle with salt. Set aside.
Heat some oil in a large saucepan over a medium heat.
Fry the shallots and (optional) spring onion until soft.
Add the garlic, stir through and fry for 30 seconds-1 minute.
Pour in the risotto rice, stir thoroughly and heat for 30 seconds.
Add the white wine and on a low to medium heat cook until fully absorbed.
Pour in a quarter of the stock and again cook until fully absorbed. Repeat this stage using a quarter of the stock at a time until it's all been absorbed. The texture should be loose and creamy and the rice is al dente (has a little bite to it). Add more stock if necessary.
Add the lemon juice and (optional) truffle oil and stir through.
Add salt and pepper, to taste.
Either add the peas a few minutes before the end of cooking or cook separately and add in at the end to retain the most colour.
Fry the asparagus on either side for 1-2 minutes or griddle on both sides using a griddle pan.
Add the peas to the risotto then decorate with asparagus, sage crisps, Parmesan and roasted almonds.
Did you know that Vegan Recipe Club is run by a charity?
We create vital resources to help educate everyone – vegan veterans, novices and the v-curious alike – about vegan food, health and nutrition; as well as the plight of farmed animals and the devastating environmental impact of farming.
Through this work we have helped thousands of people discover veganism; but we want to reach millions more! We rely entirely on donations as we don't get any government funding. If you already support us, thank you from the bottom of our hearts, you are really making a difference! Please share our details with your friends and loved ones too, as every donation enables us to keep fighting for change.