Sweet & Sour Vegan King Prawns with Steamed Oriental Vegetables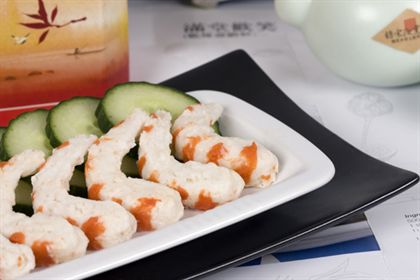 This is a quick and easy dish to prepare and very tasty!
Vegan prawns are available from good Oriental supermarkets or online from Veggie World which sells a fantastic range of vegan meat, seafood and fish alternatives – (some are vegetarian so make sure you enter 'vegan' in the search box). If you like vegan meat and fish products, it's worth ordering quite a lot or splitting an order.
And see Viva!'s Prawn Crackers article to find out why vegans, veggies and those who care about the environment and Thai workers don't eat 'the real thing'.

Not too tricky
Ingredients
Stir-fry
Use those listed below – or if you're in a hurry, use a ready-prepped stir-fry pack and other ready-to-cook veg, eg mange tout, asparagus or whatever else you fancy!
2 carrots, cut into thin strips
2 courgettes, cut into thin strips
1 small head of broccoli. peel the stalk then cut the stalk into thin strips and chop the florets into small pieces
1 packet mange tout, halved
Large bunch of spring onions, sliced
1 packet vegan prawns, defrosted
Oil to fry – about 2 tbsp
Sauce
Use a fresh or bottled ready-made if you are short of time. However, these tend to be laced with sugar and aren't so good.
Here's our home-made version! If you have a high speed blender, eg Nutribullet type, no need to finely chop – just stick it all in and whizz until you get the texture you like.
3 tomatoes, chopped fine
Large carrot, grated
½ an onion, roughly chopped
2-3 tbsp agave or date syrup or to taste
4-5 sundried tomatoes, chopped with scissors
2 tbsp cider vinegar
1 tbsp soya sauce – use a GF version if appropriate, eg tamari is gluten-free
1 tsp plain vegetable oil
1 cm piece of fresh ginger, grated
1 clove garlic, chopped
Quarter of a red chilli, de-seeded OR a pinch or two of chilli powder to taste
Instructions
1. If cooking brown or white rice, put it on to cook now. Alternatively, use pouches of ready-cooked rice, either type.
2. Steam all the vegetables until just cooked – or stir-fry in a little oil, using a wok or large frying pan. Keep warm.
3. Fry the vegan prawns in a little oil in a separate frying pan.
4. Blend the sauce ingredients and heat up in a pan without boiling.
5. Mix the vegetables and prawns together, making sure they're piping hot.
6. Serve this mixture in bowls or on a plate, with the sauce and rice on the side.
Did you know that Vegan Recipe Club is run by a charity?
We create vital resources to help educate everyone – vegan veterans, novices and the v-curious alike – about vegan food, health and nutrition; as well as the plight of farmed animals and the devastating environmental impact of farming.
Through this work we have helped thousands of people discover veganism; but we want to reach millions more! We rely entirely on donations as we don't get any government funding. If you already support us, thank you from the bottom of our hearts, you are really making a difference! Please share our details with your friends and loved ones too, as every donation enables us to keep fighting for change.