Spicy Italian Seitan Sausage from Food for a Future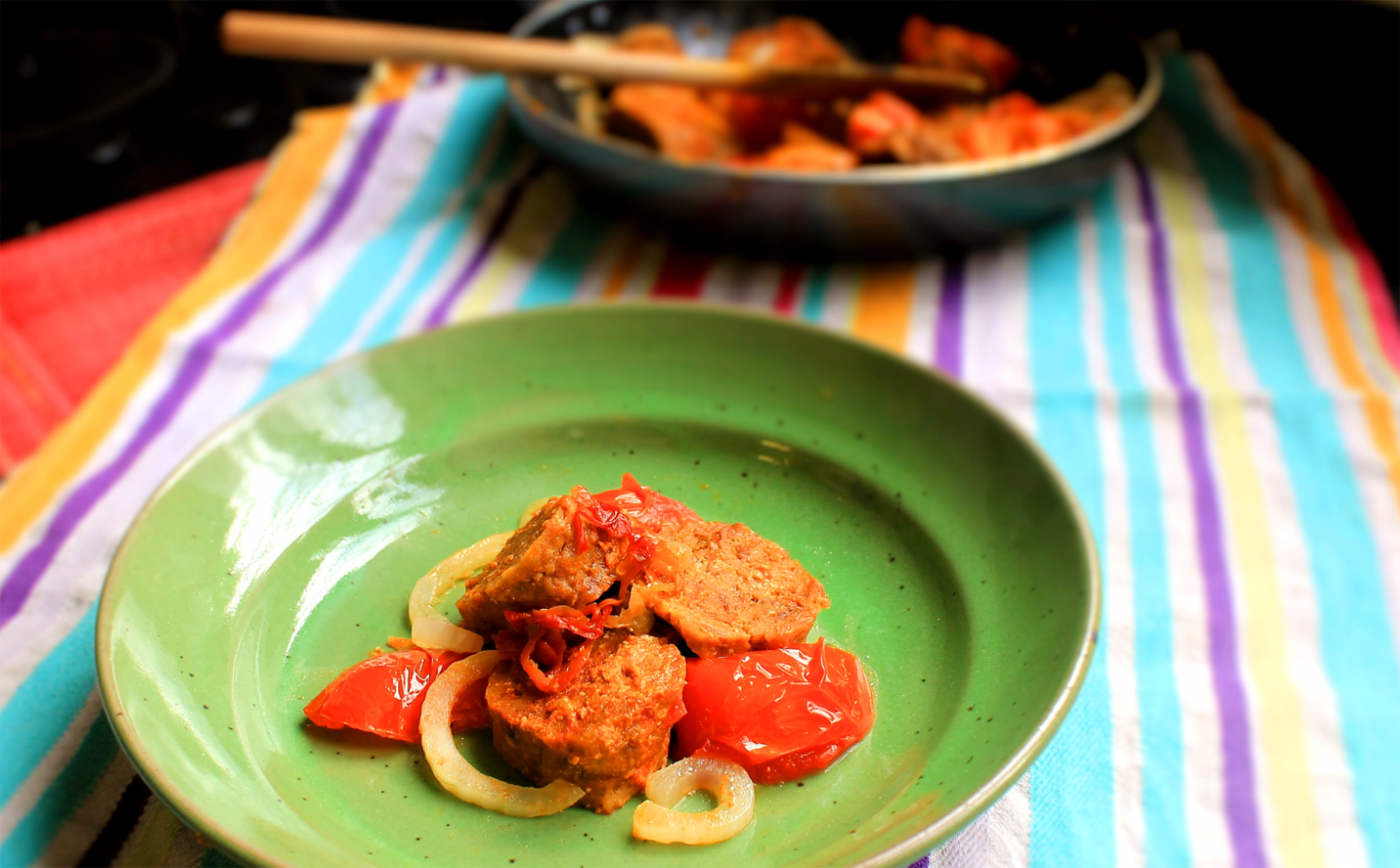 We like this at just about any meal – big breakfast, lunch or supper!
Our recipe is delicious and much cheaper than buying ready-made pepperoni or chorizo. Get all your ingredients together and go for it. The making is very simple, you just need to factor in cooking time. It's worth doubling quantities and freezing! Plus you can use gluten flour to make lots of other tasty vegan meats – search 'seitan' on this website.
As the sausage is made from high-protein gluten flour, it is clearly not GF or suitable for anyone with a big intolerance or allergy to either wheat or gluten. But this kind of vegan meat has been used in the Orient for thousands of years and it's very high in protein and low in fat – and of course, being plant-based, it is free from harmful cholesterol and saturated fat! All that is different is that the modern cook can buy ready-prepared gluten flour instead of having to wash out wheat flour by hand as they did back in the day! If you've come across the Paleo arguments about wheat and other grains/cereals being 'bad', 'unhealthy' or 'unnatural', this woman puts it all into context – click here for her accessible, science-based and humorous TedX Talk on Paleo Basically, wheat gluten products are great as an occasional addition to your diet and fantastic to serve sceptical meat-eaters too! Some people express confusion as to why vegans like 'imitation meat' and such. Perhaps a better take on it is that all humans like certain tastes and textures – salty, sweet, smooth, chewy etc – and there are plenty of plant-based versions of these!
Shopping tips: a good independent health food shop should sell it. Suma stocks it (the UK's largest wholefood wholesaler) so if your local doesn't have it, ask them to get some in. If not, buy it easily online – RealFoods, Amazon, Veggiestuff etc sell it at a reasonable price and Realfoods version is organic Where to buy vital gluten flour in the UK (ignore the ads at the top!)
Thanks for the recipe from the mighty vegan outreach group, Food for a Future – part of the legendary Veggies of Nottingham!

Not too tricky



Total time
10-15 minutes prep and 40 minutes steaming
Meal
mains
breakfasts
lunches
sides-light-meals-and-salads
Ingredients
Dry mix
1¼ cups vital wheat gluten (gluten flour)
¼ cup nutritional yeast flakes (Engevita)
3 tbsp tapioca flour (OR use ½ tin well mashed white beans but add them to the wet mix)
1 tsp garlic powder (or use garlic puree but add it to the wet mix)
1 tsp ground fennel
½ tsp + chilli powder, depending on strength. Eg if using mild, add a little more, if it's hot use less!
1 tsp smoked paprika
1 tsp oregano
½ tsp thyme
Salt and pepper to taste (but remember the stock and the soya sauce will add saltiness)
Wet Mix
1 cup vegetable broth
1 tbsp olive oil
2 tbsp soy sauce
1 tsp liquid smoke (optional – use 1 tsp extra smoked paprika if you can't buy it)
(+ the white bean mix if using – but if using tapioca flour option, ignore this!)
Optiona fry up ingredients. (Otherwise use it in stews, stir-fries, on pizza etc. Add it last to anything wet, ie stew/soup so it doesn't lose its chewy texture)
1 onion, sliced thinly
2-3 tomatoes, chopped roughly
ALL KITTED OUT
Measuring cups and spoons; mixing bowl; tin opener; jar with lid for bean water (aquafaba); small bowl and fork for bean mashing; steamer pan with one or two steamer trays, depending on size; tinfoil to wrap and seal sausages.
Instructions
In a large bowl, mix the dry ingredients together so they're well integrated.
Add the wet ingredients to the dry ingredients and mix with a fork to start with then knead with clean hands for a minute or two, making sure that all the flour is well mixed in and the dough is an even colour.
Divide dough into 4 parts. Place one part of dough into tin foil and mould into about a 5 inch log. Wrap dough in tin foil, pinching the edges to seal. Steam for 40 minutes. Check after 20 minutes to ensure the steamer pan hasn't boiled dry and top up with hot water if necessary – I use the cooker timer or a phone alarm to remind me!
Once steamed, chop into medium chunks and fry up with the onion and tomato as suggested here. You can also tweak the chilli/saltiness at this point – hot pepper sauce is very good if that's your thing. Alternatively, store it for whole for another dish – or slice it very thin for sandwiches! It also freezes well, in whole sausages or pieces.
---
Did you know that Vegan Recipe Club is run by a charity?
We create vital resources to help educate everyone – vegan veterans, novices and the v-curious alike – about vegan food, health and nutrition; as well as the plight of farmed animals and the devastating environmental impact of farming.
Through this work we have helped thousands of people discover veganism; but we want to reach millions more! We rely entirely on donations as we don't get any government funding. If you already support us, thank you from the bottom of our hearts, you are really making a difference! Please share our details with your friends and loved ones too, as every donation enables us to keep fighting for change.