Rose's Best-ever Chilli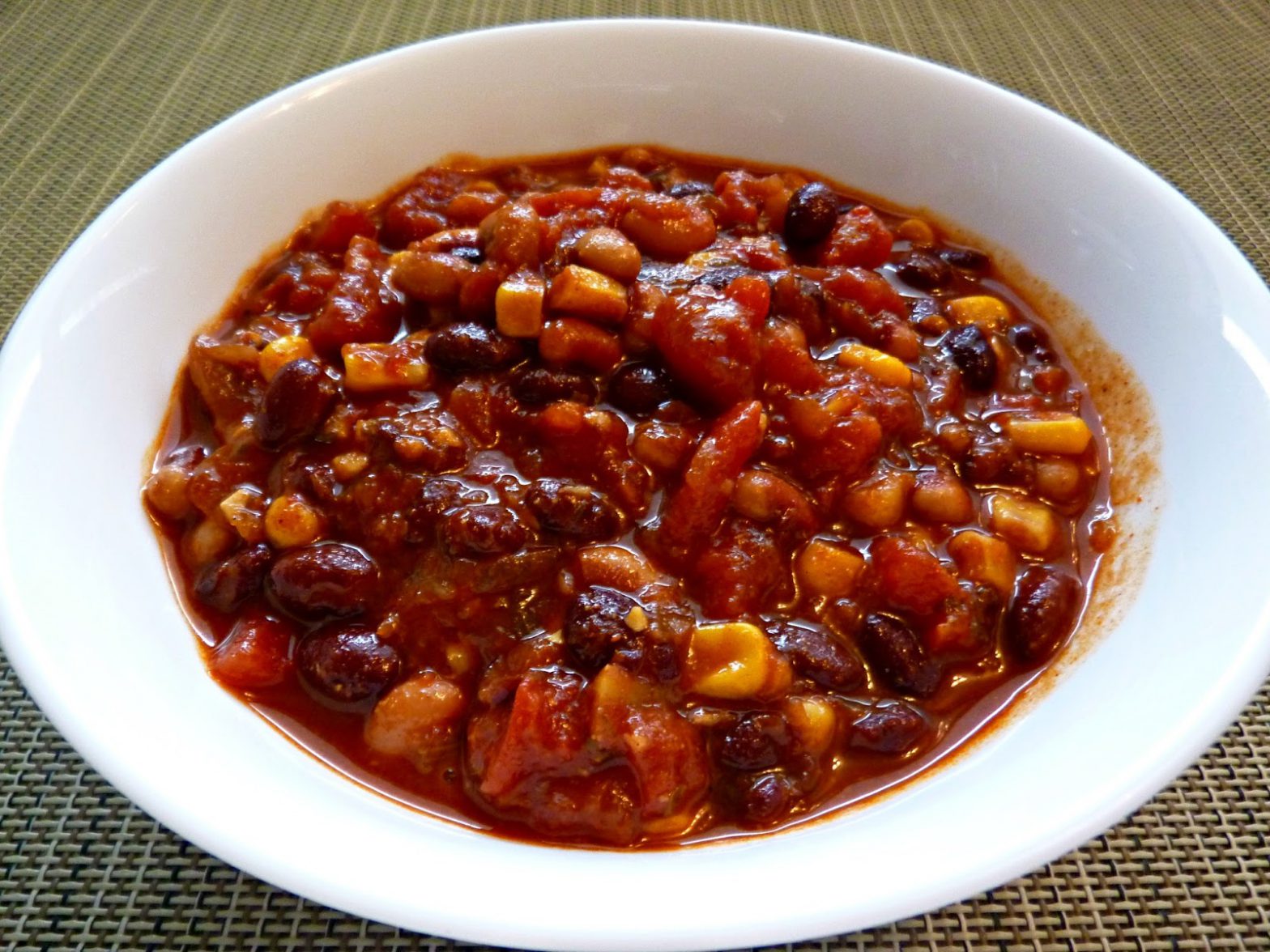 A great recipe from Rose Elliot. This is quick and easy to make, filling, totally healthy, cheap and very tasty. For a filling crowd-pleaser, serve with baked potatoes with crunchy skins, sweet potatoes, warm bread – or any quickly-cooked grain. Omit the peanut butter if you are keeping a strict eye on your fat levels – but it does add a deliciously creamy taste to the chilli.

Easy
* Nutritional information per serving.
Ingredients
1 onion, peeled and chopped
1 large red pepper, de-seeded and chopped
2 garlic cloves, finely chopped
1 mild red chilli, de-seeded and finely chopped
1 tsp olive oil
1 tsp ground coriander
1 tsp cumin
1 tbsp peanut butter – smooth or crunchy
425g/15oz can green lentils, drained
425g/15oz can red kidney beans, drained
100g/generous 3oz sweet corn
425g/15 oz can chopped tomatoes
Salt and freshly ground black pepper
To serve
Bunch of fresh coriander, roughly chopped
225g plain dairy-free yoghurt such as Sojasun (health stores) or Alpro Yofu (supermarkets and health stores)
Optional: 1 avocado, peeled and chopped
Instructions
1. Fry the onion, red pepper, garlic and chilli in the oil in a largish saucepan, covered, for 15-20 minutes, or until the vegetables are tender.
2. Stir them from time to time and add a little juice from tomatoes if mixture starts to stick.
3. Add the ground coriander, cumin and peanut butter (if using).
4. Stir in well, making sure the peanut butter melts and is evenly distributed.
5. Add lentils, red kidney beans and tomatoes and mix well.
6. Leave to simmer gently for 10 minutes.
7. Sprinkle with chopped coriander and serve with your chosen accompaniments and garnishes.
Recipe adapted from Rose Elliot's Best-ever Chilli recipe, taken from The GI Vegetarian Cookbook by Rose Elliot, published by BBC Books
Optional extras / notes
Preparation: 15 minutes. Cooking: 30 minutes
Did you know that Vegan Recipe Club is run by a charity?
We create vital resources to help educate everyone – vegan veterans, novices and the v-curious alike – about vegan food, health and nutrition; as well as the plight of farmed animals and the devastating environmental impact of farming.
Through this work we have helped thousands of people discover veganism; but we want to reach millions more! We rely entirely on donations as we don't get any government funding. If you already support us, thank you from the bottom of our hearts, you are really making a difference! Please share our details with your friends and loved ones too, as every donation enables us to keep fighting for change.