Muttar Paneer (Curd and Pea Curry)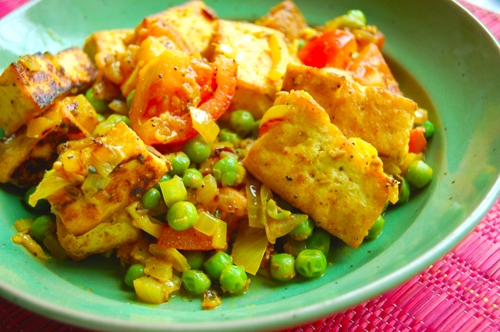 Traditionally made with Indian curd cheese, this recipe is equally good with bean curd – tofu!

Not too tricky


Cuisine
Indian and Indian Subcontinent
Ingredients
1 slab firm tofu, drained and patted dry
1 tbsp oil (plain sunflower or vegetable – not olive oil)
2.5cm/1 inch piece fresh ginger, coarsely grated
2 onions, finely chopped
1 tsp poppy seeds
1½ tsp salt
2 cups peas
4 tomatoes, chopped
2 cups water
1 tsp garam masala
1 tbsp lemon juice
Spices (or use 2 tbsp curry paste or powder of your choice)
1 tsp turmeric powder
¼-½ tsp chilli powder, according to how hot you like your curry
1 tsp cumin seeds
2 green cardamoms, skinned
2.5cm/1 inch piece cinnamon, broken
Instructions
Slice the tofu into 2.5cm/1 inch cubes.
Fry in a little oil till golden on each side then set aside.
If using spices, grind the ginger then mix with the turmeric, paprika, cumin, cardamoms and cinnamon, adding a little water to form a paste.
Fry onions, mustard seeds and poppy seeds till golden.
Add paste (recipes or your own curry paste mix) and salt and fry for 2 minutes.
Add peas and tomatoes, stir fry for a few minutes, add water, cover and cook till peas are tender.
Add tofu cubes and stir in well so they soak up the flavours.
Before serving, sprinkle with garam masala and lemon juice.
Serve hot with rice, lentil dahl and chapattis.
Did you know that Vegan Recipe Club is run by a charity?
We create vital resources to help educate everyone – vegan veterans, novices and the v-curious alike – about vegan food, health and nutrition; as well as the plight of farmed animals and the devastating environmental impact of farming.
Through this work we have helped thousands of people discover veganism; but we want to reach millions more! We rely entirely on donations as we don't get any government funding. If you already support us, thank you from the bottom of our hearts, you are really making a difference! Please share our details with your friends and loved ones too, as every donation enables us to keep fighting for change.