Millionaire's Shortbread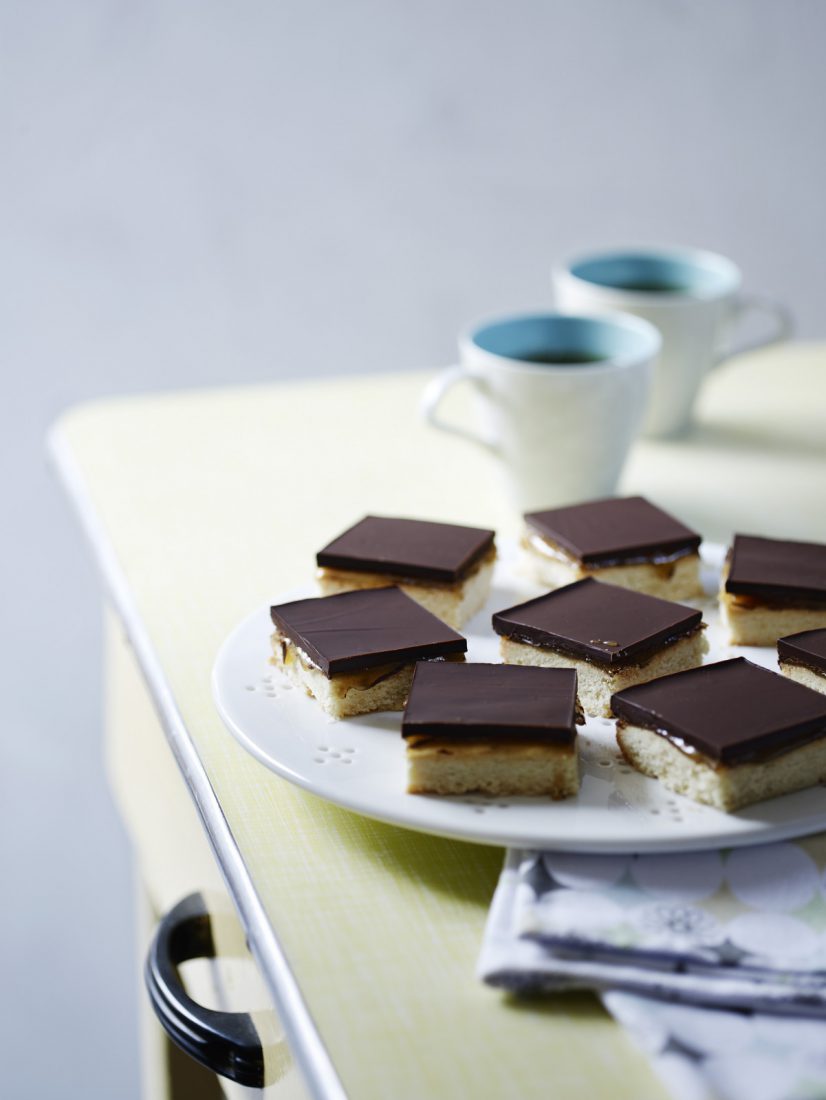 A baked treat is like a little piece of heaven, my rich Millionaire's Shortbread is no exception. Turn the oven on, line up the ingredients, and start mixing – it's good for the soul!

Easy




Ingredients
Shortbread
150g/5½oz/⅔ cup dairy free margarine, plus extra for greasing
75g/2½oz/heaped ⅓ cup caster sugar
275g/9¾oz/2¼ cups Biscuit Mix
Biscuit Mix
60g/2¼oz/⅓ cup brown rice flour
45g/1¾oz/heaped ⅓ cup cornflour (cornstarch)
½ tsp xanthan gum
45g/1¾oz/scant ½ cup ground almonds
Caramel Topping
50g/1¾oz/3½ tbsp dairy free margarine
100g/3½oz/½ cup caster (superfine) sugar
3 tbsp golden syrup (light corn syrup)
50ml/1½fl oz/3½ tbsp dairy free cream
Chocolate Topping
300g/10oz dairy free dark chocolate, 70% cocoa
solids, chopped or broken into small pieces
Instructions
Shortbread
Preheat the oven to 180°C/350°F/Gas Mark 4.
Grease a 20cm/8in square cake tin (pan) with margarine and line the base and sides with baking parchment.
To make the shortbread, put the margarine and sugar in a large mixing bowl and, using an electric mixer, beat together until well mixed, but take care not to overmix. Add the biscuit mix and gently mix in thoroughly.
Transfer the mixture to the prepared cake tin, spread over the base evenly and press down firmly using the back of a spoon. Bake for 40–45 minutes until lightly browned and firm to the touch. Leave to cool completely in the tin.
Biscuit Mix
Sift the flours and xanthan gum into a large mixing bowl. Add the ground almonds and mix together.
Caramel Topping
To make the caramel topping, put all the ingredients in a heavy-based saucepan over a medium-high heat, stir and bring to the boil. Boil gently for about 5 minutes, without stirring, until the mixture darkens slightly and starts to thicken. Remove from the heat and leave to cool and thicken a little more for about 2 minutes, then pour onto the shortbread base. Leave to cool completely.
Chocolate Topping
To make the chocolate topping, put the chocolate pieces in a large heatproof bowl and rest it over a pan of gently simmering water, making sure that the bottom of the bowl does not touch the water. Heat, stirring occasionally, until the chocolate has melted. Pour it over the caramel topping and leave to cool completely and go hard. Once set, remove from the cake tin and cut into 16 pieces.
Did you know that Vegan Recipe Club is run by a charity?
We create vital resources to help educate everyone – vegan veterans, novices and the v-curious alike – about vegan food, health and nutrition; as well as the plight of farmed animals and the devastating environmental impact of farming.
Through this work we have helped thousands of people discover veganism; but we want to reach millions more! We rely entirely on donations as we don't get any government funding. If you already support us, thank you from the bottom of our hearts, you are really making a difference! Please share our details with your friends and loved ones too, as every donation enables us to keep fighting for change.