Mellow Coconut Curry with Vegetables & Chickpeas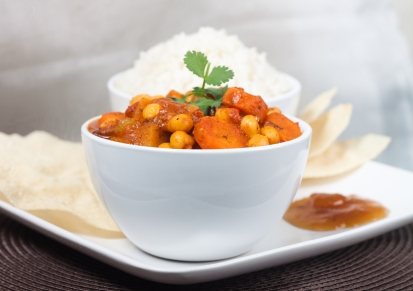 Delicious mellow, creamy curry with coconut and chickpeas to suit the most sensitive of palates!
This is a really easy, nice curry and it is mild so kids will enjoy it too. It is also adaptable re the vegetable content – try sweet potatoes/green beans (French type)/peas…
Serve with rice (brown or white) and/or chappatis, mango chutney and a dollop of plain dairy-free yoghurt. Serve hot pepper sauce or a hot pickle on the side for the heat-lovers amongst you!
Gluten-free/wheat-free/soya-free
Just check that the curry paste you use is suitable – eg Patak's mild curry paste contains maize flour which is GF and also lactose acid from a non-animal source. Some pastes, eg korma, may contain dairy – read the jars, basically! Curry powders are usually fine as they tend to contain only the spices
TOP TIP
For extra speed in prepping vegetables like potatoes and old carrots, use a French veg peeler – the Y-shaped one, as below. It saves so much time and effort – much better than a knife!

Not too tricky





Cuisine
Indian and Indian Subcontinent
Meal
mains
lunches
vegetable-side-dishes
Ingredients
1-2 tbsp plain oil (eg rapeseed)
1 tbsp mild curry paste or powder – or more to taste
250g/8oz onion, chopped (1 small-medium onion)
4 cloves garlic, crushed or chopped
200g/7oz potatoes, diced
250g/8oz carrots, chopped
1 large red or yellow pepper, chopped
250g/9oz broccoli, cut into florets – or French beans
200g/7oz mushrooms, cut into quarters or halves, depending on their size
1 tin coconut milk (use light if you can get it)
1 tin chickpeas, drained and rinsed
Small bunch fresh coriander, chopped
Salt
Instructions
1. Put a large pan of water on for rice then chop the vegetables.
White basmati rice takes exactly 11 minutes – if you rinse it and leave it hot it will continue to cook and go mushy so make sure you time it right.
Brown rice takes 25-30 minutes. Put it on to cook right at the start.
2. Heat the oil then lightly fry the onion and garlic until the onion starts to soften. Add the potatoes and carrots and cook for another 5-7 minutes, stirring to stop the vegetables from catching.
3. Add the pepper pieces, mushrooms and broccoli: cook for another 2 minutes. Now stir in the curry paste or powder, ensuring that everything is well coated. If using white rice, put it on to cook now.
4. Add the coconut milk and chickpeas, mixing everything well together.
5. Cook for a few minutes until the potatoes and broccoli are tender – avoid over-cooking the broccoli if possible. Stir in the chopped coriander and serve the curry with rice and any options you like.
Did you know that Vegan Recipe Club is run by a charity?
We create vital resources to help educate everyone – vegan veterans, novices and the v-curious alike – about vegan food, health and nutrition; as well as the plight of farmed animals and the devastating environmental impact of farming.
Through this work we have helped thousands of people discover veganism; but we want to reach millions more! We rely entirely on donations as we don't get any government funding. If you already support us, thank you from the bottom of our hearts, you are really making a difference! Please share our details with your friends and loved ones too, as every donation enables us to keep fighting for change.