Happy Haggis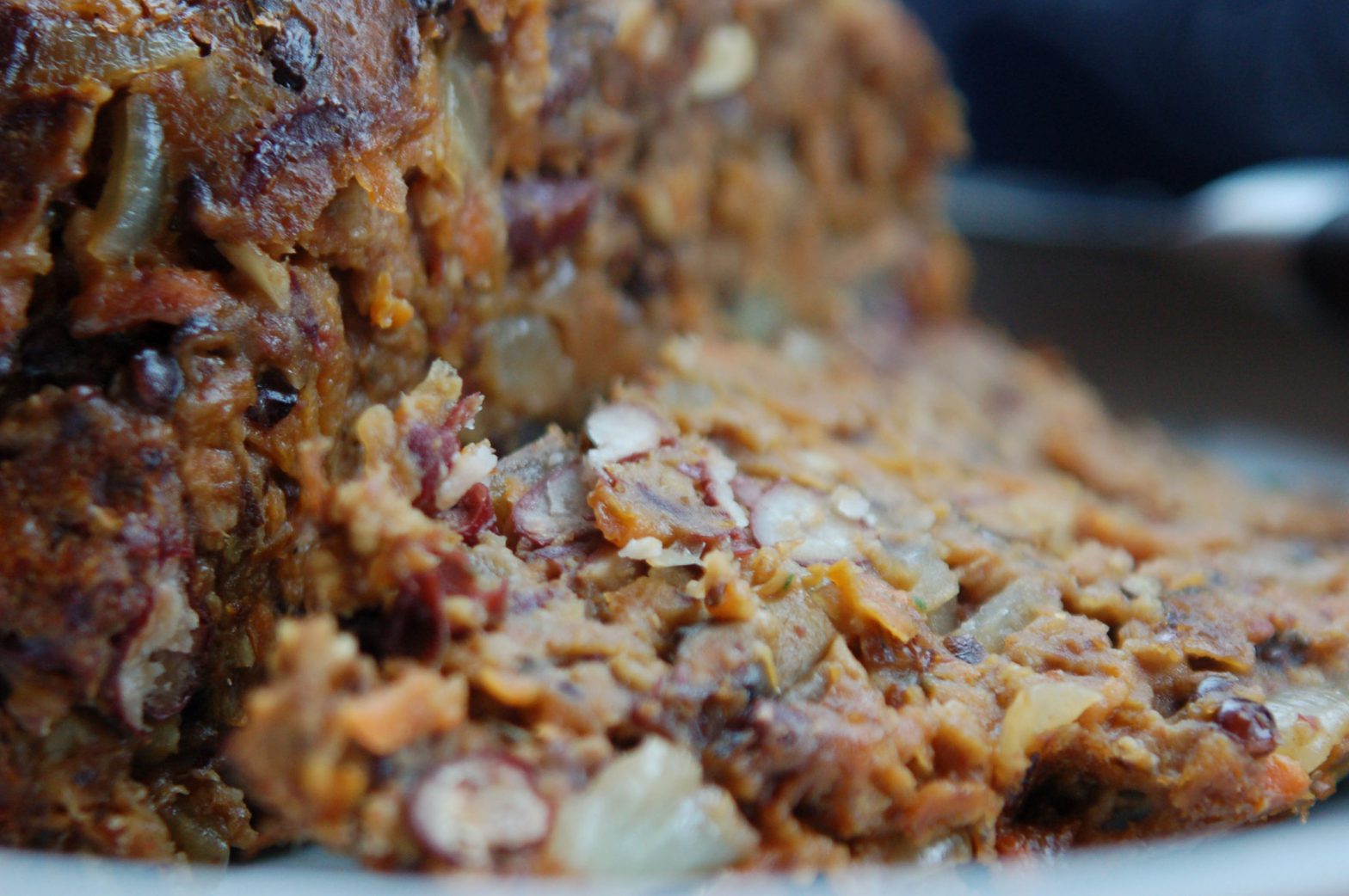 Old school Scots used to tell gullible foreigners that a haggis was a three-legged bird with one leg longer than the other two to enable running up and down the hills and glens! In fact, the dish was traditionally made from sheep offal!
Our recipe of course is deliciously vegan, hence the recipe title – and it's a budget dish as well as being freezable (we suggest freezing the raw mix then baking it from frozen). It's also best baked in individual tins or ramekins
On a more practical and less fanciful note, the rest of the preparation and cooking can be done while you are soaking the oats – otherwise soak them the night before and drain in the morning. Refrigerate the oats until needed.
Haggis is served traditionally with Neeps & Tatties (Swede and Potato Mash). Add lots of black pepper and a lump of vegan margarine to the mash. It's not usually served with gravy in Scotland but if you fancy gravy, go for it!
To confuse things even further, the Scots call swede 'turnip' – hence 'neeps', while it's called rutabaga in North America. Whatever you call it, it is a root vegetable that is pale yellow when it is peeled and has a mildly spicy taste – as opposed to the white, blander flesh of English turnip.
Gluten-free/Wheat-free/Soya-free options

Not too tricky




Ingredients
75g/3oz fine or medium oatmeal (the pinhead variety works best – find it in health food shops)
1 and a quarter tins of drained rinsed whole lentils OR 110g/4oz uncooked whole lentils
2 flax eggs: 2 tbsp flax meal mixed with about 3-4 tbsp warm water and allowed to coagulate
1 large onion, chopped
1 tbsp vegetable oil
2 large carrots, finely grated
4 to 6 mushrooms, sliced
¼ tsp each of allspice, cumin, paprika and nutmeg
¼ tsp each of dried sage and thyme
1 tbsp soya sauce – use tamari for a GF option
400g tin of kidney or black beans, drained and rinsed
60g/2oz mixed nuts, ground
3 tsp yeast extract, eg Marmite – or a medium or dark miso
2 cloves of garlic, crushed
Salt and black pepper to taste
Knob of dairy-free margarine, eg Pure brand – or coconut oil
Instructions
1. Preheat oven to 190ºC/375ºF/Gas Mark 5.
2. Put the oatmeal in a bowl and cover with water. Let it stand for at least an hour. Drain thoroughly.
3. If cooking lentils from scratch, place them in a pan of water and boil rapidly for 20-30 minutes or until soft (the time will vary according to the type of lentils). When the lentils are ready, drain and rinse them in a sieve. Otherwise ignore this stage and go to no. 4.
4. Make the flax eggs and set aside. Measure all the herbs and spices and place them in a small bowl.
5. Sauté the onion in the oil until it is soft. Add the carrots and mushrooms, and cook for a little longer. Then add the herbs and spices, soya sauce, cooked lentils, about a quarter of the kidney beans and the nuts. Mix in the yeast extract or miso until it is well incorporated.
6. Using a blender or potato masher, mash the remainder of the beans to form a thick paste (add a little water if necessary to prevent it getting too stiff). Add this to the lentil and vegetable mixture.
7. Finally, add the drained oatmeal, salt and pepper, the garlic and the flax eggs. If the mixture looks too dry, add the margarine. Mix well. Transfer to an individual tins or ramekins and bake for 30 to 40 minutes.
Optional extras / notes
120 minutes: 1 hour to soak oats, 10-15 minutes preparation, 35-40 minutes baking time
Did you know that Vegan Recipe Club is run by a charity?
We create vital resources to help educate everyone – vegan veterans, novices and the v-curious alike – about vegan food, health and nutrition; as well as the plight of farmed animals and the devastating environmental impact of farming.
Through this work we have helped thousands of people discover veganism; but we want to reach millions more! We rely entirely on donations as we don't get any government funding. If you already support us, thank you from the bottom of our hearts, you are really making a difference! Please share our details with your friends and loved ones too, as every donation enables us to keep fighting for change.