Pizza Dough, Smoked Ajo Blanco & Basil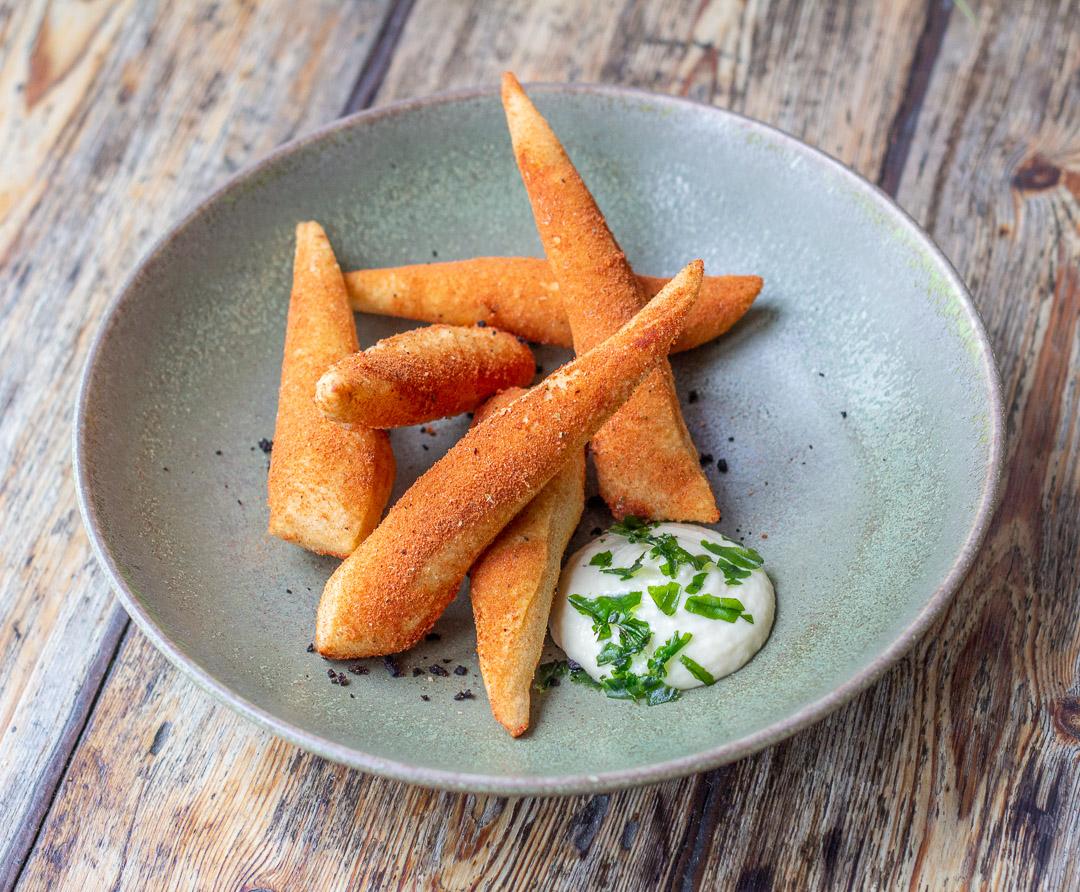 This has become something of a signature dish of sorts. It really came about because of my personal loathing of sourdough as the accepted bread course at restaurants. I wanted to prove that a bread course could start things off with a real bang and went down an Italian route by reinventing pizza – It's even the 3 colours of the Italian flag!

Intricate
Courtesy of Alter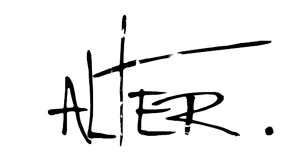 See other recipes by Alter
Ingredients
Pizza powder
100g freeze dried tomato powder
Seasoning
Maldon salt
Dried oregano
Dried Italian herbs/basil
Sweet smoked paprika
Smoke powder
Garlic powder
Onion powder
Black pepper (Ground)
Pizza dough
8g yeast
150g warm water
250g strong bread flour
8g salt
8g sugar
Smoked Ajo Blanco
125g blanched almonds
10g garlic
40g extra virgin olive oil
60g veg oil
Salt, to taste
4g smoke powder
12.5ml sherry vinegar
75ml water
Deep Fried Basil (Or just use fresh!)
Instructions
Pizza Dough
First, pour the warm water over the yeast and allow to activate. It will take about 15 mins and will be done when it looks all frothy in there!
Meanwhile have the dry ingriedients standing by in a kitchenaid. Once the yeasty water has achieve frothyness, pour in to the kitchen aid and mix with the dough hook attachment until a smooth dough is formed. About 5 mins. Transfer to a container, cover and rest for minimum of 1hr, but ideally overnight – It will double in volume!
Pizza Powder
Now there really is no exact recipe to this bit. It's all up to you! You just have to trust your palette! A rough guide is you want the tomato powder to form about 80% of the powder. But everything else is fair game. You want a good bit of herbeceousness from the dry herbs and certainly some salt and smoky paprika. A good crack of black pepper and if you have them, garlic and onion powder send this to the next level. You have to think of it as a dry version of a classic tomato ragu! It's that base of your pizza and the taste will come through in the finished product!
Whizz the powder until it's totally dust like and place in a shaker of some kind if you have one, or if not, set it aside and place a sieve within reach – you'll need that later!
Smoked Ajo Blanco
In a food processor, blitz the first set of ingriedients until smooth, before adding the sherry vinegar and water and blitzing again until you have a thick pale wet paste of sorts.
Ideally you'd place this into a piping bag for pretty presentation later, but there's really no need! It can happily live in a ramekin on the plate, or if you're feeling totally crazy'Ķdirectly on the plate.
Assembly
We're going to be deep frying the pizza dough, so have a think how that works best for you as deep frying can be dangerous at home. Your options are to either fill a heavy based pan with veg oil or much more preferably, use a tabletop deep fryer! Make sure your oil is at 180 degrees but no higher than 190. – be careful, that's hot.
Dust a surface with flour and roll out dough thinly. Cut out long thin triangles about 12cm by 4cm and deep fry, Turning to colour evenly. Once golden brown all over, remove with a perforated spoon, shake the oil off as best you can and drain on kitchen paper.
Transfer to a mixing bowl and dust lightly with salt before shaking in your Pizza Powder to cover the shards.
Assemble the shards in a freestanding form on a plate with a little Ajo Blanco on the side and don't forget your basil too!
Did you know that Vegan Recipe Club is run by a charity?
We create vital resources to help educate everyone – vegan veterans, novices and the v-curious alike – about vegan food, health and nutrition; as well as the plight of farmed animals and the devastating environmental impact of farming.
Through this work we have helped thousands of people discover veganism; but we want to reach millions more! We rely entirely on donations as we don't get any government funding. If you already support us, thank you from the bottom of our hearts, you are really making a difference! Please share our details with your friends and loved ones too, as every donation enables us to keep fighting for change.