Fishless Fish and Chips with Tartare Sauce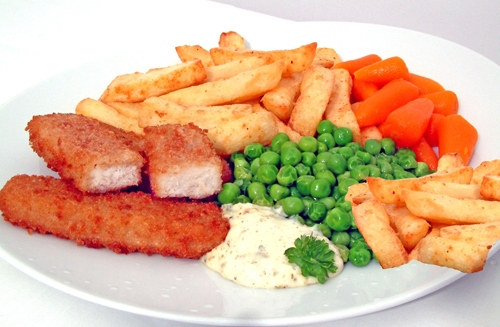 Easy

Ingredients
1 packet redwood V-Bites vegetarian fish-style fingers or Quorn Fishless Fingers
140g frozen garden peas
200g oven chips
1 tbsp egg-free mayonnaise (eg Plamil or Follow Your Heart)
1 tsp chopped capers
Instructions
1. Open the packet of Redwood Vegi-Deli Vegetarian Fish Style Fingers, place on a baking tray and cook according the instructions on the packet.
2. Do the same with the chips, place them on the second baking tray and ask an adult to help you time the cooking of the two foods together.
3. Meanwhile, bring a saucepan of water to the boil on the top of your oven, then add the peas and cook according to the packet instructions. Drain them off in a colander before putting on the plates.
4. Serve with tartar sauce, which you can make simply by mixing the capers into the mayonnaise.
Did you know that Vegan Recipe Club is run by a charity?
We create vital resources to help educate everyone – vegan veterans, novices and the v-curious alike – about vegan food, health and nutrition; as well as the plight of farmed animals and the devastating environmental impact of farming.
Through this work we have helped thousands of people discover veganism; but we want to reach millions more! We rely entirely on donations as we don't get any government funding. If you already support us, thank you from the bottom of our hearts, you are really making a difference! Please share our details with your friends and loved ones too, as every donation enables us to keep fighting for change.