Easter Simnel Cake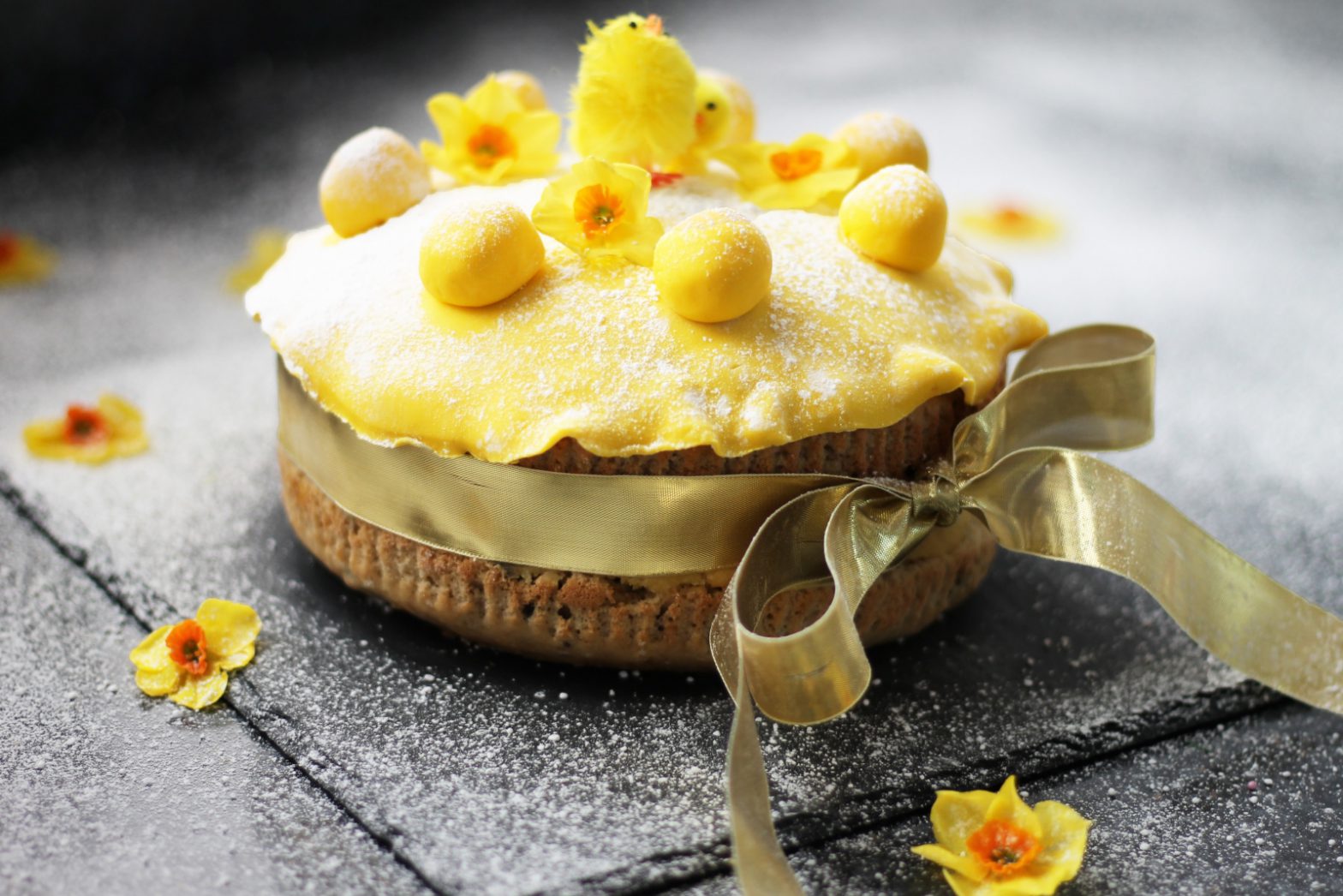 Traditionally associated with Easter, this cake has even older traditions. Originally a Roman custom, girls in service were allowed to go home at this time of year with a cake baked especially for their mothers. Awww! The cake is a mixture between a teabread and a cake, with the rich almond paste giving it a bit of a luxurious oomph – so don't expect a sponge! Our version is dairy-free, egg-free and 100% vegan! It's lovely with a big pot of tea …

Not too tricky
Ingredients
Icing and filling mixture
7 dried apricots, chopped
250ml/9fl oz soya or other plant milk
200g/7oz ground almonds
1tbsp agave or maple syrup
Cake
Dry ingredients
80g/scant 3oz candied orange and lemon peel, finely chopped + 150g/generous 5oz sultanas and/or raisins
500g/1lb 2oz plain white flour, plus 1 tbsp in a separate bowl for dusting the dried fruit
2tsp baking powder
225g/8oz light brown sugar
1/4 tsp each of ground nutmeg and ground cloves
'ÄãWet ingredients
420ml/15fl oz soya or other plant milk.
50ml/scant 2 tbsp plain vegetable oil
Make a flax 'egg' by mixing 1 tbsp flax meal (finely ground linseeds), with 2 tbsp warm water. Set aside
2 tbsp aquafaba (this is the bean juice taken from a tin of chickpeas/cannellini/butter beans. Each tin provides around 8-12 tablespoons. You can freeze aquafaba for future recipes), whipped up until white and frothy – use a glass or ceramic bowl/jug, not plastic. Use a balloon whisk or a stick blender
Instructions
1. Prepare two round non-stick cake tins (or regular tins with cake liners inside). The tins need to be 18 or 20 cm OR 7 or 8 inch. Oil them on the sides then base line with baking paper. Alternatively, use cake liners.
2. Preheat the oven to 180ºC/350ºF/Gas Mark 4.
3. Place candied peel and sultanas/raisins in a mixing bowl. Sprinkle on the tablespoon of flour and mix so that each piece of fruit is separate. This prevents the fruit from clumping. Set aside.
4. Sieve the 500g of flour into a large mixing bowl. Add the baking powder, spices and sugar. Mix in well to distribute evenly. Whip up the aquafaba in a small bowl until it's white and frothy. Set aside.
5. Pour in soya milk/oil mix gradually but quickly into the cake mixture, stirring with the wooden spoon. It needs to be smooth and in peaks. Add the dried fruit mixture now. Add the flax egg to the cake mixture also, mixing in well.
6. Finally, mix in the frothy aquafaba mixture quickly, folding it in with a big spoon so it's well integrated.
7. Divide the mixture into the cake tins equally.
8. Bake on the same shelf in the oven for 20-25 minutes. Test after 20, pressing down gently with a knife or fish slice – the cakes should spring up firm and be golden. Test the centres are cooked with a toothpick or fine wooden skewer; this should come clean out of the cakes.
9. Meanwhile, make the almond filling. Place the chopped apricots and 250ml/9fl oz soya milk in a small saucepan and bring to boil. Simmer for 20 mins, add the ground almonds and syrup then blend until it is a smooth paste. Chill in a covered container for the remainder of the cake baking/cooling time.
10. When cakes are cooked, remove from oven. Leave to cool slightly then place upside down on a wire rack. Remove tins. Remove paper when completely cool.
11. Make the icing: use the chilled almond paste. Spread half in the middle of the two cakes. Use the remainder to spread on the top of the cake OR make shapes like little balls. You can also roll out the paste and make shapes with cookie cutters (eg rabbits or stars) and place on top of cake. Decorate with fake Easter chicks/bunnies/yellow ribbon/daffodils… you choose!
Optional extras / notes
60 minutes plus cooling time
Did you know that Vegan Recipe Club is run by a charity?
We create vital resources to help educate everyone – vegan veterans, novices and the v-curious alike – about vegan food, health and nutrition; as well as the plight of farmed animals and the devastating environmental impact of farming.
Through this work we have helped thousands of people discover veganism; but we want to reach millions more! We rely entirely on donations as we don't get any government funding. If you already support us, thank you from the bottom of our hearts, you are really making a difference! Please share our details with your friends and loved ones too, as every donation enables us to keep fighting for change.