Creamy Leek, Celeriac & Walnut Pies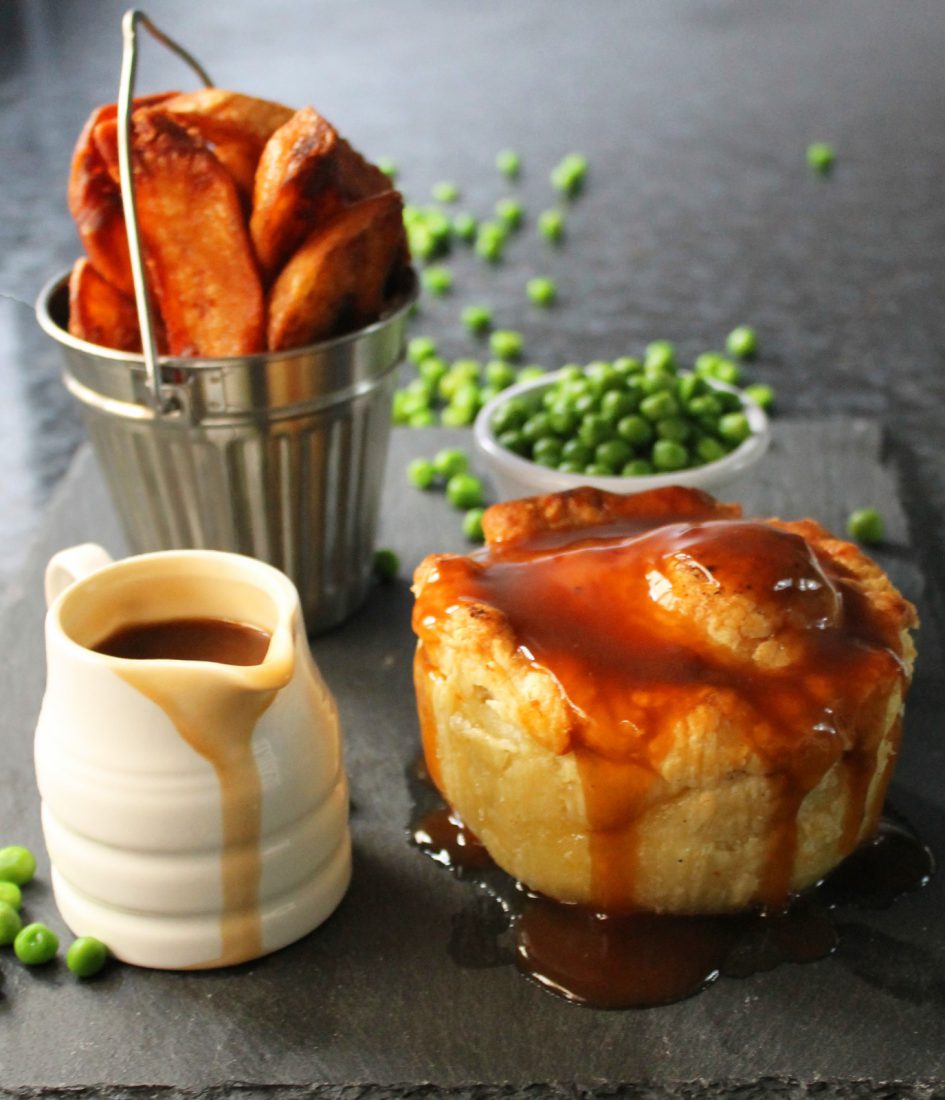 Not too tricky
Ingredients
Creates 4 individual pies using 150-200ml ramekins or foil pie cases
½-1 celeriac (peeled and cubed into ½ inch pieces)
3-4 tbsp water
4 tbsp olive oil
Salt
Freshly ground pepper
1 leek (finely sliced)
3 cloves garlic (crushed)
1 tsp paprika
50g walnut pieces (lightly toasted in the oven for 10 minutes at 180ºC)
1 sheet of ready-rolled shortcrust pastry eg Jus Rol
1 sheet of ready-rolled puff pastry eg Jus Rol
Small amount of soya milk for glazing the pastry
Sauce
130g/1 cup raw cashews (unsalted and unroasted and preferably whole, not pieces) – soaked in a bowl of cold water and covered – for at least 2 hours but up to 8. Doing it overnight is the easiest way!
120-180ml/½-¾ cup water
Fine salt to taste – just a pinch. Add gradually, mix in thoroughly after each addition and remember that sea salt is stronger than regular
2 tbsp white vegan wine – see above
3 fresh sage leaves
Juice of half a lemon
1 tsp stock powder (or add more to taste if you like a stronger flavour…do it bit by bit though or it will be too salty!)
1 tbsp nutritional yeast
Instructions
Filling
Heat one tablespoon of olive oil in a large saucepan and then add the leeks. Cook with a lid on for around 8-10 minutes but check they are not sticking or burning.
Add the cubed celeriac, garlic, a pinch of salt, paprika and 3 tablespoons of olive oil.
Lightly fry for a few minutes then add the water. Place a lid on top then cook for around 20 minutes or until the celeriac is tender.
Add the toasted walnuts, taste and season accordingly with salt and freshly ground pepper.
Sauce
Soak the cashews (for a minimum of 2 hours or overnight).
Put all ingredients into a blender and blend until really smooth, adding water a little at a time. The more you add the thinner the cream will be – although the cream will thicken when left to stand in its container. Keep blending and scraping down the sides until the mixture is very smooth and creamy and has lost its grainy texture.
Transfer the mixture to a medium sized pan and bring to the boil and then simmer until heated through (approx 5-10 minutes). Add more stock/fluid if necessary/to taste.
Assembly
Heat the oven to 200ºC (fan).
Oil each ramekin then line with a layer of shortcrust ready to roll pastry.
Blind bake them in the oven for 10 minutes, covering them with greaseproof paper weighed down with baking beans or rice.
Leave them to cool for 10 minutes then add the celeriac and leek filling until the pie is full.
Spoon approximately 5 tablespoons of cashew sauce into each pie (or to your taste).
Take the puff pastry and cut a circular lid for each of the pies. If you don't have pastry cutters, you can use a bowl or top of a glass (if it fits).
Cover each of the pies with the puff pastry lid and seal them by sticking the puff pastry lid to the shortcrust base.
Brush the lids with a thin layer of soya milk and then bake in the oven until risen and golden (approximately 20-30 minutes).
Did you know that Vegan Recipe Club is run by a charity?
We create vital resources to help educate everyone – vegan veterans, novices and the v-curious alike – about vegan food, health and nutrition; as well as the plight of farmed animals and the devastating environmental impact of farming.
Through this work we have helped thousands of people discover veganism; but we want to reach millions more! We rely entirely on donations as we don't get any government funding. If you already support us, thank you from the bottom of our hearts, you are really making a difference! Please share our details with your friends and loved ones too, as every donation enables us to keep fighting for change.