Cheesy Polenta Slices with Stir-fried Brussels Sprouts, Wild Mushrooms & Sage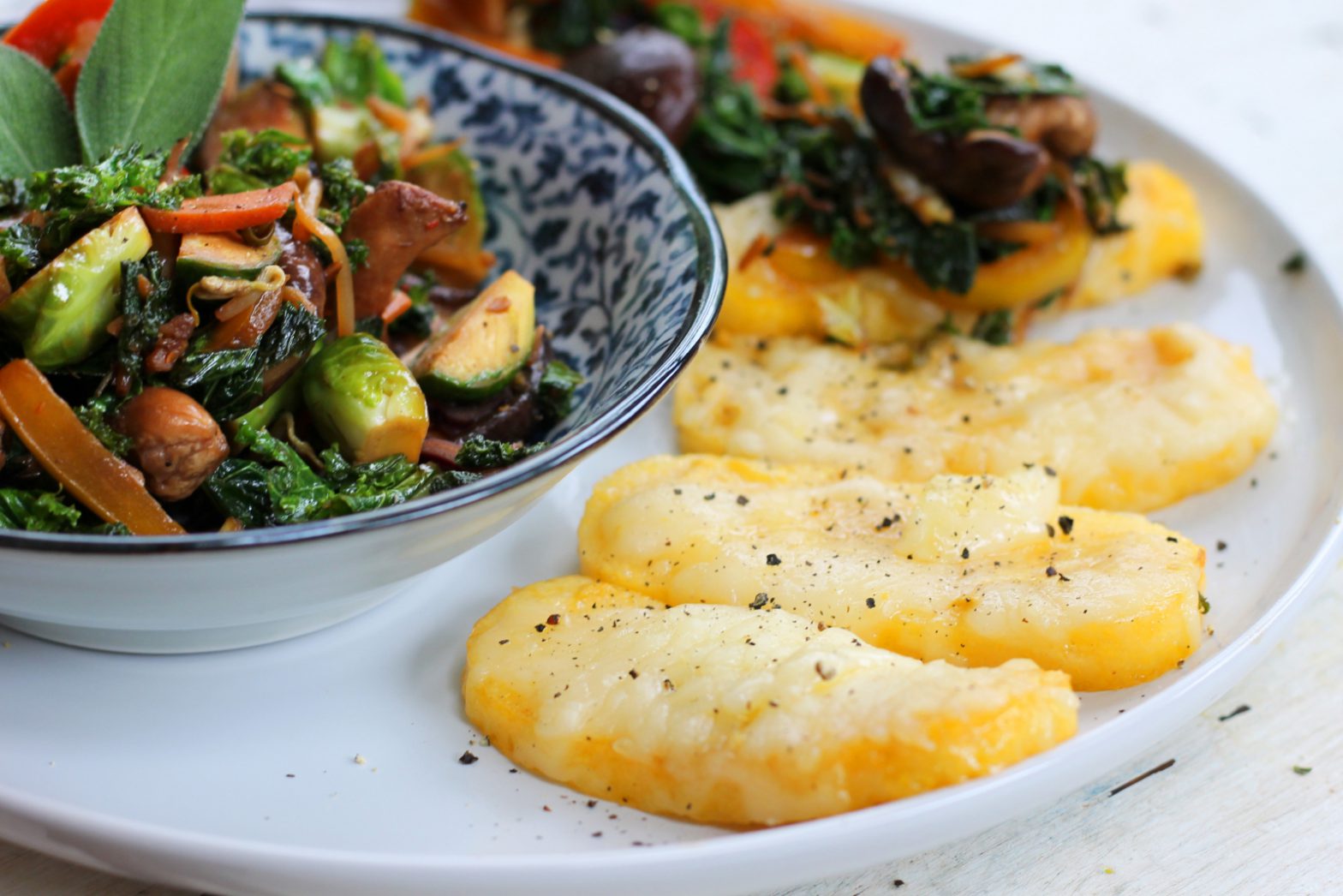 A simple yet sophisticated and flavourful dinner.
Find ready cooked polenta (cornmeal) slabs such as Italfresco in Morrison's and Tesco. Sunita also make a version which is available in health food shops and delis- see photos below. If you can't get hold of it, try this recipe here (but halve the quantities and bear in mind that we haven't tested it ourselves yet!)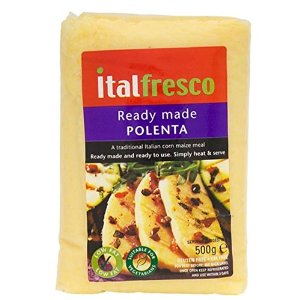 Not too tricky




Meal
mains
lunches
sides-light-meals-and-salads
vegetable-side-dishes
Ingredients
450g/1 pound Brussels sprouts, trimmed and shredded finely
250g/9oz mushrooms, sliced quite big – eg a mix of oyster and chestnut or regular (2 small packs should do it)
2 tablespoons olive oil
1-2 slabs ready-cooked Polenta eg Italfresco brand in a packet from Morrison's, Tesco etc (see note above) – quantities depend on how hungry everyone is!
¾ cup grated vegan melting cheese, eg Violife
A handful of chopped fresh sage
Salt and lots of freshly ground black pepper
ALL KITTED OUT
Hot grill or oven; baking tray; pastry brush; chopping board and sharp knife; scissors; wok or largeish frying pan; fish slice or similar; grater
Instructions
Pre-heat the grill or oven to very hot – 220°C/450ºF/Gas Mark 7.
Slice the polenta lengthways in half then make four squares per half, ie 8 pieces (or 16 pieces if using two packs), depending on how hungry everyone is.
In a wok, heat half the olive oil. Stir-fry the shredded Brussels sprouts and mushrooms until nicely browned. Add the shredded sage and cook in briefly.
Meanwhile, place the polenta slices on an oiled baking tray and drizzle the tops with the rest of the oil. Place in the oven with the grated cheese on top and bake for a few minutes or until the cheese starts to melt.
Remove from the oven, place 2-4 slices per plate and top each plate with a quarter of the mushroom and Brussels sprout mixture. Sprinkle with a little more snipped sage, salt and lots of black pepper. Serve hot.
Did you know that Vegan Recipe Club is run by a charity?
We create vital resources to help educate everyone – vegan veterans, novices and the v-curious alike – about vegan food, health and nutrition; as well as the plight of farmed animals and the devastating environmental impact of farming.
Through this work we have helped thousands of people discover veganism; but we want to reach millions more! We rely entirely on donations as we don't get any government funding. If you already support us, thank you from the bottom of our hearts, you are really making a difference! Please share our details with your friends and loved ones too, as every donation enables us to keep fighting for change.