Cauliflower & Hazelnut Savoury Crumble with Smoky Prune Purée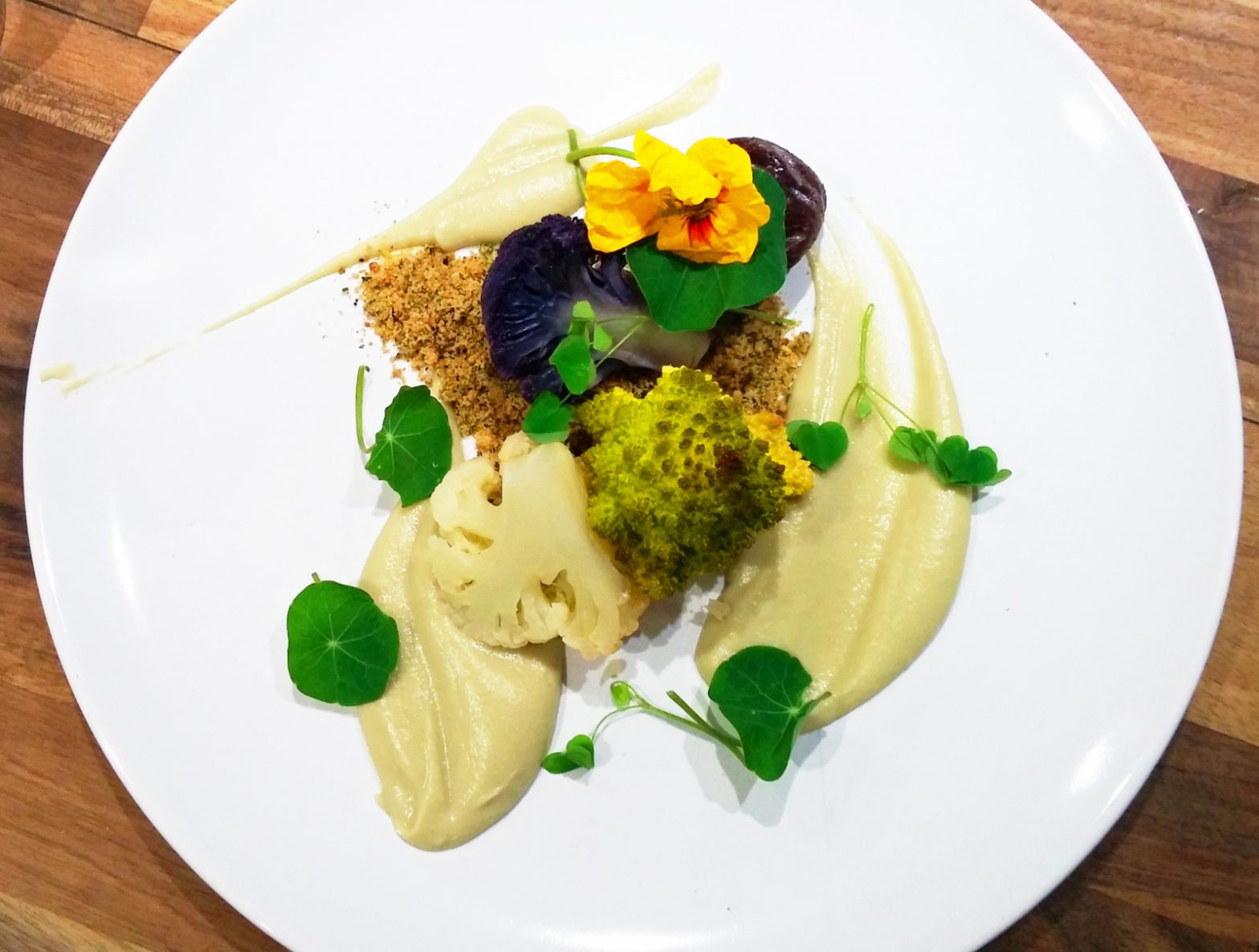 Chef Anton says: 'We are entering Spring so this month is the time for my most favourite vegetables – cauliflower and broccoli, from the Brassica family. I strongly believe there is no better tasting cauliflower or purple sprouting broccoli than in UK. So here is my offering to you, dear friends!'
We couldn't have said it more nicely ourselves!

Intricate
Courtesy of Anton Petrov


See other recipes by Anton Petrov
Ingredients
This recipe shows off the wonderful power of the cauliflower and three beautiful ways in which it can be cooked. It works best with all three but for a simplified version just choose one of the cauliflower cooking methods and then present with the prune puree and hazelnut crunch.
Smoky prunes
100g dried pitted prunes
10g/2 teabags lapsang souchong tea (tea with smoky flavour) or Earl Grey tea
200ml boiling water
Roasted Cauliflower
1 small/medium head of romanesco (bright green cauli)
1 sprig rosemary
3 cloves of garlic, crushed
5 juniper berries
Rapeseed oil, salt
Smoked Cauliflower
1 small/medium head of white/purple/orange (your choice) cauliflower
3 tbsp of hickory smoking chips, eg Lakeland
Big pot of heavily salted water
Pureed cauliflower
Stems of above cauliflowers
100g of cooked cannellini beans
2 shallots
1 small leek
500ml of vegetable stock or water
White/black truffle oil
Hazelnut crumble
50g hazelnuts, roasted and coarsely ground
100g stale sourdough bread or ready-made breadcrumbs
6 sprigs of thyme, leaves picked and finely chopped
Zest of 1 lemon
Salt, pepper
To serve
Nasturtium leaves, or rocket, or watercress
Smoky Prune Purée (or whole prunes)
Olive oil
Lemon Juice
Instructions
Smoky prunes
Make this first then continue with the other parts of the recipe
Make a strong tea and let it steep for 5 minutes. Then place prunes into a small pot. Pour over strained tea and cover the pot with a lid. Leave to infuse for at least 40 minutes up to an 1½ hours.
Once the prunes have swollen up you can either use them whole (amazing!) or blend them into a purée, using a blender. Use it to drizzle on the plate when serving the whole dish.
Roasted Cauliflower
Start by preheating the oven to 180ºC/350ºF/Gas Mark 4.
Using a paring knife (small sharp knife for peeling), carefully cut each floret off the stem. Save the stem for later use.
Place florets and crushed garlic into large mixing bowl and toss them with oil.
Layer a deep baking tray with baking parchment. Spread the herbs and spices evenly in the tray and layer the florets on top. Cover the tray with tin foil and bake in the oven for 15/20 minutes.
Next, remove the foil and let it roast for another 5/10 minutes – until the cauliflower has turned a slightly golden colour and is just tender to touch. Remove from the oven and let it cool down and infuse until ready to serve.
Smoked Cauliflower
Bring a large pot of salted water to boil. The water must taste as salty as seawater.
Using a paring knife carefully cut each floret off the stem, saving the stem for later use.
Once water is boiling add the florets and cook just for a few minutes. Have another pot or a bowl with ice-cold water ready – this is meant to 'shock' – chill! – the florets once cooked and stop them cooking any further. It needs to be very firm, not tender as it will be cooked more later on.
Once cooled down, transfer cooked florets onto a kitchen towel and pat dry.
To smoke the cauliflower, prepare a pot and a sieve or a colander that are similar in width. Place a piece of tin foil at the bottom of the pot and place hickory chips.
Make sure to seal the edges with wet paper towel, and have a properly fitting lid, to make sure that all the smoke is trapped inside.
Turn the heat up to a maximum volume and wait until the chips start smoking.
Once they are smoking, place the florets in the colander and put over the smoke, covering them with tin foil or a tight lid. Reduce the heat to a lower medium and let it infuse for 10-12 minutes.
Once infused, transfer the florets into airtight container until ready to serve.
Puréed Cauliflower
Put a medium sauté pan on a medium heat. Slice leeks and shallots and sauté for 5 minutes.
Roughly chop the leftover stems from all the cauliflowers used earlier and add to the pan, along with cannellini beans and stock/water.
Bring to a simmer and cook until both beans and stems are tender. This usually takes about 10/15 minutes.
Once ready, transfer the content into a jug blender and blend until smooth texture, adding truffle oil for silkier texture and extra aroma to your liking. You may want to sieve the pure through a fine sieve for finer consistency.
Adjust the seasoning by adding salt and few drops of lemon juice.
Hazelnut crumble
Blend the stale bread to coarse breadcrumbs. Place onto a large tray and place in the oven at 180ºC/350ºF/Gas Mark 4, stirring them every 5/6 minutes until lightly toasted and dry.
Once ready, take out of the oven and let cool down.
In a mixing bowl place all ingredients together and thoroughly incorporate (mix very well), adding salt and pepper to taste.
Assembly
Take a handful of nasturtium leaves (or an alternative) and arrange on the plate.
Take a small amount of all of the other ingredients – including the whole or puréed prunes – and arrange in a way that is beautiful to you…there are no rules!
Drizzle a small amount of olive oil and a squeeze of lemon juice over the leaves.
Did you know that Vegan Recipe Club is run by a charity?
We create vital resources to help educate everyone – vegan veterans, novices and the v-curious alike – about vegan food, health and nutrition; as well as the plight of farmed animals and the devastating environmental impact of farming.
Through this work we have helped thousands of people discover veganism; but we want to reach millions more! We rely entirely on donations as we don't get any government funding. If you already support us, thank you from the bottom of our hearts, you are really making a difference! Please share our details with your friends and loved ones too, as every donation enables us to keep fighting for change.