Carrot Cake Cupcakes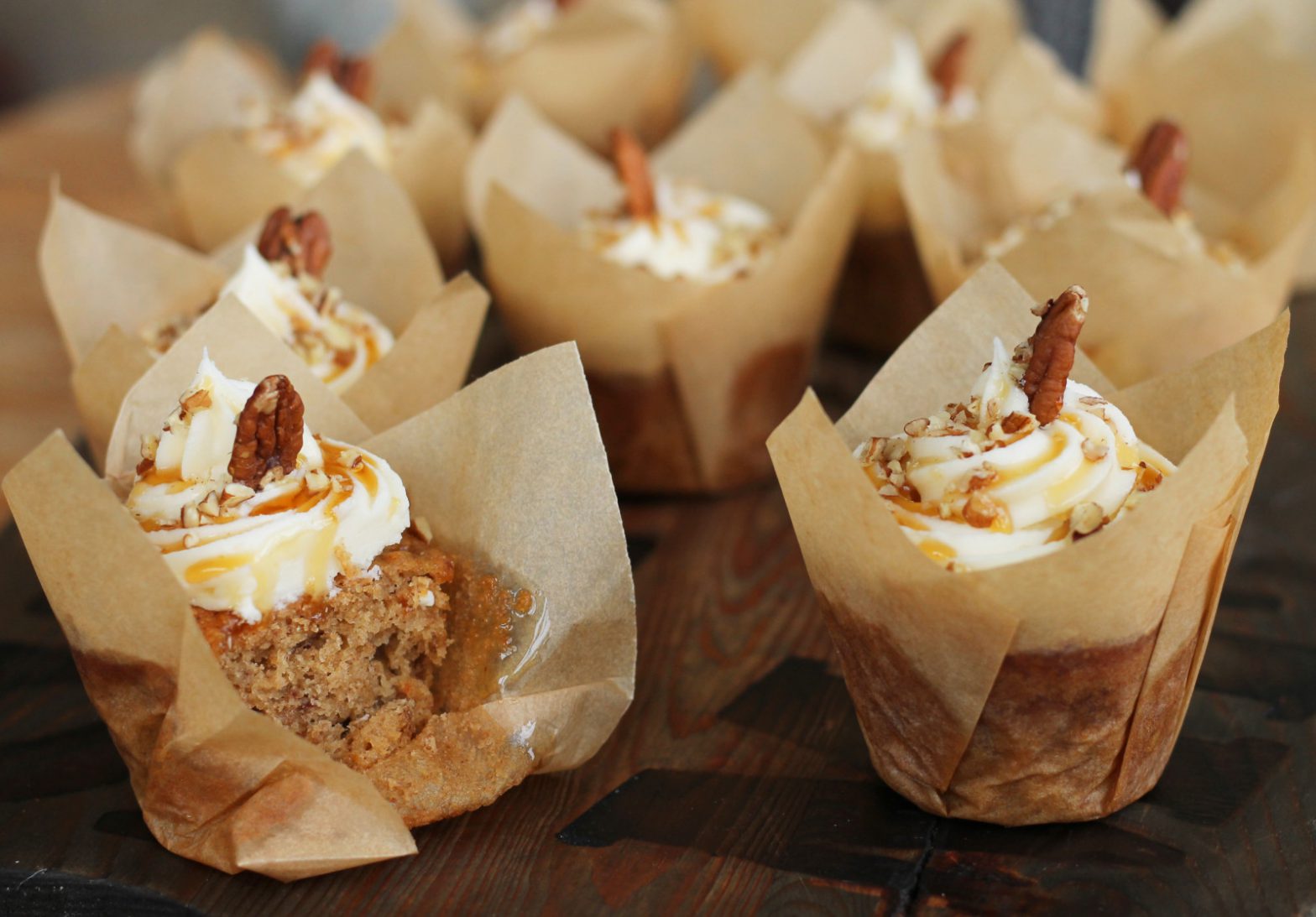 Moist, fluffy, indulgent and downright delicious! Bake them as an Easter treat or just make them for yourself… a classic… enjoy!

Easy
Ingredients
Cakes
200ml/¾ cup + 1tbsp soya milk
20ml (4tsp) cider vinegar
200g/1¾ cups self raising flour
200g/1 cup golden caster sugar or soft light brown sugar
½ level tsp baking powder
½ level tsp bicarbonate of soda
Pinch salt
80ml rapeseed oil
1 tsp vanilla essence or extract
2 small carrots/half cup, peeled and grated
½ tsp ground cinnamon
50g pecans (plus more for decoration), finely chopped
Icing
75g/1/3 cup vegan margarine
75g/1/3 cup vegetable shortening (eg Trex… found in most supermarkets)
750g/6 cups icing sugar
1 tsp vanilla essence
Decoration (optional)
Whole pecans and finely chopped pecans
Drizzle of maple syrup or other vegan syrup (eg Agave, date, rice)
Instructions
Preheat the oven to 180ºC (fan)/350ºF/Gas Mark 4
Line a muffin tray with muffin cases. This recipe will make 8 large cupcakes (as pictured) or 12 smaller ones.
Mix the soya milk and cider vinegar in a bowl and then set aside for 10 minutes.
In a large mixing bowl, stir together all the dry ingredients then add the grated carrot, pecan pieces and cinnamon.
Add the soya/cider vinegar mixture then the oil and vanilla.
Stir everything together using a metal spoon but not too much, only until everything is combined.
Tap the bowl onto the work surface to stop the raising agents working too quickly (this is a tip courtesy of the amazing Ms Cupcake!)
Fill the cupcake cases to ¾ full and tap the tray again.
Place in the oven and bake for 15-25 minutes depending on the size of the cupcake. They need to be slightly golden on the surface.
Remove from the oven and leave to cool thoroughly before icing.
Icing
Whisk together the margarine, vegetable shortening and vanilla either by hand or electric whisk.
Add the icing sugar, a quarter at a time, along with the plant milk until combined.
You can add more icing sugar or plant milk if the icing gets too wet or too dry.
Fill up a piping bag with your favourite cupcake nozzle (these can be bought from kitchen shops or online) and get creative.
Decorate with pecans and maple syrup (or other vegan syrup).
Did you know that Vegan Recipe Club is run by a charity?
We create vital resources to help educate everyone – vegan veterans, novices and the v-curious alike – about vegan food, health and nutrition; as well as the plight of farmed animals and the devastating environmental impact of farming.
Through this work we have helped thousands of people discover veganism; but we want to reach millions more! We rely entirely on donations as we don't get any government funding. If you already support us, thank you from the bottom of our hearts, you are really making a difference! Please share our details with your friends and loved ones too, as every donation enables us to keep fighting for change.