Ash's Rice and Veg Stir-fry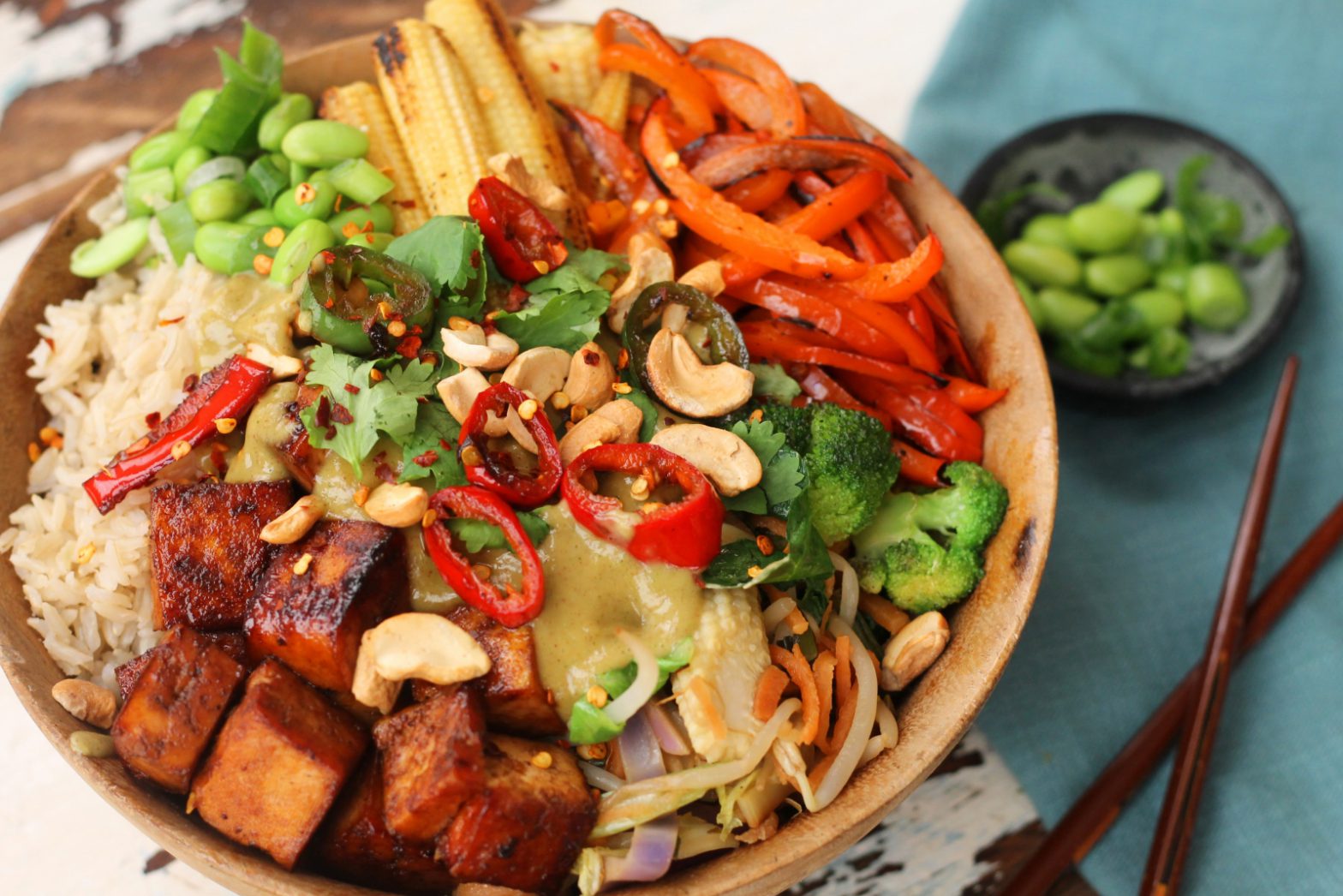 Ash – Viva!'s talented ex-database and fundraising person but still one of the family – is also a bit of a whizz in the kitchen! Being a keen athlete, he is always thinking about food too…
He's very particular about rice and swears on his auntie's recipe for the perfect method! The secret is to steam-cook it in a pan with a well-fitting lid.
We recommend brown long grain rice or brown basmati for health and taste. It can be cooking while the rest of the dish is prepped and cooked (25-30 minutes). Check it occasionally and add a little hot water if it's starting to stick at the bottom of the pan.
Cheat's Version
Use ready-cooked rice (brown or rice) in a pouch plus a vegetable stir-fry pack!

Not too tricky





Meal
mains
lunches
sides-light-meals-and-salads
Ingredients
1½ mugs long grain brown rice or brown basmati (or see notes about rice in pouches)
Sesame seeds, 2 tbsp
Stir-fry ingredients (ignore veg components if using stir-fry pack)
1-2 tbsp sesame oil
2 medium onions, any colour, chopped quite small
3 large cloves garlic, crushed or chopped
2 tsp grated ginger – use the edge of a teaspoon to peel quickly}
150g mushrooms – any type or a mixture, eg chestnut, oyster, white… – sliced
1 red pepper – any type, chopped quite small
½ pack of beansprouts
1 head of pak choi (aka bok choi), chopped in half lengthways then chopped into smallish pieces
Cashews, 2-3 tbsp or more as liked
Coriander, 1 handful finely chopped
Soya sauce, preferably shoyu or tamari (GF), to taste
Optional:
Chinese Five Spice Powder, 2 tsp – add right at the end of cooking the veg, stirring in well
Chill flakes, to taste
Protein extras, eg tofu pieces, edamame beans (fresh soya beans) or fried cubes of tempeh
Instructions
1. Rinse the brown rice in a sieve, place in a medium saucepan and cover with 3 mugs of cold water. Bring to boil with the lid on then reduce heat, Cook for 20-30 minutes with the lid on then remove from heat. Check it doesn't catch – drizzle in a little hot water and give it a stir if it does but don't swamp it.
2. Prepare all the vegetables and get the seasonings and everything ready to go.
3. Dry-fry the sesame seeds in a non-stick pan or wok for a few minutes, stirring constantly so they don't burn. Remove from heat and set aside in a heatproof container.
4. Heat the sesame oil in a good non-stick wok or similar. Fry the onions until they start to soften then add the red peppers, then garlic, mushrooms, pak choi and beansprouts. If using Five Spice, add it now, stir in well and cook in for a few seconds.
5. Tip the cooked rice into the wok and mix in well with the cooked vegetables. Add in the cashews and coriander. Sprinkle in half the sesame seeds, mixing in well. Stir in soya sauce to taste then serve hot, with the remaining sesame seeds on top – and any extras from the list that you might be adding.
Optional extras / notes
10-30 minutes, depending on use of ready-prepared items
Did you know that Vegan Recipe Club is run by a charity?
We create vital resources to help educate everyone – vegan veterans, novices and the v-curious alike – about vegan food, health and nutrition; as well as the plight of farmed animals and the devastating environmental impact of farming.
Through this work we have helped thousands of people discover veganism; but we want to reach millions more! We rely entirely on donations as we don't get any government funding. If you already support us, thank you from the bottom of our hearts, you are really making a difference! Please share our details with your friends and loved ones too, as every donation enables us to keep fighting for change.