Vietnamese Summer Rolls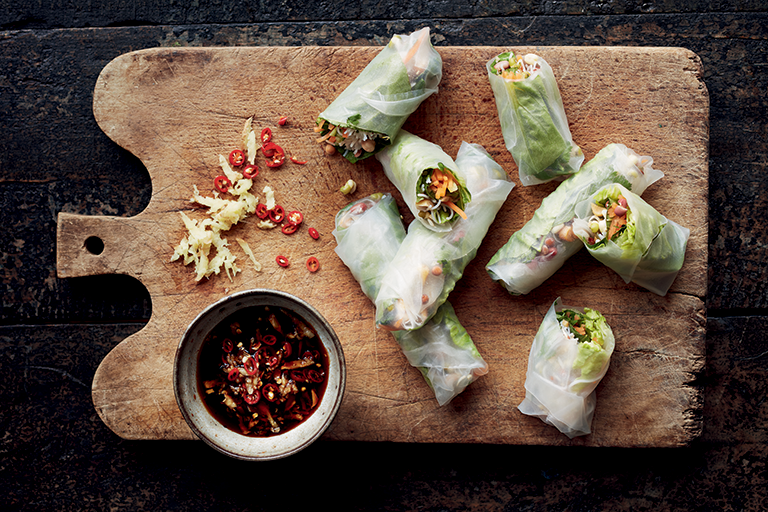 You might find the first few wraps a bit of a fiddle, as the rice paper is delicate. Be brave but gentle and you'll soon get into a rhythm. The filling is fresh, crisp and fragrant. All the seasoning and kick comes from the dipping sauce. There are plenty of protein-rich bean and seed sprouts available beyond your basic bean and alfalfa. Try radish, lentil, chickpea or broccoli sprouts, which can be bought in colourful mixed packs, too.

Easy





Courtesy of Dirty Vegan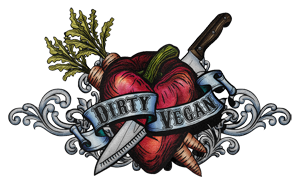 See other recipes by Dirty Vegan
Meal
mains
lunches
sides-light-meals-and-salads
Ingredients
For the rolls
50g vermicelli rice noodles
8 good-sized leaves from a little gem lettuce (double up the leaves if some are too small)
1 carrot, sliced into thin strips with a vegetable peeler
½ cucumber, sliced into thin strips with a vegetable peeler
2 spring onions, thinly sliced
Small bunch of mint
Small bunch of coriander
Small bunch of basil
60g mixed bean sprouts and seed sprouts
30g salted peanuts, chopped
8 rice paper wrappers
For the dipping sauce
1 tsp grated ginger
2 red bird's eye chillies, finely sliced
1 garlic clove, crushed
1 tsp light brown sugar
3 tbsp soy sauce or tamari
Lime juice, to taste
Instructions
Place the noodles in a heatproof bowl and cover them with boiling water. Steep according to packet instructions, until just cooked through. Drain and cool immediately under running cold water. Keep to one side.
Fill the lettuce leaves with a mix of noodles, veg, herbs and sprouts. Finish with a sprinkle of peanuts. Set aside.
Fill a bowl with boiling water. Soak 1 rice paper wrapper in the water for about 10 seconds, until it becomes pliant. Lay it on a clean tea towel (they tend to stick to work surfaces) and sit a packed leaf horizontally on top. Fold in the bottom and sides of the wrapper, then roll it up like a cigar. Repeat with the remaining wrappers and packed leaves.
In a separate bowl, mix all the dipping sauce ingredients together, adding lime juice to your taste.
Serve the rolls whole or cut in half at an angle to reveal your meticulous and artistic packing, with the dipping sauce on the side. Dip and dine.
Did you know that Vegan Recipe Club is run by a charity?
We create vital resources to help educate everyone – vegan veterans, novices and the v-curious alike – about vegan food, health and nutrition; as well as the plight of farmed animals and the devastating environmental impact of farming.
Through this work we have helped thousands of people discover veganism; but we want to reach millions more! We rely entirely on donations as we don't get any government funding. If you already support us, thank you from the bottom of our hearts, you are really making a difference! Please share our details with your friends and loved ones too, as every donation enables us to keep fighting for change.