Wholefood Sushi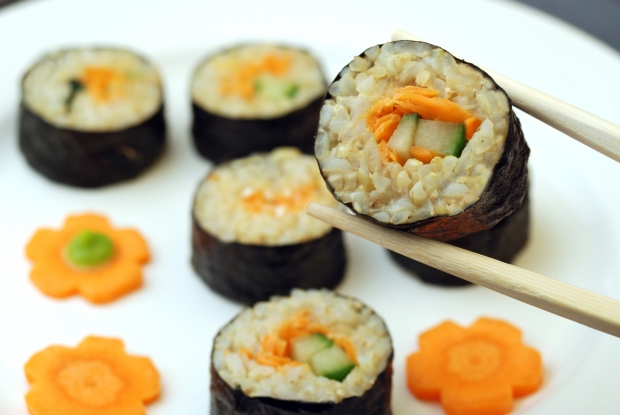 This is a fun recipe to make – don't be put off by the instructions as it's actually very quick once everything is assembled and ready to go! You can also cheat and use ready-cooked rice in sachets, but warm it through and mash gently before rolling up into sushi.
To make more, just double or quadruple the ingredients – it doesn't take much longer.
Photo courtesy www.flavourphotos.com

Not too tricky




Meal
soups-starters
sides-light-meals-and-salads
Ingredients
115g/5oz sushi rice or short grain brown rice OR 1-2 packs ready-cooked pouches of brown rice, warmed through and mashed slightly to make it sticky
230-300ml/8-10fl oz cold water
1 tsp vegan low-salt bouillon powder
1 sheet nori
1½ tsp tahini
1 tbsp shoyu soya sauce
1 medium carrot, grated
1 tsp fresh ginger, grated
Options – choose one of these
Thinly sliced cucumber
Thin strips of avocado
Sauerkraut (pickled cabbage in a jar)
Toasted sesame seeds
Spring onion greens, chopped
To serve:
2 tbsp soya sauce mixed with 2 tbsp water (preferably shoyu or tamari type)
Wasabi (Japanese horseradish) – very hot and good for clearing the sinuses! Buy it dried from large supermarkets or health/oriental stores and mix with water according to instructions. Try a very tiny dab – about a matchstick tip's worth – until you're sure how hot how you like it.
Extra pickled ginger
Salad
2 handfuls of pak choi, cos, lollo rosso or lamb's lettuce
plus 1 handful each of watercress, rocket and beansprouts
Instructions
1. If using pre-cooked rice, warm and mash gently then go to stage 3. You might have to add a splash of water to make it sticky also.
2. If using raw rice, cook it in the water and bouillon powder until it is well-cooked and slightly sticky – about 25-30 minutes. (Add a little more water if necessary but don't drown it. You want all the liquid to be absorbed by the end of the cooking process).
3. Meanwhile, prepare the other ingredients, including 1 or 2 from the options if desired. Make the salad also if you have time.
4. If you don't have a sushi mat, wet a clean tea-towel and wring it out well so that it's just a little damp.
5. Let the rice cool. It should be fairly sticky and just slightly warm – this makes it easier to roll.
6. Place the nori sheet carefully on sushi mat/damp tea-towel.
7. Spread the rice thinly on nori sheet, leaving a 1cm/half inch gap at the top and bottom.
8. With a chopstick or handle of a wooden spoon, make a horizontal indentation in the middle of the rice.
9. Spread the tahini in the gap and then add the grated carrot. Add another option, such as cucumber or watercress at this stage.
10. Using the mat/tea-towel, roll the nori up into a mini Swiss roll, making sure you keep pulling the leading edge of the mat/towel back so it doesn't get rolled into the sushi.
11. Continue rolling tightly until the uncovered top edge of the nori is reached. Wet this edge with a little cold water and complete rolling – this will seal the sushi.
12. Slice the roll in half with with a sharp knife, making sure you cut through all the nori. Then slice each half into 3 or 4 pieces.
13. Serve on the nicest plate you have, preferably plain white, with a little diluted soya sauce or aminos, a dab of wasabi and pickled ginger – and the green salad.
Did you know that Vegan Recipe Club is run by a charity?
We create vital resources to help educate everyone – vegan veterans, novices and the v-curious alike – about vegan food, health and nutrition; as well as the plight of farmed animals and the devastating environmental impact of farming.
Through this work we have helped thousands of people discover veganism; but we want to reach millions more! We rely entirely on donations as we don't get any government funding. If you already support us, thank you from the bottom of our hearts, you are really making a difference! Please share our details with your friends and loved ones too, as every donation enables us to keep fighting for change.