Smoky Kedgeree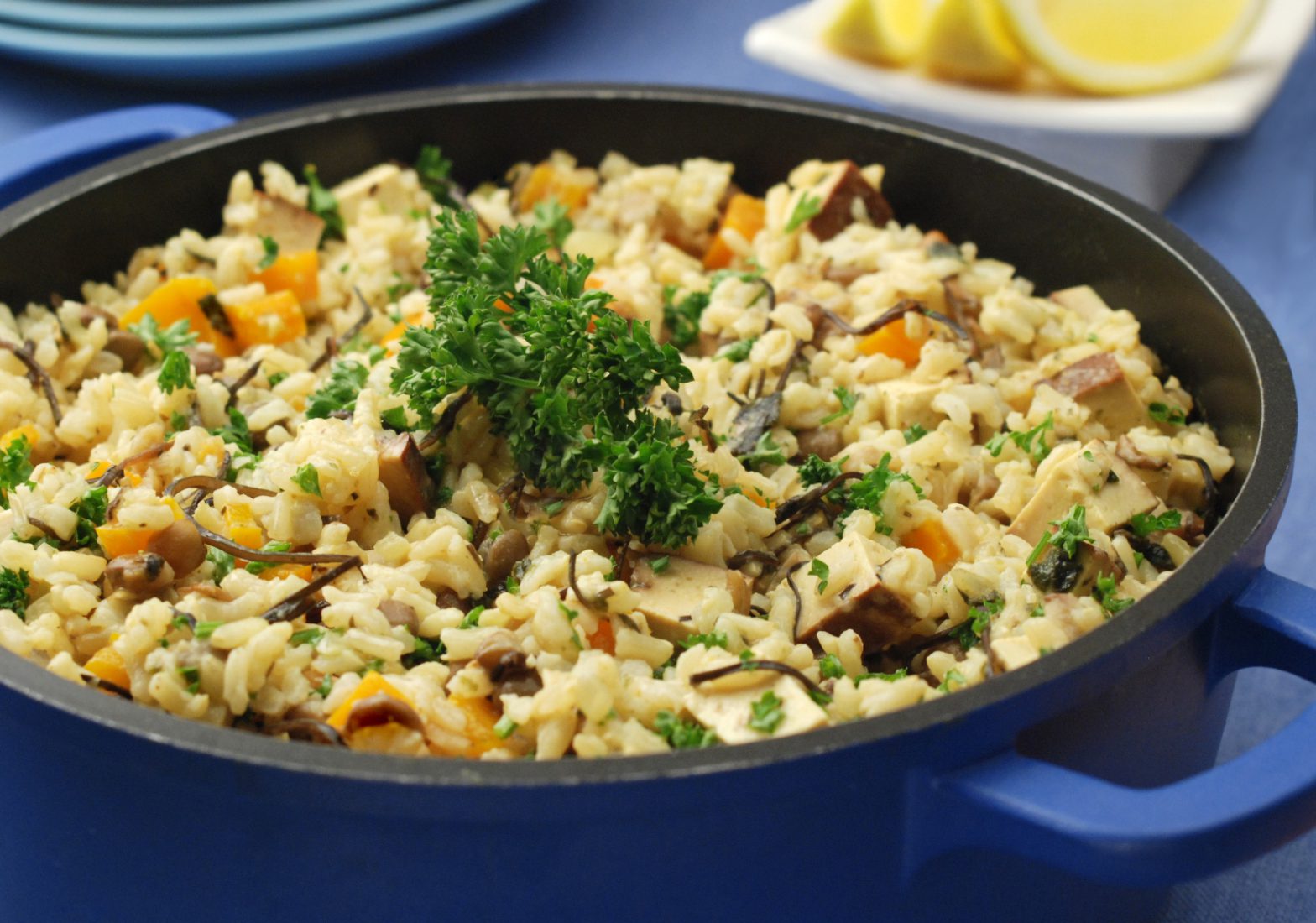 Kedgeree is probably one of the original fusion foods! Its origins are a traditional dish called 'kitcheree' – a mellow, simple dish of lentils and rice. Enter the British Raj and their initial suspicion of spicy foods… Kitcheree became kedgeree, a vehicle for Brits in India to pile on butter, smoked fish and the like.
The Vegan Recipe Club decided to veganise this classic dish – and this is the result. Enjoy!
The recipe can be made from scratch – or to save time, use pre-cooked rice and tinned lentils. We offer both options.
Nori sheets or sprinkles are available in larger supermarket branches while nori and arame are sold in health food shops, Oriental grocers or online. They are different types and flavours of sea vegetables and very nutritious – and not slimy! Arami looks like black straw until it is hydrated.



Cuisine
Indian and Indian Subcontinent
Meal
mains
lunches
sides-light-meals-and-salads
vegetable-side-dishes
Ingredients
Rice
400g/1¾ cups raw long grain brown rice, preferably brown Basmati cooked in 1 heaped tsp vegan bouillon or 1 vegan stock cube
OR 750g-800g cooked brown rice (about 3 cups of home-cooked rice or 3 sachets of microwave rice) with a little vegan stock mixed in
Lentils
50g/¼ cup dried whole lentils, green or brown
OR 110g/1⅓ cups cooked whole lentils – green or brown (about half a tin of drained lentils)
Rest of the ingredients
Large handful of arame, soaked in cold water while you cook
1 tbsp oil (preferably not olive)
1 large onion, peeled and chopped quite small
3 large cloves garlic, peeled and crushed or chopped fine
1 red or orange pepper, de-seeded and chopped roughly
1 tsp smoked paprika + 1 tsp regular sweet paprika
¼ tsp chilli powder
1-2 tsp chilli powder, according to taste
1 packet smoked tofu, chopped into bite-sized pieces – Taifun is the firmest and needs no pre-cooking but there are other brands
1 tsp freshly ground black pepper
Half a tin of coconut milk
2 tbsp nori flakes
2 tsp vegan bouillon or 1 vegan stock cube
Large handful fresh parsley, finely chopped
Lemon wedges
Optional: hot pepper sauce or other chilli sauce on the side for those who like their food spicy
Instructions
If cooking rice from scratch, put it on now. Cover with 600ml cold water and the stock cube/powder and cook for 20-30 minutes or until tender. Put the lentils and some water in a small pan also if cooking from scratch and cook for about 20 minutes or more.
Soak the arame in cold water and set aside.
Chop the vegetables and measure out the spices.
In a large pan or wok, heat the oil. Fry the onions and garlic for about 5 minutes, stirring regularly.
Add the peppers, chilli, curry powder and two types of paprika. Stir in and let it all cook for about 5 minutes, stirring continuously.
Rinse and drain the arame – use a sieve.
Add the smoked tofu and black pepper to the onion mixtuer, then add the coconut milk, nori, arame and 2 tsp bouillon or 1 stock cube, crumbled in. Add the cooked rice and lentils now plus the parsley. If using cold rice and lentils, stir in well and cook until everything is well mixed in and very hot. Add a drizzle of hot water if the mixture is too dry or starts to stick.
Serve with more parsley on the top of each plate and a wedge of lemon per person to squeeze on the kedgeree.
Optional extras / notes
Time depends on whether pre-cooked rice and lentils are used or not
Did you know that Vegan Recipe Club is run by a charity?
We create vital resources to help educate everyone – vegan veterans, novices and the v-curious alike – about vegan food, health and nutrition; as well as the plight of farmed animals and the devastating environmental impact of farming.
Through this work we have helped thousands of people discover veganism; but we want to reach millions more! We rely entirely on donations as we don't get any government funding. If you already support us, thank you from the bottom of our hearts, you are really making a difference! Please share our details with your friends and loved ones too, as every donation enables us to keep fighting for change.