Whole Wheat Pancakes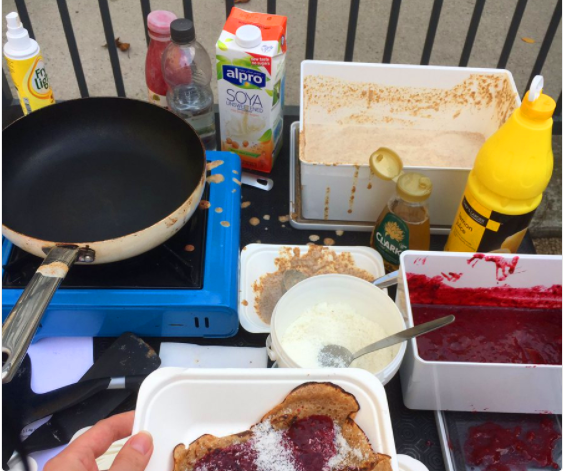 Whole wheat pancakes – Now for your days off, here's a real treat, pancakes made with whole wheat flour. What I love about this recipe is that it teaches you how to cooking is all about chemistry; you get to combine soya milk (this doesn't work with other milks) with cider vinegar (You can use other vinegars but be mindful not to choose a vinegar that is too strong in taste like balsamic for instance for this recipe) to create a buttermilk type consistency to add to the dry ingredients. Permitting you to leave out the need for adding in any margarine, eggs or oil. Meaning you really can make your pancakes and eat them especially with only 4.1g of fat per half batch and a whopping 14.6g of protein and 9.3g of fibre thanks to the whole wheat flour that hasn't been stripped of all it's goodness. Any pastry whole wheat flour will do for this recipe, just make sure not to use bread flour, that's too hard a consistency. And replace the maple syrup with agave as on this side of the world as it is more affordable and accessible. If you prefer your pancakes thinner; more crepe like, just add in extra soya milk. And if you prefer them more american to stack, reduce the amount of soya milk.

Easy
Meal
vegan-desserts
breakfasts
Ingredients
1 cup whole-wheat flour
¼ tsp salt
½ tsp baking powder
¼ tsp baking soda
1½ cups soya milk
1 tbsp maple syrup
1 tbsp vinegar
1 vegetable oil spray
Instructions
Stir flour, salt, baking powder, and baking soda together ina mixing bowl.
Add soya milk, maple syrup, and vinegar, and stir just enough to remove the lumps.
Preheat a lightly vegetable oil sprayed or non-stick skillet or griddle.
Pour small amounts of batter onto the heated surface and cook until the tops bubble.
Turn with a spatula and cook the second sides until golden brown. Serve immediately.
Did you know that Vegan Recipe Club is run by a charity?
We create vital resources to help educate everyone – vegan veterans, novices and the v-curious alike – about vegan food, health and nutrition; as well as the plight of farmed animals and the devastating environmental impact of farming.
Through this work we have helped thousands of people discover veganism; but we want to reach millions more! We rely entirely on donations as we don't get any government funding. If you already support us, thank you from the bottom of our hearts, you are really making a difference! Please share our details with your friends and loved ones too, as every donation enables us to keep fighting for change.