Warm Bagels with Beetroot & Olive Tapenade, Sesame & Yeast Flake Spread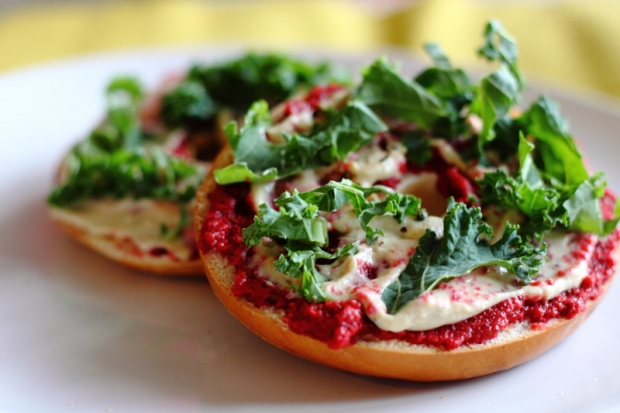 This lovely quick recipe comes courtesy of our very own Helen Wilson. Check out her great vegan food blog Lots of Nice Things. This dish is full of taste as well as calcium and other nutritional goodies!
Nutritional yeast flakes have a slightly cheesy, nutty flavour. They are a great product! Full of goodness and can be used as a condiment (soups, pasta dishes etc) or used to make sauces and dips like this one. Not to be confused with brewer's yeast!! Look for Engevita brand in a blue or brown tub, made by Marigold.

Not too tricky


Meal
sides-light-meals-and-salads
Ingredients
Beetroot & Olive Tapenade
150g/5 oz green pitted olives, preferably marinated in oil
2 cooked beetroot, roughly chopped
1 tbsp olive oil, or spare sun-dried tomato oil
Pinch of salt
Pinch of chilli powder
Cracked black pepper
Sesame & Yeast Flake Spread
170g/6 oz silken tofu (approx half a packet)
½ tsp light tahini
½ tsp lemon juice
½ tsp sweet miso paste (pale in colour, look out for Clearspring or Sanchi brands in Sainsbury etc or a good health food or Oriental food shop)
2 heaped tbsp nutritional yeast flakes
Pinch of salt
Cracked black pepper
1 handful of curly kale, chopped into small pieces – these can be steamed for a few minutes if you prefer
1 packet of American style bagels
Instructions
1. Place all the ingredients for the tapenade in a small mixer and blend. Alternatively, use a hand blender and blend them in a small mixing bowl. Taste and add more seasoning if desired. Follow the same process, separately, for the yeast spread ingredients.
2. Toast your bagels, spread them with the tapenade, then the yeast spread and top with small pieces of kale.
Did you know that Vegan Recipe Club is run by a charity?
We create vital resources to help educate everyone – vegan veterans, novices and the v-curious alike – about vegan food, health and nutrition; as well as the plight of farmed animals and the devastating environmental impact of farming.
Through this work we have helped thousands of people discover veganism; but we want to reach millions more! We rely entirely on donations as we don't get any government funding. If you already support us, thank you from the bottom of our hearts, you are really making a difference! Please share our details with your friends and loved ones too, as every donation enables us to keep fighting for change.