Beetroot Dhal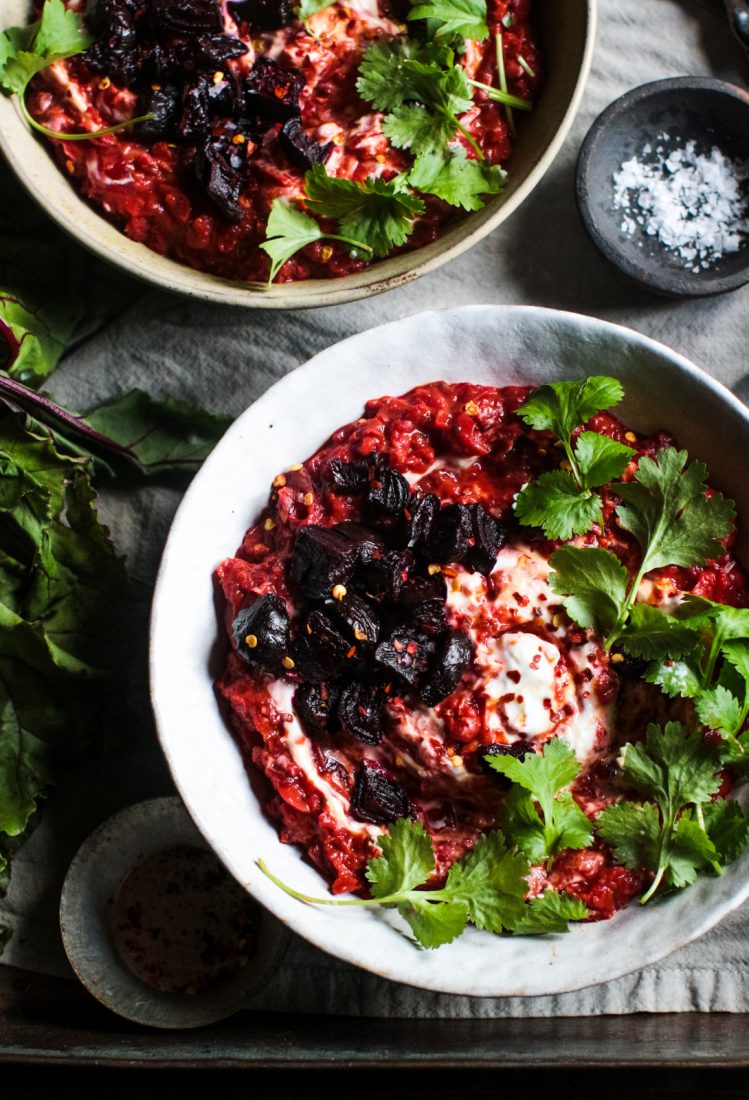 Have you tried beetroot dhal before? The beetroot turns everything beautifully purple and rich and the flavour works really well with the lentils and Indian spices. This dish is inspired by a dish I ate at Slaw in London – a vibrant purple, creamy and slightly sweet dhal which I immediately fell in love with. Of course, I had to create my own version so here it is – earthy, delicious and very pretty indeed.

Not too tricky





Courtesy of Rebel Recipes



See other recipes by Rebel Recipes
Cuisine
Indian and Indian Subcontinent
Ingredients
Roast Beetroot
2 beetroot, chopped into small cubes

Drizzle olive oil
The dhal
2 tbsp olive oil
2 tsp black mustard seeds
1 tsp turmeric
1 tsp cumin seeds
1 tsp ground coriander
1 tsp chilli flakes
1 large onion, roughly chopped
1 knob ginger, grated
4 cloves garlic, sliced
3 small beetroot, peeled & grated
200g red lentils, rinsed
700ml water
4 tbsp coconut cream or plain vegan yoghurt
1-2 tsp sea salt
Black pepper
½ tsp garam masala
Optional add ins
For extra creaminess add 2-3 tbsp coconut yogurt or cream
Fresh coriander
Chilli flakes
Gram (chickpea) flour flatbreads
50g gram flour, sieved
Pinch sea salt
Splash olive oil
½ tsp apple cider vinegar
100ml water
Instructions
To roast the beetroot
Preheat your oven to 180°C/350°F/Gas Mark 4.
Place the veg on a baking tray and coat in olive oil, salt and pepper.
Bake for 45-50 minutes until soft in the middle and caramelised on the outside. Remove when cooked.
To make the dhal
Firstly add the oil to a large frying pan and heat to a medium heat. Add in the mustard seeds. When they start to pop add in the cumin seeds, coriander, turmeric and chilli flakes. Stir for a few seconds then add the onion. Fry for aprox 8-10 minutes on a low to medium heat until soft and browning.
Add in the garlic, ginger and grated beetroot and stir for another few minutes,
Cook for a further 3-4 minutes then add the lentils, water and coconut milk/yogurt.
Stir well then turn down the heat and put the lid on the pan.
Simmer for 30 minutes stirring occasionally. Add more water if needed.
To make the flatbreads
Add the gram flour and seasoning to a large bowl. Stir to combine. Add in the water, olive oil and vinegar. Mix to a smooth batter. Set aside for 10 minutes.
Add a little oil to the base of a non-stick small frying pan. Add 60ml/¼ cup of the batter to the pan and swirl around the bottom so you get an even crepe.
Cook on a medium heat for approximately 2 minutes until there are bubbles in the crepe and you can lift over to flip easily.
Flip and cook on the other side for 30 seconds to a minute.
Remove from the pan and place on and cover with a clean cloth to keep warm.
Repeat the process with the remaining batter.
To serve
Season well with salt, pepper and garam masala.
Top with the roast beetroot and coconut yogurt.
Scoop up with the flatbreads.
Did you know that Vegan Recipe Club is run by a charity?
We create vital resources to help educate everyone – vegan veterans, novices and the v-curious alike – about vegan food, health and nutrition; as well as the plight of farmed animals and the devastating environmental impact of farming.
Through this work we have helped thousands of people discover veganism; but we want to reach millions more! We rely entirely on donations as we don't get any government funding. If you already support us, thank you from the bottom of our hearts, you are really making a difference! Please share our details with your friends and loved ones too, as every donation enables us to keep fighting for change.