Vegan Fragrant Spicy Aubergines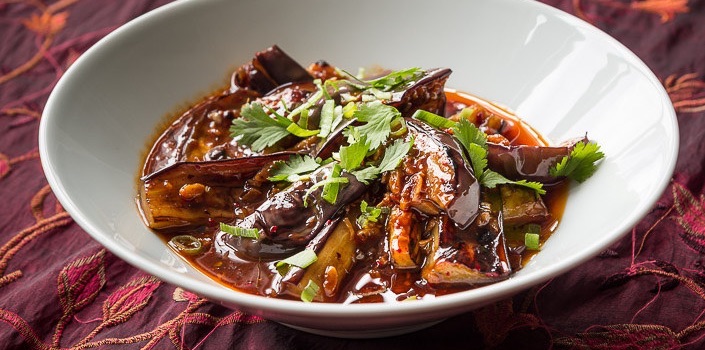 This is our version of a Sichuan classic dish "Fish Fragrant Aubergines", which actually has little to do with fish despite the name. They call this flavour "fish fragrant" because it contains many of the seasonings used in Sichuan fish cookery. Here, aubergine is the star of the dish, using Sichuan flavours to augment the spicy sauce. We love how the soft melting aubergines are bathed in this rich, spicy and slightly sweet sauce.

Not too tricky
Courtesy of Demuths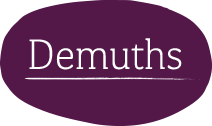 See other recipes by Demuths
Ingredients
1 medium aubergine, sliced into approx 4cm x 2cm lengths
Sunflower oil for frying
1-2 tbsp chilli bean paste
2 spring onions, sliced thinly, white and green parts separated
2 garlic cloves, chopped finely
2 cm piece fresh ginger, chopped finely
Sauce ingredients
1 tbsp light soya sauce
1 tsp Chinkiang vinegar
1 tbsp caster sugar
1 1/2 tsp cornflour or potato starch
90ml (6 tbsp) cold water
Garnish
Green part of the sliced spring onion
1 small red chilli, sliced finely
fresh coriander leaves
Instructions
Heat 2 tablespoons of oil in a large frying pan or wok till hot.
Fry the aubergines in 2 or 3 batches till golden on both sides.
Drain the aubergines on kitchen towel.
Mix the sauce ingredients with the cold water in a small bowl ensuring the cornflour is completely dissolved.
Heat 2 tablespoons oil in the frying pan on a medium heat, and add the chilli bean paste, stirring until the oil turns red and separates from the paste.
Add the white part of the sliced spring onions, the garlic, and ginger, and stir fry for a minute or two, taking care not to allow the garlic to burn.
Add the sauce mixture and lower the heat a little to let it all simmer for a few minutes to thicken. Return the aubergine pieces to the pan and gently cook in the sauce for 2 minutes till soft.
Spoon out onto a serving dish and sprinkle with the reserved green sliced spring onions, coriander leaves and chilli slices.
Serve with plain steamed Jasmine rice.
Did you know that Vegan Recipe Club is run by a charity?
We create vital resources to help educate everyone – vegan veterans, novices and the v-curious alike – about vegan food, health and nutrition; as well as the plight of farmed animals and the devastating environmental impact of farming.
Through this work we have helped thousands of people discover veganism; but we want to reach millions more! We rely entirely on donations as we don't get any government funding. If you already support us, thank you from the bottom of our hearts, you are really making a difference! Please share our details with your friends and loved ones too, as every donation enables us to keep fighting for change.