Vegan Cranachan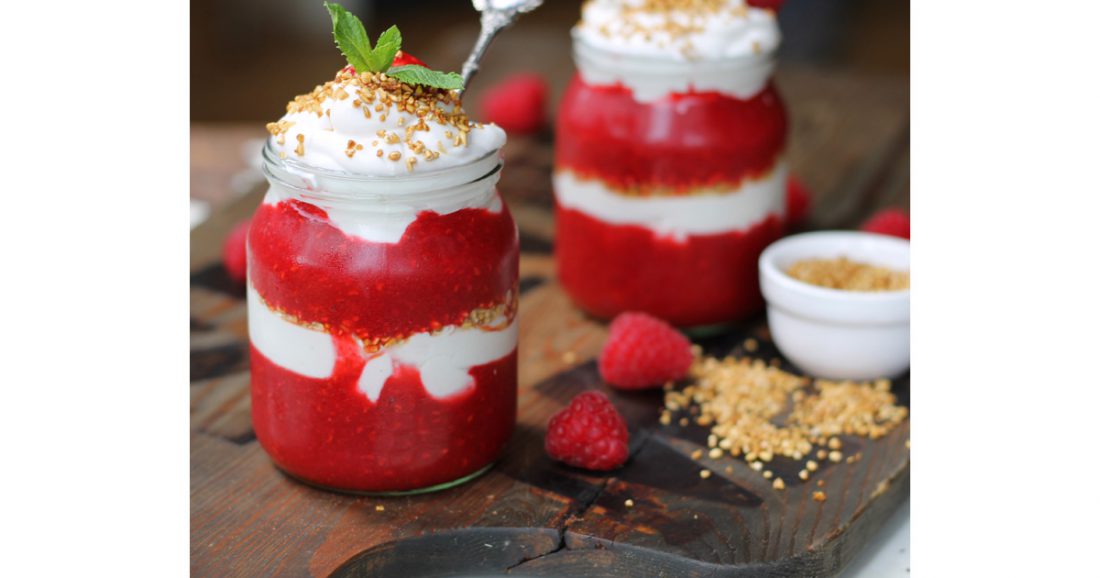 Traditional Scottish Dessert with Layered Raspberries, Whisky Cream & Toasted Oats. Cranachan is often served on Burns' Night but is lovely any time of year!

Easy
Ingredients
Use leftover coconut cream in other dishes, eg curry or soup – or freeze it for another time.
Whisky Cream
400ml/1⅔ cups of very cold coconut cream OR 2 tubs vegan crème fraiche, eg Oatly
2 tbsp caster sugar or more to taste
Coconut option only – ¼ tsp cream of tartar
2-3 tbsp Scotch whisky (omit this if you don't drink)
Raspberry fillings
500g/generous 1lb frozen or fresh raspberries
Agave syrup or caster sugar to sweeten
Toasted Oats
75g/½ cup pinhead oatmeal (North American steel cut oats)
1 tbsp soft brown sugar
ALL KITTED OUT
Glass bowl and electric cake mixer (or standalone electric mixer with bowl)
Measuring scales or cups
Measuring spoons
Blender or similar
Small frying pan and spatula
4 glass containers for desserts
Instructions
Coconut Cream
1. Chill the cartons or tins overnight or place in the freezer for half an hour or so. It needs to be very cold.
2. Place the cream in the glass bowl and whisk it. Add the cream of tartar and whisk again.
3. Drizzle in the sugar slowly until it has mixed in and dissolved. Stir in the whisky and make sure it is well mixed in.
4. Return the cream to the fridge or freezer while you make the rest of the dessert.
Almost Instant Cream
1. Mix the chilled vegan crème fraiche with sugar/agave to taste and the whisky.
2. Return to the fridge or freezer until ready.
Raspberries
1. Blend half the raspberries and sweeten with sugar or agave to taste.
2. Keep the other half whole and set a few aside for garnish. The majority go in the layers.
Oat topping
1. In the frying pan, toast the oats and sugar carefully, stirring constantly so they don't catch.
2. When they smell sweet and nutty, remove from the pan and place in a bowl so they don't continue to cook.
3. Crumble three quarters and leave the rest for garnish and texture.
To assemble the dessert
1. Set out the four glass containers.
2. Place a layer of the puréed raspberries in each container. Spoon in a thick layer of cream then a teaspoon or so of the toasted oats followed by whole raspberries.
3. Repeat the layers until you run out of ingredients. Garnish with a few whole raspberries.
4. Serve immediately or chill for a short while but don't let the oats become soggy!
Did you know that Vegan Recipe Club is run by a charity?
We create vital resources to help educate everyone – vegan veterans, novices and the v-curious alike – about vegan food, health and nutrition; as well as the plight of farmed animals and the devastating environmental impact of farming.
Through this work we have helped thousands of people discover veganism; but we want to reach millions more! We rely entirely on donations as we don't get any government funding. If you already support us, thank you from the bottom of our hearts, you are really making a difference! Please share our details with your friends and loved ones too, as every donation enables us to keep fighting for change.