Snowy Snowmen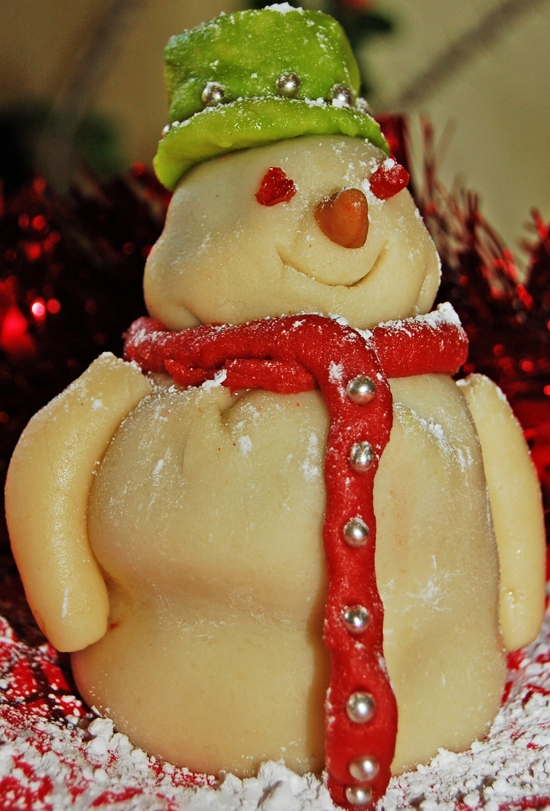 These delightful Snowmen make a lovely addition to your festive table are fun and simple to make, using a filling of cupcakes and a cover of ready-to-roll marzipan.

Not too tricky

Ingredients
Cupcakes
126ml/ 8 fl oz soya milk
1 tsp apple cider vinegar
225g/8oz granulated sugar
85ml/3 fl oz vegetable oil
2 tsp vanilla extract
110g/4 oz plain flour
30g/1 oz dark cocoa powder
¾ tsp bicarbonate of soda
½ baking powder
¼ salt
Covering
3 x 500g packets marzipan
2 varieties of natural food colouring
1 packet of cake decorations for buttons and eyes
Instructions
1. Preheat oven to 180°C/350° F/Gas Mark 4 and line muffin pan with paper cases.
2. Whisk together soya milk and vinegar in a bowl and set aside. 
3. Add sugar, oil, vanilla extract to the soya milk and beat until foamy.
4. In separate bowl, sift together flour, cocoa, bicarbonate of soda and salt.
5. Add in two batches of wet ingredients and beat until smooth.
6. Pour into cases filling three quarters of the way.
7. Bake for 20 minutes then place on wire rack to cool.
8. Meanwhile roll out marzipan to around 3mm thick pieces, flouring surface and rolling pin with icing sugar.
9. Cut out four rectangles of marzipan 10cm/4in x 20cm/8in and four circles (by cutting around circumference of mug).
10. Remove cupcakes from cases. Stack two cakes on top of each other to make four snowmen bodies.
11. Cut four smaller round shapes from the remaining four cakes to make the heads.
12. Construct the snowmen by wrapping one rectangle of marzipan around each body and sealing neatly by dabbing with water. Make heads by wrapping the marzipan circles around the small cake rounds. Adjust shape gently in your hands.
13. Secure the heads to the bodies by brushing the necks with water and pressing gently down.
14. Divide remaining marzipan in two and place in separate bowls for colouring.
15. Add 1 tbsp of each food colouring to each bowl, mix in with a spoon, then by hand, so colour runs throughout icing.
16. Decorate the snowmen with hats and scarves made from the coloured marzipan and eyes and buttons from cake decorations.
 17. Sprinkle with icing sugar to finish.
Optional extras / notes
Preparation/cooking time 1 hour
Did you know that Vegan Recipe Club is run by a charity?
We create vital resources to help educate everyone – vegan veterans, novices and the v-curious alike – about vegan food, health and nutrition; as well as the plight of farmed animals and the devastating environmental impact of farming.
Through this work we have helped thousands of people discover veganism; but we want to reach millions more! We rely entirely on donations as we don't get any government funding. If you already support us, thank you from the bottom of our hearts, you are really making a difference! Please share our details with your friends and loved ones too, as every donation enables us to keep fighting for change.