Pia Werzinger
Post published at December 6, 2022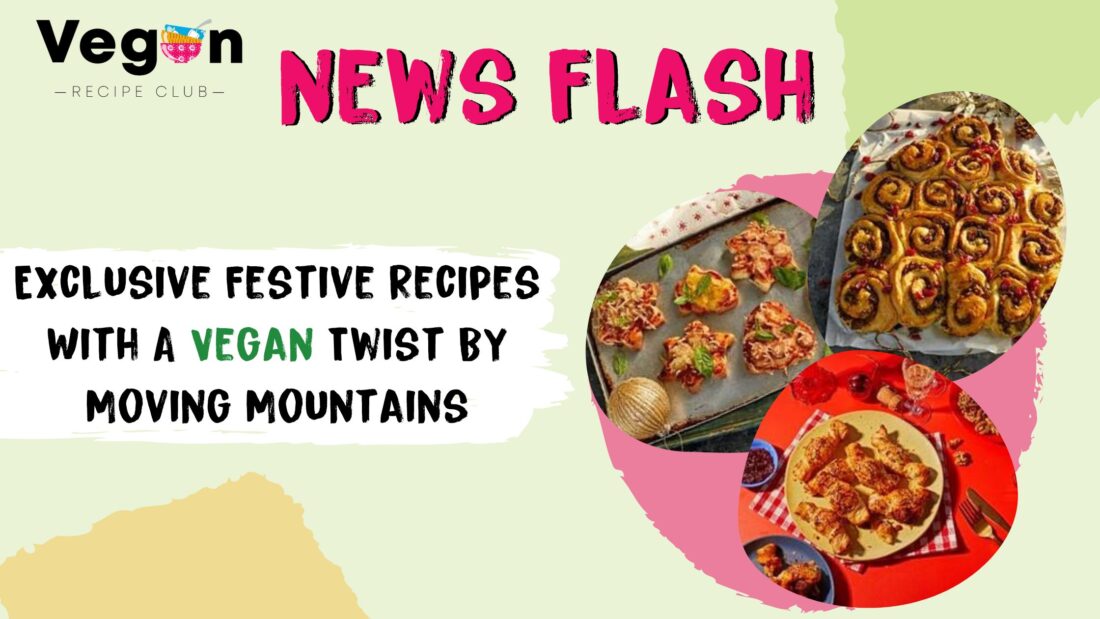 Just in time for the festive period, Moving Mountains have created some delicious new plant-based festive recipes using some of their signature meat-alternatives. Here's our top three Moving Mountains recipes, ideal for your upcoming Christmas party.
Moving Mountains® Winter Meatball Parcels
Prep Time: 15 mins, Cooking Time: 40 mins, Makes 10 parcels
Ingredients:
10 Moving Mountains Meatballs
4 top sundried tomato paste
1 tsp orange marmalade
1 tsp cider vinegar
1 sprig of rosemary, leaves picked and finely chopped
I tbsp maple syrup
1 puff pastry sheet
20g vegan parmesan, grated
Method:
Start by preheating the oven to 180°C. Cook the Moving Mountains Meatballs following the on-pack instructions. Once cooked, take the tray out and put the oven heat up to 200 0.
Make the tomato filling. Add the tomato paste, orange marmalade, and cider vinegar to a small bowl and mix well. In another bowl, combine the maple syrup and chopped rosemary.
Roll the pastry out and out it into 10 equal size rectangles. Make the parcels one by one. Take one piece of pastry and spread a teaspoon of the tomato filling over it. Add a meatball and wrap the pastry around it twisting the ends in opposite directions. Line the candy parcels on a baking tray and brush each one with the rosemary maple glaze. Sprinkle the parmesan over the pastries and bake for 20 – 25 minutes, until the pastry is golden brown.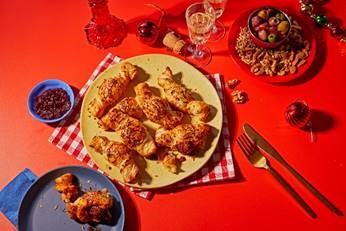 Moving Mountains ® Festive Mini Pizzas
Prep Time: 10 mins, Cooking Time: 30 mins
Ingredients:
1 Moving Mountain Sausage
1 Moving Mountain Hot Dog
50g Moving Mountain Mince
100g vegan cheese, grated
250g ready-made pizza dough, defrosted (or try to make your ownl)
For the sauce:
200g passata or chopped tomatoes
1 garlic clove
Olive oil
To serve:
Fresh basil leaves
Coarse black pepper
Method:
Start by cooking the sausages, hot dog, and mince – follow the instructions on the packaging. You can use different Moving Mountains products – this is just our recommendation!
Preheat the oven to 230*C. Then prepare the sauce. Put the tomatoes, garlic clove and a generous splash of olive oil in a food processor or a blender Process until smooth and season with salt and black pepper.
Roll the dough out to a 1 om thick disc. Using gingerbread cutters (large size), cut out your Christmas -themed shapes and transfer onto a large baking tray lined with baking parchment. Spread a tablespoon or two of the sauce on each mini-pizza and top with Moving Mountain sausages, hot dogs, or mince, Sprinkle the cheese over the top.
Bake for 15 minutes, until the edges have browned, and the cheese is nicely melted.
Serve with fresh basil leaves and coarse black pepper.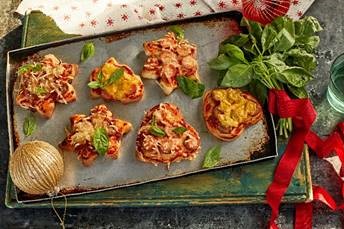 Moving Mountains® Pull Apart Christmas Tree
Prep Time: 25 mins, Cooking Time: 1hr 45 mins (including proving time)
Ingredients:
For the dough:
750g bread flour
10g activated yeast
8g fine salt
500g warm water
1 tbsp maple syrup
For the filling:
1 pack Moving Mountains Mince
150g bottom mushrooms, finely chopped
1 jar of green pesto
40g cranberries + 10g for decoration
Vegetable oil
For brushing
50g maple syrup
50g water
Method:
Start by making the dough. Mix the bread flour with the yeast and salt in a big bowl. Add the water and syrup and knead with your hands until all comes together. You can transfer the dough into a standing mixer and knead for another 5 minutes on a medium speed or continue with your hands for another 10 minutes on a kitchen surface. The dough should be smooth, but still a little bit sticky. Then Put the dough back in the bowl and cover with a damp kitchen towel. Leave to prove in a warm place for an hour, until it doubles in size.
Meanwhile, make the filling Warm up a tablespoon of oil in a big. Heavy based frying pan. Cook the mince until it's fully defrosted. Add the mushrooms and cook stirring for another 3-4 minutes. Stir in the pesto and cranberries. Remove the pan from the heat and leave uncovered to cool down.
Once your dough is ready. Knock the dough down, sprinkle lightly with flour and roll it out into a large rectangle (longer side facing you) on a floured surface. Spread the filling out evenly, leaving some space (about 3-5 cm) of the top (longer side) filling-free, so you can seal the end of the roll tightly.
Roll the dough up into a log, then cut into even sized swirled buns – each about 5 cm wide. Arrange the buns in a Christmas tree shape on a large baking tray lined with baking parchment. Preheat the oven to 200*Cand then leave your Christmas tree to prove for another 15 minutes
Mix the maple syrup with water and brush it over the buns to glaze. Put the tray in the oven and bake for 25-30 minutes until the bread is browned and cooked through.
Decorate with the remaining cranberries and serve warm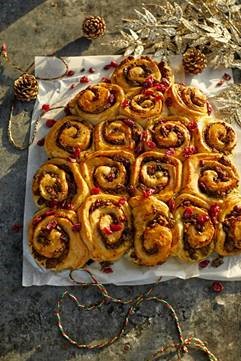 Moving Mountains is a ground-breaking British company on a mission to make sustainability delicious, through real change that tastes great.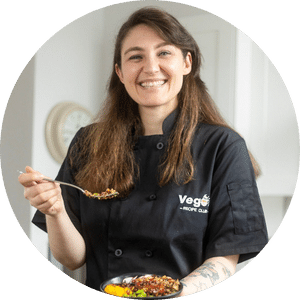 The author
This post was written by Pia Werzinger
As Viva!'s Food and Cookery Digital Media Manager, Pia is keeping you up to date on the latest recipes and vegan food news.