Rose Elliot's Gravy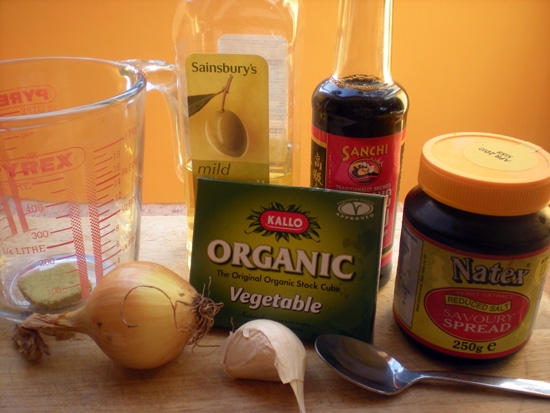 Another sure-fire recipe from Rose Elliot – one of those easy and invaluable 'staples' - it works well with veggie sausage & mash as well as any vegan roast dinner or Christmas spread! We've given a gluten-free option too.
It can also be jazzed up with a dash of vegan red wine or sherry.
Ingredients
1 onion, diced
2 tbsp oil
2 tbsp plain flour OR 1 tbsp arrowroot (gf)
Clove of garlic (crushed)
450ml/15 fl oz vegetable stock (reduce a little if adding a splash of red wine/sherry) – and use a g-f version like Marigold Vegan red tub bouillon or Kallo g-f
1 tsp yeast extract
1 or 2 tbsp soya sauce – tamari is g-f, shoyu and other types aren't
Freshly ground black pepper
Instructions
1. Fry the onion in the oil for 5 minutes.
2. Add the flour and cook for a further 5 to 10 minutes until the flour and onion are nut- brown and the onion is soft and slightly pulpy. If using the g-f arrowroot option, mix with a little cold water to make a paste then add to the stock and whisk in.
3. Add the garlic then gradually stir in the vegetable stock (or the water from any vegetables you happen to be boiling at the same time). Whisk to prevent lumps
4. Bring to the boil and simmer for 10 minutes.
5. Add the yeast extract, soya sauce and black pepper.
6. Stir well. Strain if you like, or serve as it is.
Did you know that Vegan Recipe Club is run by a charity?
We create vital resources to help educate everyone – vegan veterans, novices and the v-curious alike – about vegan food, health and nutrition; as well as the plight of farmed animals and the devastating environmental impact of farming.
Through this work we have helped thousands of people discover veganism; but we want to reach millions more! We rely entirely on donations as we don't get any government funding. If you already support us, thank you from the bottom of our hearts, you are really making a difference! Please share our details with your friends and loved ones too, as every donation enables us to keep fighting for change.