Quick & Easy Filet-No-Fish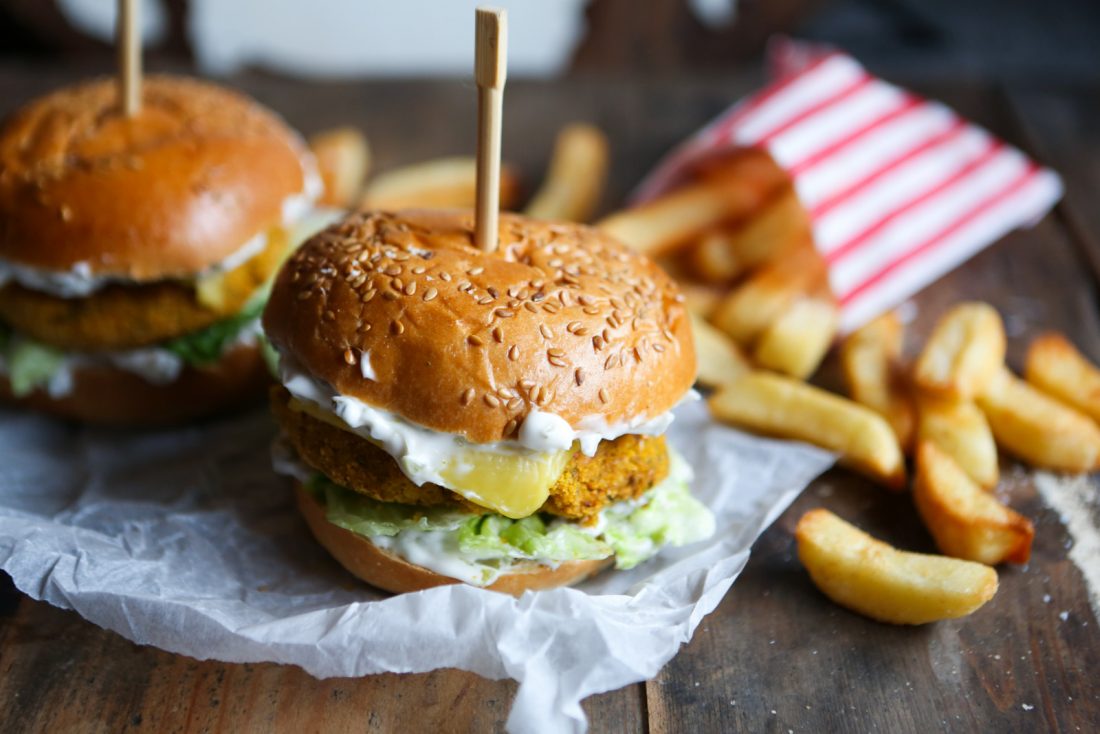 This is our super easy version of a filet-no-fish! Grab a slice of tofu, mix up a paste and fry it up – pop it in a bun and you're good to go 🙂

Easy






Ingredients
Tofu
2 slices of extra-firm tofu (use regular firm if you can't get the extra-firm type) – sliced about 1cm/¼ inch thick. Use a clean tea towel or kitchen paper to gently squeeze as much of the water out as possible
Paste 
1 tbsp oil
¼ tsp salt
⅛ tsp paprika
⅛ tsp turmeric
⅛ tsp garlic powder
¼ tsp nori flakes
1 tbsp nutritional yeast flakes
1 tbsp soya or other plant milk
Extras 
2 vegan rolls/buns (we used brioche) – use GF if necessary or wholewheat if preferred)
A good dollop of our vegan tartar sauce (or use mayo with chopped gerkins)
Iceberg lettuce
Instructions
Heat oil until it is smoking in a non-stick saucepan and fry the tofu on both sides until slightly browned.
Mix together the paste ingredients then coat one side with half the paste. Turn it over gently so the coated side is directly on the heat.
While it's cooking, do the same with the top side, flipping it over gently.  Let each side cook for 2-3 minutes so it's all well-browned.
Place in the bread roll and serve with all the extras.
Did you know that Vegan Recipe Club is run by a charity?
We create vital resources to help educate everyone – vegan veterans, novices and the v-curious alike – about vegan food, health and nutrition; as well as the plight of farmed animals and the devastating environmental impact of farming.
Through this work we have helped thousands of people discover veganism; but we want to reach millions more! We rely entirely on donations as we don't get any government funding. If you already support us, thank you from the bottom of our hearts, you are really making a difference! Please share our details with your friends and loved ones too, as every donation enables us to keep fighting for change.