Punk Pumpkin Cake
In this recipe we use a bundt to make the pumpkin shape. The cake is sandwiched with chocolate fudge icing and orange icing for a truly ghoulish effect! Perfect for Halloween!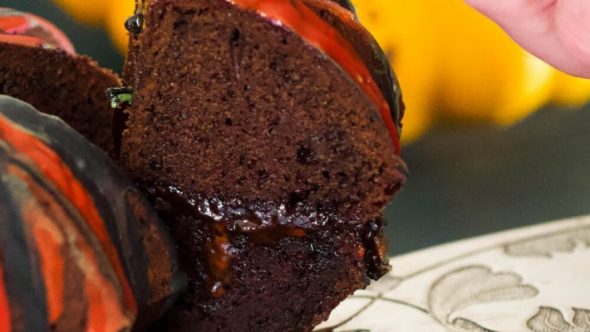 Ingredients
Sponge cake
(you will need 3 times these ingredients*)
100g gram flour
50g potato starch or tapioca starch
30g cocoa or cacao powder
100g sugar
½ tsp baking powder
½ tsp bicarbonate of soda
75g plain oil (eg rapeseed)
225g plant milk
Decoration
1 tube orange designer icing
1 tube black designer icing
1 tube green designer icing
30g margarine
1 tbsp cocoa
2 tbsp icing sugar
½ tbsp refined coconut oil (optional)
Equipment
Bundt pan
Small muffin or cupcake pan
Mixing bowl
Mixing spoon
Instructions
Preheat your oven to 200c/390f/GM6. Grease the bundt pan.
In a large bowl mix the flours, cocoa powder, sugar and raising agents.
Add oil and milk. Mix in well then pour the batter into a cake tin. The batter will be liquid.
Bake for around 25 minutes until cooked through. You can tell if it is ready by pressing on the top. If it bounces back it's done.
Make the batter again, this time fill the muffin tin, making at least 4 muffins. Bake for around 15-20 minutes.
Make the batter a third and final time. Pour the batter into the bundt tin, bake this last sponge.
Allow the sponges to completely cool before you decorate the cake.
Make chocolate fudge icing by mixing together margarine, cocoa and icing sugar. If your margarine is very soft add the coconut oil. Many brands of vegan margarine are very soft so do not set well.
Spread the chocolate fudge icing on the base of one of the bundt cakes. Spread a layer of orange designer icing on the base of the other bundt cake. Sandwich the layers together.
If the designer icing is very thick add a small amount of water and mix in very well. Start by dripping on orange stripes, then black, then green.
Put muffins into the centre of the cake, stacking them on top of each other until they almost come to the top of the cake. Take 2 muffins, sandwich them together using icing. Cut to a stalk shape. Drip on black and green stripes. Add the stalk to the cake.
* You will need to make the sponge batter 3 times – twice to make the two rings, using a bundt pan and once to make muffins to make the stem.
Did you know that Vegan Recipe Club is run by a charity?
We create vital resources to help educate everyone – vegan veterans, novices and the v-curious alike – about vegan food, health and nutrition; as well as the plight of farmed animals and the devastating environmental impact of farming.
Through this work we have helped thousands of people discover veganism; but we want to reach millions more! We rely entirely on donations as we don't get any government funding. If you already support us, thank you from the bottom of our hearts, you are really making a difference! Please share our details with your friends and loved ones too, as every donation enables us to keep fighting for change.