Mushroom Wellingtons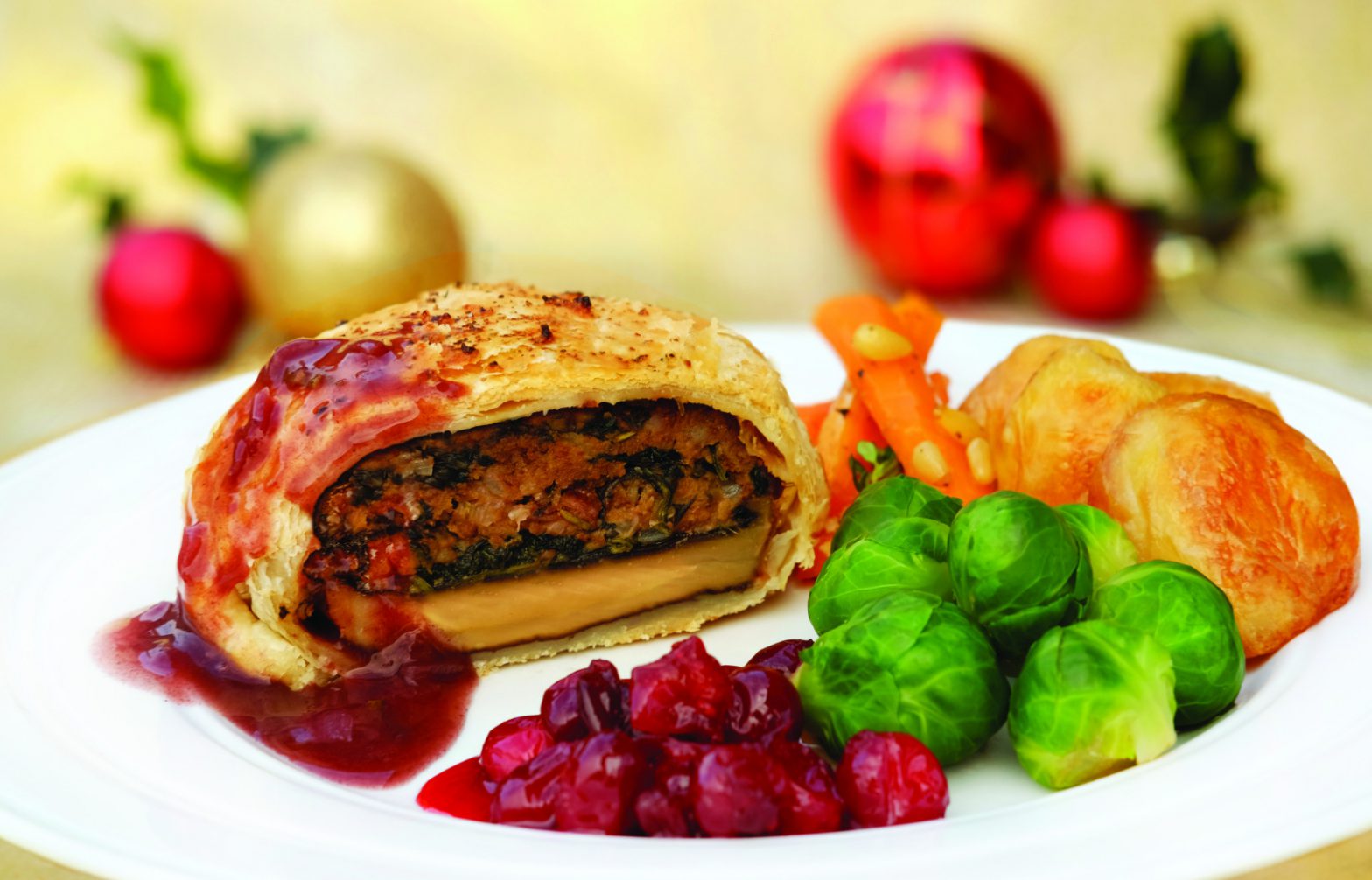 This delicious little number is basically a nut roast filling with a baked mushroom – all wrapped up in bought puff pastry. So it's three components. Get all the ingredients and kit and go for it – it's not difficult. We also offer a cheating alternative, ie packet nut roast! Artisan and Suma are the best known brands of nut roast – Artisan stocked in health food shops and some supermarkets, Suma mostly in health food shops.

Not too tricky

Ingredients
Ingredients
Filling
1. Baked Mushrooms
4 giant Portobello mushrooms plus a little olive oil for brushing
1 large onion
2. Nut Roast filling from scratch
5 cloves of garlic (crushed) OR 4-5 tsp garlic paste
1 tsp paprika
200g/7oz baby spinach
1 tbsp lemon juice
1 tbsp fresh rosemary leaves OR 1 tsp dried
1 tbsp fresh lemon thyme OR 1 tsp dried, any type
70 ml/2½fl oz dry white wine (vegan wine is widely available – ask shop for its vegan list. The Co-op labels its vegan range clearly)
2 tbsp/60ml maple or agave syrup
2 tbsp olive oil
125g/5oz pecans
130g/5oz cooked chestnuts (eg Merchant Gourmet)
100g/3½oz breadcrumbs (bought or homemade)
3 tbsp grated vegan parmesan (eg Violife Prosociano; VBites Cheezly Hard Italian Style). Alternatively, just use regular Violife or other melting vegan cheese
OR Nut roast filling from a packet
1 pack of nut roast mix, eg Artisan or Suma brands – see above
3 tbsp added grated vegan parmesan
200g wilted spinach if desired.
You can also add a glug of white wine to the nut roast liquid if you wish!
Outside
1 sheet of Jus Rol or supermarket own-brand puff pastry (do check the ingredients as some of them contain egg and/or dairy. Jus Rol is vegan)
Salt and pepper to taste
Pastry Glaze
1 tbsp plant milk, eg soya or almond
1 tbsp maple or agave syrup
ALL KITTED OUT
Chopping board, knife, colander, pastry brush, kitchen towel, measuring spoons, medium saucepan, cooking spoon, garlic crusher, measuring jug, food processor, grater, dessert spoon, baking tray, baking parchment.
Instructions
Heat oven to 190°C/375˚F/Gas Mark 5. Wash the mushrooms, remove the stems and scrape out the gills.
Lightly brush the mushrooms with olive oil and sprinkle with a pinch of salt. Bake the mushrooms for 15 minutes cap side up and 10 minutes cap side down. Place them on a few sheets of kitchen roll and place some over the top to drain the excess moisture. Leave to one side.
Packet nut roast version. Make it up according to the packet instructions. Then wilt the spinach in a pan or microwave for a minute or two before adding to the mix. Add the grated cheese if using then divide this mix to the mushrooms and skip to stage 5. If too much, form into stuffing balls and bake on lowest rung of the oven.
From scratch nut roast filling. Heat the 2 tbsp olive oil in a medium sized saucepan over medium heat. Add the onion and fry until lightly golden. Add the garlic, paprika, rosemary and thyme and cook for 2 to 3 minutes. Pour in the wine and stir in the maple syrup and lemon juice. Cook for another 2 to 3 minutes. Blend the pecans and chestnuts in a food processor until reduced to small pieces. Mix the blended pecans and chestnuts into the onion mixture. Add the spinach, breadcrumbs, olive oil, vegan parmesan and salt/pepper to taste. Pile the stuffing mixture into each of the mushrooms. You can use any leftovers as individual stuffing portions – bake on lowest rung of the oven.
Assemble the Wellingtons! Cut the puff pastry sheet into four equal parts. Take one square and place one stuffed mushroom on it, stuffing side down. Take the opposite corners of the puff pastry to wrap around the mushroom and then pull the other two corners up. Pull any gaps into the centre carefully so you avoid tearing the pastry. Once it's completely sealed, brush with the glaze all over and place the seamed side down onto a tin lined with baking parchment. Sprinkle salt and pepper on the top.
Bake in the oven for about 25-30 minutes or until the puff pastry has risen and is golden. Serve with gravy and any sides you like.
Did you know that Vegan Recipe Club is run by a charity?
We create vital resources to help educate everyone – vegan veterans, novices and the v-curious alike – about vegan food, health and nutrition; as well as the plight of farmed animals and the devastating environmental impact of farming.
Through this work we have helped thousands of people discover veganism; but we want to reach millions more! We rely entirely on donations as we don't get any government funding. If you already support us, thank you from the bottom of our hearts, you are really making a difference! Please share our details with your friends and loved ones too, as every donation enables us to keep fighting for change.