Mushroom Paté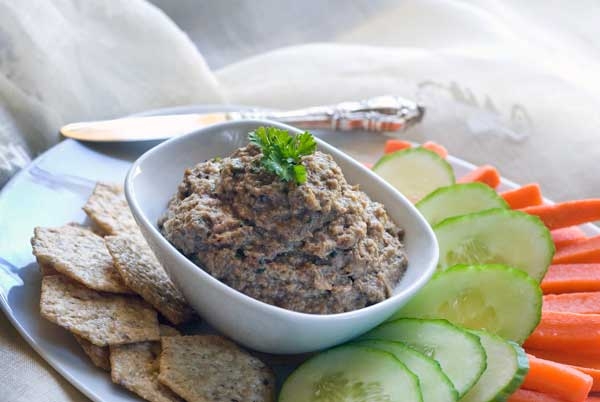 Make this as budget or as gourmet as your purse allows! Value mushrooms will do fine – but if you can stretch to chestnut or wild mushrooms, even better. Spread it on rolls as a sandwich filling or on crackers, crostini and such as a starter or part of a buffet.
Picture courtesy of Simply Gluten Free

Easy


Meal
soups-starters
sides-light-meals-and-salads
Ingredients
1 tbsp olive oil
200g/6oz mushrooms, finely sliced
1-2 tbsp good quality soya sauce, eg shoyu or tamari
1-2 level tsp miso, according to taste OR yeast extract (such as Marmite) to taste
2 level tsp wholemeal flour (use GF flour if appropriate) OR 1 cup cooked whole lentils, any colour
Optional:
Fresh or dried tarragon to taste
Instructions
1. Sauté mushrooms in oil for a couple of minutes. Add the soya sauce then the flour and cook for 3 minutes or so, stirring regularly, mixing and mashing with the back of a fork. If using the lentil option, cook them in now instead of the flour.
2. Let it cool then add the miso/yeast extract, mixing and mashing some more. Blend for a second or two if you prefer a smoother paté – and probably best to do so if using lentils.
Did you know that Vegan Recipe Club is run by a charity?
We create vital resources to help educate everyone – vegan veterans, novices and the v-curious alike – about vegan food, health and nutrition; as well as the plight of farmed animals and the devastating environmental impact of farming.
Through this work we have helped thousands of people discover veganism; but we want to reach millions more! We rely entirely on donations as we don't get any government funding. If you already support us, thank you from the bottom of our hearts, you are really making a difference! Please share our details with your friends and loved ones too, as every donation enables us to keep fighting for change.