Martin Shaw's Christmas Pudding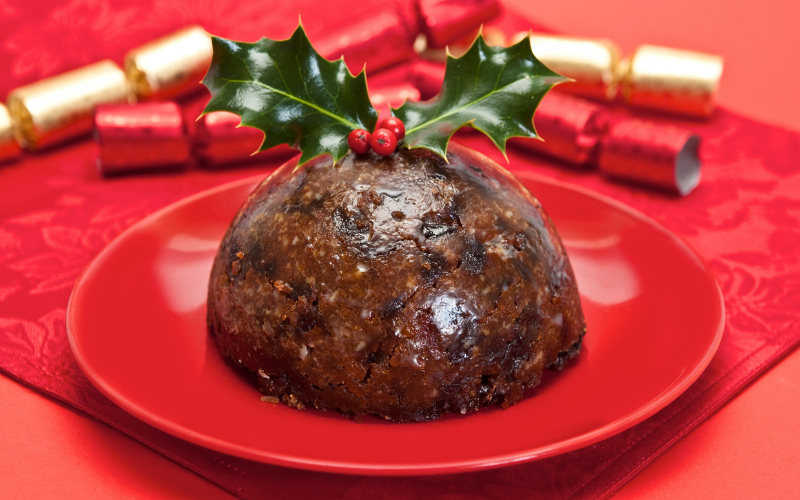 A lovely old-school Christmas pud, courtesy of actor Martin Shaw!
Make this in November, cover in foil and store in a cool place until Christmas. It isn't difficult and mixing the ingredients is easy. However, you need to set aside several hours to steam in the traditional way so choose a day or evening when you'll be around. Set your phone or alarm every hour and top up the water if it needs. It can also be made more quickly in a pressure cooker, but you'll need to follow the manufacturer's instructions to do that as different models vary. And there is also the possibility of slow cooking - see below!
Slow cooking (Crockpot)
We haven't trialled this method but it looks good and could be done overnight.
A 2 pint /1 litre pudding takes about 13 hours to cook on 'high'. Smaller ones would need to have less time. This pudding is 4pints/under 2 litres, so check that your slow cooker is large enough to take a bowl that size first. Alternatively, halve the recipe quantities. Put the pudding in the slow cooker, pour in boiling water, to about 2/3 up the side of the basin and then cover and leave. It will not boil dry or spoil. If the bowl is slightly too tall for the lid on your slow cooker, just cover the top of the cooker and the pudding with a sheet of foil and tuck it under the rim, then put the lid on top to weigh it down. Just check the water first thing in the morning and top up with a little boiling water if it's getting too low.
Reheating
The good news is that once it's cooked you can reheat quickly by either steaming - or faster still in a microwave. If using the microwave method, remember that the high sugar content in dried fruit makes puddings like this burn if cooked for too long! Start off with half a minute on high, test then try another half a minute or so.
Ingredients
450g/1lb plain flour – white or half and half fine wholemeal with white
450g/1lb currants or sultanas
450g/1lb brown sugar
450g/1lb potato, cooked, mashed and cooled
450g/1lb carrots, peeled and grated
225g/8oz apples, peeled, cored and chopped
110g/(4oz raisins
110g/4oz nuts, chopped – hazel, almond or a mixture of your favourites
1 tsp grated nutmeg
1 tsp mixed spice
450g/1lb vegetable margarine, melted (eg Pure, Suma or Biona)
Pinch of salt
Optional:
1-2 tbsp brandy to spoon on pudding then set fire to it!
Plus serving suggestions – see recipe
Instructions
1. Thoroughly mix all of the ingredients together in a very large mixing bowl. Put the mixture into a large greased pudding basin (approx. 4 pint or larger) – it should come two thirds of the way up the height of the basin.
2. Cover the bowl with greaseproof paper and tie with string, put some foil on top and tie that with string too to ensure no water gets in. Place in a very large saucepan of water (water should come up to two thirds of basin), cover and boil for six hours.
3. To ensure the water level doesn't drop too much keep topping up with boiling water at least once an hour. If you want to pressure cook the pudding, check the manufacturer's instructions beforehand.
4. To serve: three posibilities: dairy-free cream such as Plamil or Oatly; vegan ice cream such as Swedish Glace or Booja Booja. Vegan custard is the third favourite – buy it in tubs (Alpro/Provamel) or use custard powder and sugar plus a bit less soya milk than suggested on the packet instructions. Alternatively, do what one of my colleagues suggested – have all three!!
Variation: it can be split into several smaller pudding basins. If you make it in advance, re-boil for 2 hours – or better still, microwave for a minute or two only (the sugar and dried fruit gives it a tendency to burn quickly so it doesn't need long). It also tastes wonderful eaten cold.
Optional extras / notes
20-30 minutes preparation + 6 hours boiling (less if pressure-cooked)
Did you know that Vegan Recipe Club is run by a charity?
We create vital resources to help educate everyone – vegan veterans, novices and the v-curious alike – about vegan food, health and nutrition; as well as the plight of farmed animals and the devastating environmental impact of farming.
Through this work we have helped thousands of people discover veganism; but we want to reach millions more! We rely entirely on donations as we don't get any government funding. If you already support us, thank you from the bottom of our hearts, you are really making a difference! Please share our details with your friends and loved ones too, as every donation enables us to keep fighting for change.