Lavender Panna Cotta with Caramelised Cinnamon Figs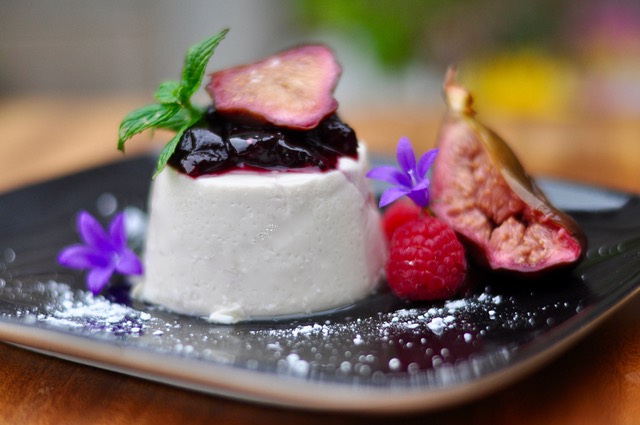 When we designed our vegan chalet menu, we wanted a blend of simple, plant-based meals and a few versions of real chalet classics. Panna cotta, literally "cooked cream" is a simple recipe, the key to success is all in the execution. A great panna cotta has just the right amount of wobble as it sits on the plate and the flavour should be delicate and subtle enough to not overpower your cream. We simply replaced dairy cream with coconut cream in this recipe and animal-based gelatine with the natural gelling agent agar agar. The beauty of panna cotta is that it's a versatile canvas for pretty much any flavour you want to add so let your imagination run wild, our guests can expect a few weird and wonderful variations this winter.

Not too tricky



Courtesy of Cold Fusion



See other recipes by Cold Fusion
Ingredients
500ml coconut cream

6 drops food grade lavender oil
1 tsp agar agar
90ml maple syrup
4 ripe figs
1 cinnamon stick
1 star anise
5 cloves
1 lemon, juiced
Instructions
Select four dariole or silicone moulds. Grease them with a little coconut oil and put aside. If using silicone moulds, place on a chopping board for ease of transport.
In a medium-sized saucepan gently heat the coconut cream, 50ml maple syrup, agar agar and lavender oil whilst stirring. Reduce the heat to a simmer as soon as it starts to boil, stirring gently.
Pour the mixture through a sieve into a jug to ensure any undissolved agar agar is removed.
Fill your moulds slowly to the top, taking care to avoid air bubbles.
Place in the fridge for 2-3 hours or until set.
In a pan, heat the lemon juice, 40ml maple syrup, cinnamon stick, star anise, cloves and a dash of water.
Slice the figs into halves and add to the liquid, allowing to simmer until the figs have softened.
Remove from the liquid and set aside.
Continue to reduce the liquid until it has thickened to your desired sauce consistency.
Once the pannacotta has set, remove from the fridge and using a rounded butter knife, gently separate the edges from the moulds and turn out onto your serving plate.
Garnish with figs, a thin layer of compote or jam, mint leaf a dusting of cacao powder and drizzle with some of the thickened sauce.
Serve immediately.
Did you know that Vegan Recipe Club is run by a charity?
We create vital resources to help educate everyone – vegan veterans, novices and the v-curious alike – about vegan food, health and nutrition; as well as the plight of farmed animals and the devastating environmental impact of farming.
Through this work we have helped thousands of people discover veganism; but we want to reach millions more! We rely entirely on donations as we don't get any government funding. If you already support us, thank you from the bottom of our hearts, you are really making a difference! Please share our details with your friends and loved ones too, as every donation enables us to keep fighting for change.