Jackballs With Sofrito Sauce & Vegan Parmesan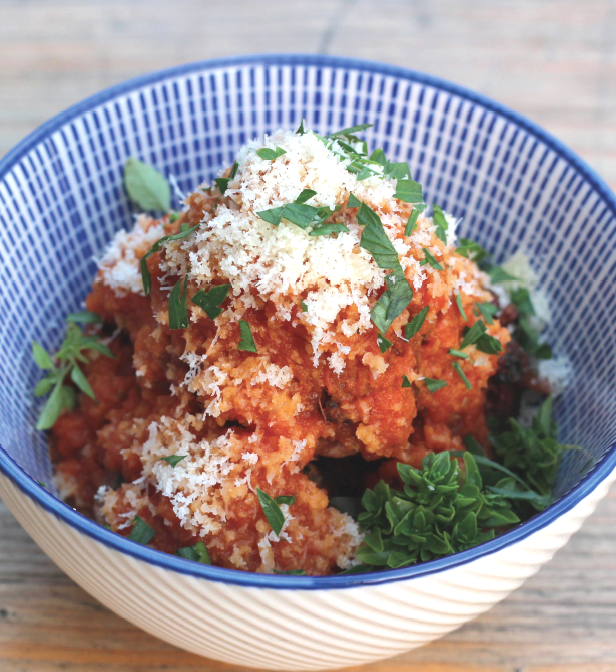 These jackballs are super versatile – they can be eaten as starter, combined with spaghetti or served with salad for a main meal. They provide a light yet hearty & rich flavour… yum!

Not too tricky


Ingredients
Sofrito sauce
2 small carrots, roughly chopped
1 onion, roughly chopped
3 garlic cloves, chopped
2 celery sticks, roughly chopped
1 x 400g tin chopped tomatoes
2 tsp thyme, fresh or dried
2 tsp oregano, fresh or dried
1½ tsp sweet paprika
6 tbsp oil
Salt and pepper
Jackfruit
2 x 400g tins jackfruit in brine
3 tbsp gram flour
1 tsp garam masala
1 tsp paprika
2 tbsp coriander, finely chopped
1 tbsp dried oregano
2 garlic cloves, crushed (or 2 tsp powdered garlic)
1 tbsp ginger, grated (or 1 tsp ground ginger)
Pinch salt and pepper
Vegetable oil (for deep frying)
Topping
Vegan Parmesan (Violife Prosociano is particularly good)
Pinch fresh parsley, finely chopped
Pinch fresh basil, finely chopped
Instructions
Sofrito sauce
Make the sofrito sauce by placing the carrot, onion, garlic and celery in a food processor and pulse until finely chopped. Add the tinned tomatoes and pulse until combined.
Put a little oil in a saucepan over a medium heat, and add the mix and herbs. Simmer on a low heat for 30 minutes until the acidity of the tomatoes has mellowed and the herbs have released their aromas. Add water if the sauce becomes too thick then season.
Jackfruit
Empty the tins of jackfruit into a pan, add water until covered and bring to the boil. Simmer for 10 minutes then drain and leave to cool in a colander (if the jackfruit is particularly tender when you decant from the tin, you can skip this step).
When the jackfruit is cool, crush the segments with your fingers to divide the fibres (get rid of any hard bits or seeds which you can't easily break up with your finger tips).
Place into a bowl and add the flour, spices, herbs, garlic, ginger, salt, pepper and then mix well. Add more gram flour if needed as the mixture should bind easily.
With oiled hands, roll the mixture into ping pong sized balls.
In a deep pan pour enough vegetable oil in to submerge the balls (no more than half full) and heat to 170ºC.
Deep fry the balls for 4 minutes where the outside should be golden brown and the inside still tender. Remove the balls from the fryer and place in a small bowl.
Heap the hot sofrito on top.
Topping
Using the finest side of the grater, grate over a generous sprinkling of the Parmesan. If you don't wish to use a processed vegan cheese you may use sesame seeds finely ground with sea salt and sprinkle those on top instead.
Add the parsley, basil and a pinch of pepper.
Did you know that Vegan Recipe Club is run by a charity?
We create vital resources to help educate everyone – vegan veterans, novices and the v-curious alike – about vegan food, health and nutrition; as well as the plight of farmed animals and the devastating environmental impact of farming.
Through this work we have helped thousands of people discover veganism; but we want to reach millions more! We rely entirely on donations as we don't get any government funding. If you already support us, thank you from the bottom of our hearts, you are really making a difference! Please share our details with your friends and loved ones too, as every donation enables us to keep fighting for change.