Pizza Twister
This is a veganised version of a Jamie Oliver recipe and it's a real crowd pleaser! Great for sharing, tearing and just generally enjoying 🙂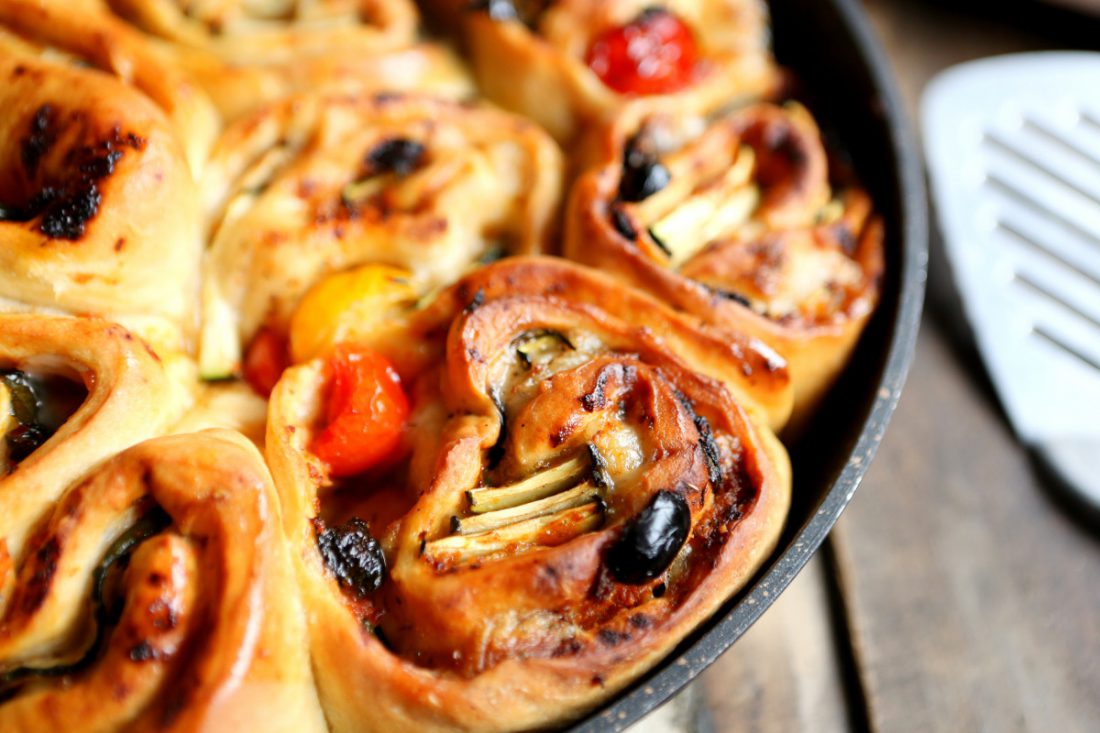 Freezable
Cheap
Kids recipe
Meal
mains
lunches
sides-light-meals-and-salads
Ingredients
Dough
500g strong bread flour
½ tsp salt
7g sachet of yeast
325ml tepid water
Filling
(you can get creative and use whatever fillings you fancy but this was the original version)
1 tbsp olive oil
1 tbsp balsamic vinegar
15g/½ bunch fresh basil, leaves torn up roughly
150g cherry tomatoes, halved (use mixed colours if you want it to look prettier)
1 courgette, finely sliced
8-10 black olives, stones removed and halved (better to use the olives with stones as they've got more flavour)
1 tsp dried oregano (optional)
150g vegan red pesto (eg Sacla, Biona)
150-200g vegan mozzarella (we used MozzaRisella)
Salt and pepper
Instructions
Sieve the flour into a large bowl and add the salt.
In a jug mix the yeast and water with a fork for a couple minutes until dissolved. Add a pinch of the flour before adding the yeast mix to the bowl.
Gather the mixture together with your hands and form into a dough. Knead it well on a floured surface for around 5 minutes until you get a silky, smooth, elastic dough.
Place the dough into an oiled bowl and cover with a damp tea towel for about an hour, or until doubled in size.
Mix the olive oil and balsamic vinegar together in a large bowl then add the fresh basil, all the vegetables, oregano and a pinch of salt and pepper.
Go back to the dough and knead it for 30 seconds on a floured surface before rolling it out into a large rectangular shape, around the size of a tea towel.
Rub the red pesto over the dough using your hands and make sure to spread it to the edges. Add the vegetables and 'mozzarella' evenly over the base.
Preheat the oven to 190ºC (fan)/375ºF/Gas Mark 5.
Roll the dough up lengthways like a Swiss roll, making sure all the toppings stay inside. Cut the roll into roughly 12 chunks (some big, some small). Place the pieces next to each other, swirl side up, in an oiled oven-proof frying pan (approx. 26cm) or a small oiled baking tray. Cover with a tea towel and leave to prove for around 30 minutes or until doubled in size.
Place in the oven for 30-40 minutes or until golden. Check after 25 minutes that it's not browning too quickly.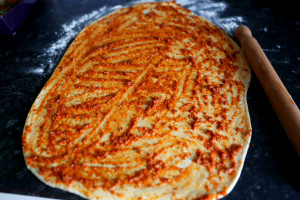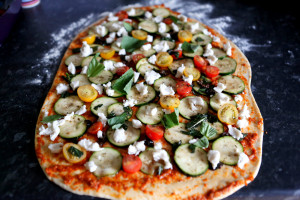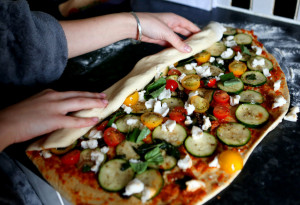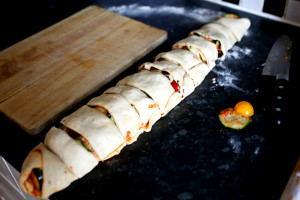 Did you know that Vegan Recipe Club is run by a charity?
We create vital resources to help educate everyone – vegan veterans, novices and the v-curious alike – about vegan food, health and nutrition; as well as the plight of farmed animals and the devastating environmental impact of farming.
Through this work we have helped thousands of people discover veganism; but we want to reach millions more! We rely entirely on donations as we don't get any government funding. If you already support us, thank you from the bottom of our hearts, you are really making a difference! Please share our details with your friends and loved ones too, as every donation enables us to keep fighting for change.